Palestinian leader reportedly says he can't figure out Trump's Mideast peace plan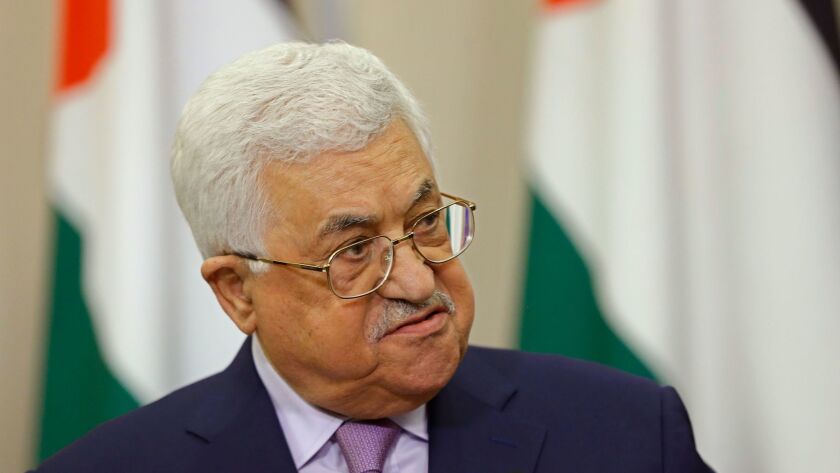 Reporting from Jerusalem —
Palestinian leaders are hoping that a meeting this week with a high-level team from the White House will provide some clarity about President Trump's plan to get peace talks started again between Israelis and Palestinians.
Palestinian Authority President Mahmoud Abbas told a visiting delegation from Israel's left-wing Meretz party on Sunday that he had met with Trump's envoys about 20 times and on each occasion had been assured of the administration's support for a two-state solution, in which Israel and a Palestinian nation live side-by-side.
But when he would ask the envoys, "Do you say this to the Israeli government?" they would not answer him, Abbas was quoted as saying by Issawi Frej, one of the Israeli opposition lawmakers who met with the Palestinian leader in the West Bank city of Ramallah.
"The Palestinian Authority is almost at the point of despair," Frej told the Los Angeles Times. "They have no expectations from the Trump administration or the delegation that is on its way."
Abbas' aides could not immediately be reached for comment late Sunday. But a spokesman for the Palestinian leader, Nabil abu Rudaineh, confirmed to the Associated Press that he "wants clarity" on the issue of a two-state solution, which has been the cornerstone of U.S. diplomatic efforts in the region since the Clinton administration.
Trump is sending his trusted advisor and son-in-law Jared Kushner to Jerusalem and Ramallah on Thursday to explore prospects for relaunching talks that collapsed in 2014.
Kushner — who will be accompanied by Jason Greenblatt, the administration's special envoy for international negotiations, and deputy national security advisor Dina Powell — also plans to consult with leaders from Saudi Arabia, the United Arab Emirates, Qatar, Jordan and Egypt, according to White House officials.
The visit is intended to show Trump's continued commitment to achieving what he has called the "ultimate deal" following a period of violent unrest over security arrangements at a disputed Jerusalem holy site. But Palestinian officials don't have high expectations of an administration they describe as chaotic and almost impossible to understand.
"We need them to tell us where ... they are going," Husam Zomlot, the Palestine Liberation Organization's envoy to Washington, told reporters last week. "It's about time we hear it."
Abbas told the Meretz delegation Sunday that he had proposed resuming coordination with Israel's security forces but had received no response, according to Israeli news reports.
Abbas froze contacts with Israel on July 21 over the placement of metal detectors outside a Jerusalem compound housing the sacred Al Aqsa Mosque.
Israel installed the metal detectors in response to the killing of two of its police officers by Israeli Arab gunmen who had holed up inside the shrine, but later agreed to replace them with less obtrusive security measures in a bid to prevent rising tensions from escalating into open conflict.
As violent protests spread, three Palestinians were killed in clashes with Israel's security forces. Hours later, three Israelis were stabbed to death in the West Bank settlement of Halamish.
An official in the Israeli prime minister's office, who was not authorized to have his name published, said Abbas' reported comments about resuming security coordination with Israel were "untrue" but declined to elaborate.
Many Palestinians are unhappy about the Palestinian Authority's contacts with Israeli security officials, but both sides view them as a way to contain violence in the West Bank.
Tarnopolsky is a special correspondent.
---
The Latinx experience chronicled
Get the Latinx Files newsletter for stories that capture the multitudes within our communities.
You may occasionally receive promotional content from the Los Angeles Times.