Netanyahu meets Putin in Russia to discuss Syria, Iran, security issues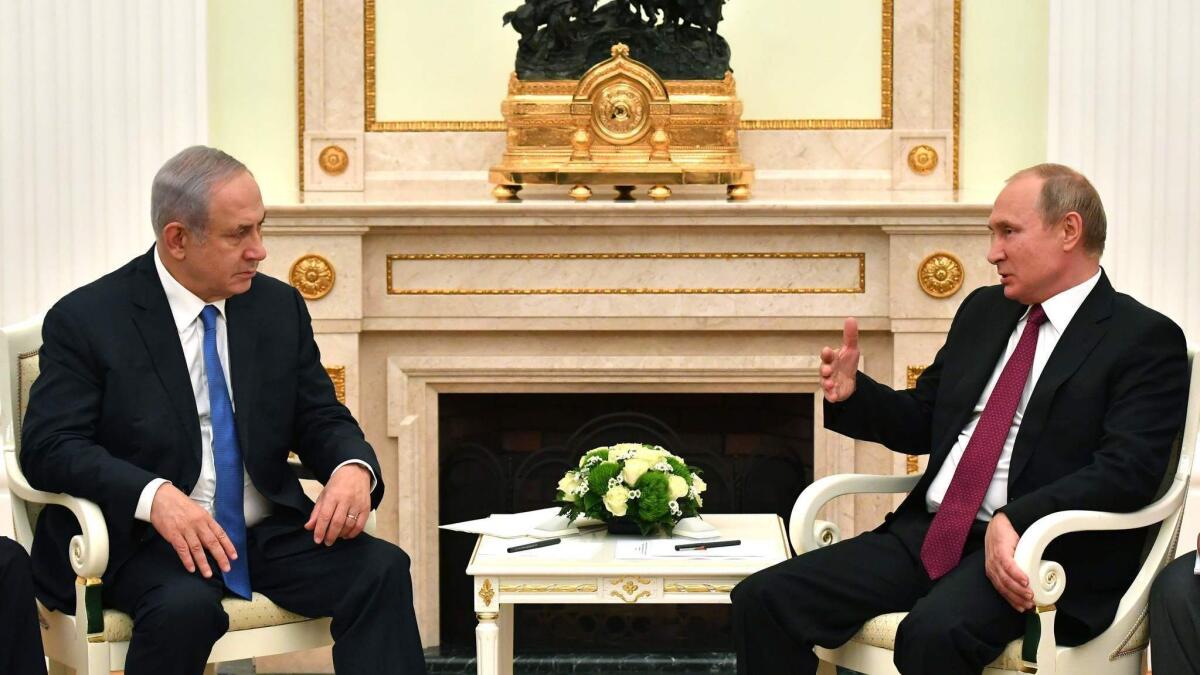 Reporting from Moscow —
Israeli Prime Minister Benjamin Netanyahu met with Russian President Vladimir Putin in Moscow on Wednesday to try to enlist Moscow's help in getting Iran to remove its forces from Syria — or at least pull back from Israeli lines.
Israel has grown increasingly alarmed about the growing presence of Iranian troops and allied militias in neighboring Syria, where they have provided vital support to the government of Syrian President Bashar Assad in a grinding civil war.
"Iran needs to leave Syria — that is not something new for you," Netanyahu told Putin as they headed into their meeting.
But while Russia and Iran are close allies in the battle to defend Assad's government against the rebels trying to unseat him, some regional experts and diplomats question Putin's ability — or interest — in persuading Tehran to pull out altogether.
Iranian officials have repeatedly rejected such demands.
"No one can force Iran to do anything," the country's Foreign Ministry spokesman, Bahram Qasemi, told reporters in comments cited by Iran's semiofficial Tasnim News Agency in May.
"As long as terrorism exists and the Syrian government wants, Iran will have a presence [in Syria]. Those who have entered Syria without the consent of the Syrian government should leave."
Putin is being courted by all sides in the days leading up to his summit with President Trump on Monday in Helsinki, where the issue of Iran's presence in Syria is expected to be high on the agenda. Ali Akbar Velayati, a top aide to Iran's supreme leader, was also in Moscow on Wednesday and is scheduled to meet with the Russian president Thursday.
While Israel has not intervened directly in the fighting in Syria, it has acted against what it calls "game-changing" new threats on its northern border — principally weapons shipments to the Iran-backed Lebanese militia Hezbollah, which is also aiding Assad.
In April, Israel shot down what it identified as an armed Iranian drone that had infiltrated its airspace from Syria and bombarded the military base from which it said the drone had been launched. The incident, a major escalation, resulted in the loss of an Israeli F-16 that was hit by Syrian antiaircraft missiles.
In another manifestation of the threat Israel sees emanating from its neighbor, a Syrian armed forces drone penetrated more than six miles into Israeli territory Wednesday before it was shot down by a Patriot antimissile battery over the Sea of Galilee, the Israeli military said.
"We will continue to take strong action against any trickle [of fire] and any infiltration into Israel's airspace or territory," Netanyahu said in Moscow.
Late Wednesday, the official Syrian Arab News Agency reported that the Israeli air force had fired several missiles at Syrian army positions in the southwestern province of Quneitra.
The Israeli army said it targeted three military posts in Syria "in response to the infiltration" of the Syrian drone. There were no immediate reports of injuries.
On Sunday, Netanyahu told his Cabinet he planned to underscore two basic principles of Israeli policy at his meeting with Putin.
"First, we will not tolerate the establishment of a military presence by Iran and its proxies anywhere in Syria — not close to the border and not far away from it," he said, according to a statement from his office.
"Second, we will demand that Syria, and the Syrian military, strictly uphold the 1974 Separation of Forces Agreement," a deal that set out a demilitarized zone along their frontier and limited the number of forces each side can deploy within 15 miles of the zone.
It was unclear what Netanyahu had achieved by the end of the meeting, when he and his wife, Sara, headed to a World Cup semifinal as Putin's guests.
Israeli diplomatic sources cited by journalists who accompanied Netanyahu to Moscow would say only that Russia was working to distance Iran from the area adjacent to the Israeli-occupied Golan Heights.
Fyodor Lukyanov, a Russian analyst and editor of the quarterly journal Russia in Global Affairs, said that Putin's primary concern in the discussions is to stabilize Syria and that U.S. agreement was necessary.
"The United States is not the biggest stakeholder, but a big one," Lukyanov said. "And here, I think Trump's and Putin's aims are compatible."
Some Israeli officials have been floating the idea of a "grand bargain" under which the United States would ease sanctions imposed on Russia after it annexed the Crimean peninsula from Ukraine in 2014 in exchange for Russian assistance addressing U.S. and Israeli concerns about Iranian military entrenchment in Syria.
"More than one senior Israeli official has suggested to me that the United States should, in effect, 'trade Ukraine for Syria': Look the other way at Russia's takeover of portions of Ukraine as the price for Russia expelling Iran from Syria," Daniel Shapiro, the former U.S. ambassador to Israel, wrote in a column in the Israeli daily Haaretz.
Shapiro, now a visiting fellow at the Institute for National Security Studies in Tel Aviv, told The Times he could understand why Russia would welcome such a deal, but he saw no reason why any American official would go for it.
"It would be a major concession to Russia, giving them a free hand in Europe," he said. "From the U.S. perspective, it's complete strategic madness. But we can't deny the possibility that Trump is entertaining this as a real plan."
Special correspondents Ayres reported from Moscow and Tarnopolosky from Jerusalem. Times staff writer Alexandra Zavis contributed to this report from Beirut.
---
UPDATES:
5:25 p.m.: This article was updated with comments from Daniel Shapiro, a former U.S. ambassador to Israel.
This article was originally published at 4:30 p.m.
Sign up for Essential California for the L.A. Times biggest news, features and recommendations in your inbox six days a week.
You may occasionally receive promotional content from the Los Angeles Times.