Many in Homs, Syria, feel as if the civil war has ended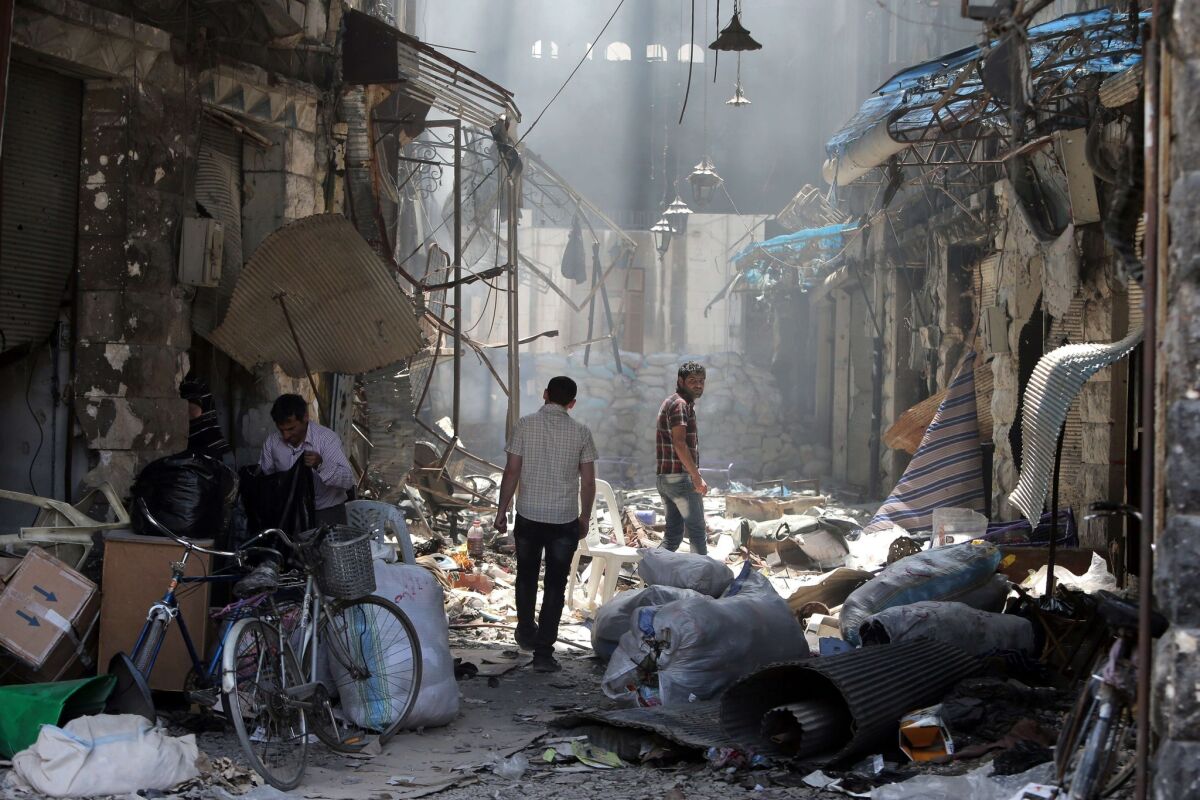 Reporting from Homs, Syria —
On the long-militarized edges of Syria's Old City of Homs, volunteers Monday took down walls of cinder block and brick that had long served as shields against snipers hidden in the ruins of the rebel-held ancient quarter.
"For us, the war is over," said Firas Alabdallah, an engineer helping to collect material for use in a cemetery for pro-government "martyrs."
The Syrian war is certainly not over. Broad swaths of the country remain contested or under opposition control. But to many in Homs, once dubbed the "capital" of the Syrian uprising, it does feel like the end.
The fact that the core of Syria's third largest city is back in government control is a major triumph for President Bashar Assad and the latest setback for rebels fighting to oust him. In a deal with Syrian authorities, some 2,000 insurgents agreed to leave the Old City last week and were given safe passage out.
An almost two-year military siege succeeded in wearing down a rebel force lacking food, medical supplies and other essentials.
Residents were thrilled to take strolls again in recent days, despite the dystopia of hollowed-out buildings and rubble-strewn streets. Many shed tears of joy.
Months of bombardment and gun battles turned the once-venerable Old City and several adjacent districts into something like an outsized set for a Hollywood disaster blockbuster. Thin rays of light beamed into the previously dark confines of the old covered souk from multitudes of shrapnel punctures in the metal roof.
Landmarks, streets, cafes and houses of worship that had long been integral threads in the town's fabric of life were not cut off anymore in a deadly no-go zone.
People walked about in wonderment as though viewing ancient historical ruins.
The war has left profound scars. People don't like to talk about it much, but Homs' combustible sectarian mix was a major reason the war took on such a punishing character locally.
"It is easy to repair physical destruction," said Father Tamer Awil, a Syriac Orthodox priest in the Old City, speaking inside the heavily damaged Church Our Lady of the Belt, named after a relic said to be from a belt associated with the mother of Jesus. "But the people of Homs have been damaged in their hearts and souls. Repairing that damage is much more difficult."
Many residents, especially among the Sunni Muslim majority, remain embittered about the government, though few if any feel safe talking about such matters publicly.
Three years ago, the Old City hosted vociferous anti-government protests that reached a global audience on the Internet. Many of the rebels were sons of Homs. Now soldiers with AK-47 rifles man those same streets, taking breaks with mate tea sipped through metal straws, a South American custom brought back by Syrian expatriates.
"I don't care that my house was destroyed," said one distraught Sunni woman in a head-dress and black cloak who spoke Monday while exiting the Old City with a small shopping bag of items salvaged from her home. "I want the president to get my son and the others out of prison."
The woman, who identified herself by the nickname Um Asaad, broke into tears as she spoke about her missing son, one of thousands in government jails and prisons. "I haven't seen him in two years," she sobbed, before heading off without further elaboration.
A few minutes later, a group of Christian women headed into the Old City to view the remains of their family home. The Christian minority is generally effusive about the "liberation" of an area central to their ancient identity.
"The Army has swept away all of the bad people from our city," said Hannan Ragap, 45, a mother of two who sported spike heels and jeans as she walked toward the Old City.
In the adjacent Zahra district, people were savoring a victory against what many view as an existential threat from a radical Islamist force. The neighborhood is home to many Alawites, the Muslim sect whose members include President Assad.
"They wanted to force us out, but we refused to leave," said Alabdallah, the engineer who is in charge of the neighborhood "martyr's" cemetery, with more than 2,000 graves, and is helping take down the sniper barriers, some as high as 30 feet.
Once the Old City opened up, some from Zahra went searching for traces of missing relatives kidnapped during the war, presumably by the rebels. Officials say hundreds remain missing.
"We found my brother's car burned, but no trace of him," said Mustafa Ahmad Alabood, a municipal official who explained that his brother, Amer, a taxi driver, was among the many kidnapped and presumably killed.
In general, though, many people seemed inclined to put such dark thoughts aside as they sought to reclaim Homs. The longing for a pre-conflict sense of of normality and order was evident among residents of all sects and creeds who headed to the remains of the Old City.
"People here are tired of the war, they've had enough," said Jamal Moazen, 52 a metal worker who was hauling blankets and other scavenged items onto a pickup. "We want our city back."
Must-read stories from the L.A. Times
Get the day's top news with our Today's Headlines newsletter, sent every weekday morning.
You may occasionally receive promotional content from the Los Angeles Times.