Civilians in Syria and Iraq, already facing deprivation and danger, confront new threats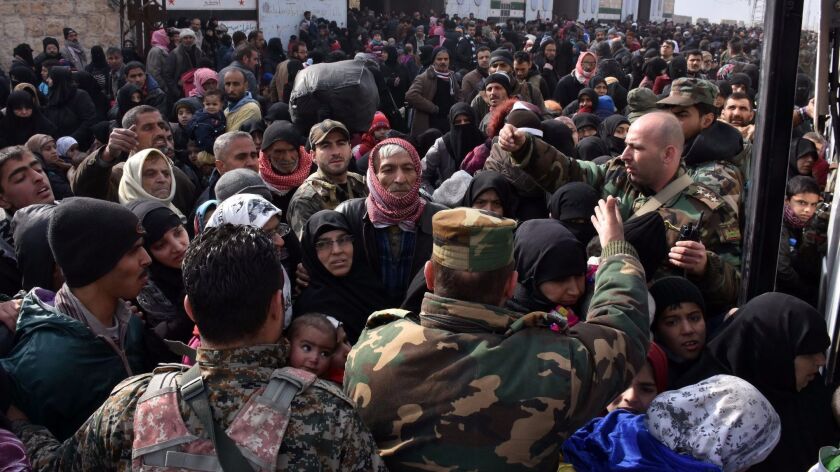 Reporting from Amman, Jordon —
In two of the Mideast's most devastating urban conflicts – Aleppo in Syria and Mosul in Iraq – civilians who were already facing deprivation and danger are confronting harsh new threats brought about by recent battlefield events, humanitarian groups and international organizations say.
In Aleppo, dramatic gains by government forces have sent whole families fleeing rebel-held areas — though few havens have awaited them. Images released by the government and opposition activists alike showed droves of weary-looking adults with children in tow dragging bundles and suitcases through ravaged, detritus-filled streets.
By Wednesday, the exodus had swollen to 50,000 people, according to the British-based monitoring group Syrian Observatory for Human Rights.
In Mosul, the scene of a 6-week-old offensive by U.S.-backed Iraqi troops, there is increasing desperation — and a fast-growing casualty count — among city residents who, willingly or not, have followed Iraqi government instructions to shelter at home while the fighting rages around them. More than 1 million people are thought to be trapped in areas still held by the Sunni Muslim militants of Islamic State.
The two cities — crossroads of ancient empires, each a bustling and modern metropolis before war closed in — are considered crucial strategic prizes, even as both have become crucibles of suffering for hundreds of thousands of people.
The eastern sector of Aleppo is the main urban redoubt of rebels seeking to topple Syrian President Bashar Assad, and losing it would leave the opposition in dire straits. Rebel-held districts, under government blockade since July, have been pummeled for months with airstrikes by Syrian and Russian warplanes, a prelude to the punishing ground offensive now underway by government-allied militias.
Rescue workers reported dozens of deaths in east Aleppo on Wednesday, including some civilians who were trying to flee the front lines. In advance of an urgent U.N. Security Council session Wednesday — the latest in a series of so-far-fruitless diplomatic initiatives — the world body's special envoy Staffan de Mistura told European lawmakers: "I can't tell you how long eastern Aleppo will last."
Mosul, on the plains of northern Iraq, has been under the medieval rule of Islamic State for the past two years, and its fighters are waging a ferocious battle to retain their last big-city stronghold in the country. American-backed Iraqi forces have seized outlying areas and about one-quarter of Mosul proper, but their advance into dense inner districts has been agonizingly slow.
Nearly 75,000 people have already fled the Mosul fighting since the start of the offensive, with some 1,000 arrivals every day at camps for the displaced set up outside the battle zone. With freezing nighttime temperatures settling in across northern Iraq, the U.N. has asked for 1.2 million winter kits for families who may spend months longer in tents and shelters.
In both Aleppo and Mosul, tactics such as seizing territory and cutting off supply lines are spurred by military aims — but a principal side effect is leaving civilians homeless and hungry. Mosul's front lines in the city's east are "fraught with danger for civilians," the U.N. humanitarian coordinator's office said Wednesday, with mortar fire and gunshots continuing to claim civilian lives.
In Aleppo, rebels in the past week have lost almost half of the eastern sector they had held since 2012. On Tuesday, having overrun the northern part of the rebel pocket, pro-government forces opened a new front from the south as a hodgepodge of opposition fighters tried desperately to hold new battle lines, according to groups monitoring the fighting.
Those fleeing had few options. Some headed for Kurdish-held areas on Aleppo's outskirts; others retreated deeper into rebel territory. Some headed for government-controlled territory, but with deep trepidation.
"Many civilians won't go out to government-controlled areas," Dr. Ghaith Suleiman, a pediatrician in a rebel-held neighborhood, said in an interview via social media. "They're afraid of being arrested or tortured or accused of being terrorists."
Food — and the lack of it — has been a weapon of war in both cities.
In Mosul, the price of basic supplies skyrocketed over the past week, after Shiite Muslim militias severed the western supply route connecting the city to territory held by Islamic State in Syria. Opposition-held parts of Aleppo, meanwhile, have received only sporadic humanitarian shipments, with food stocks reported by aid groups to be all but exhausted.
"It's a slow-motion descent into hell," Bettina Luescher of the World Food Program told reporters this week. The U.N. food agency appealed Tuesday for "unconditional, unimpeded, sustained and safe" access for food deliveries to besieged areas in Aleppo and elsewhere in Syria.
Medical treatment, too, has become a casualty of war — and a nearly unimaginable luxury, even for the most gravely injured. In eastern Aleppo, hospitals and clinics have been hit repeatedly, and by Tuesday, few people could make their way to the few remaining medical facilities.
"I had very few patients today," Dr. Salem Abu Nasr, a dentist who works in a general-practice clinic, said in a phone interview. "They are afraid to leave their houses due to the shelling."
Mosul, for its part, still has many of the attributes of a functioning city, including working hospitals, but field clinics in newly liberated areas are overwhelmed with war-wounded patients.
And Islamic State fighters in the Mosul theater appear to be using medical facilities as shields. Human Rights Watch called for an investigation of the deaths of eight people, including an elderly man and two of his grandsons, who died when coalition airstrikes targeting Islamic State hit a clinic south of Mosul where the militants had established an outpost.
Adding to civilian misery, water and electricity supplies have been hit, sometimes deliberately targeted and sometimes wrecked in the heat of battle. Some 650,000 people living in and near Mosul lost their water supply after a pipeline was struck during fighting, the Reuters news agency reported Tuesday. In Aleppo, a key pumping station previously held by the rebels changed hands this week, falling under government control.
Aleppo's plight has drawn repeated diplomatic pleas for a cease-fire. The latest of those came in a statement Tuesday from France's foreign minister, Jean-Marc Ayrault, seeking an urgent meeting of the U.N. Security Council.
"More than ever," he said, "we need to halt hostilities and allow unhindered access to humanitarian aid."
Special correspondent Bulos reported from Amman, Jordan, and Times staff writer King from Washington.
---
UPDATES:
11:35 a.m. Nov. 30: This article has been updated with new figures for civilians leaving Aleppo, Syria, and Mosul, Iraq, a comment from the United Nations and additional details.
This article was originally published Nov. 29 at 2:15 p.m.
---
Must-read stories from the L.A. Times
Get the day's top news with our Today's Headlines newsletter, sent every weekday morning.
You may occasionally receive promotional content from the Los Angeles Times.