Death by stoning: Battered Syrian city offers a window into life under the thumb of Islamic State militants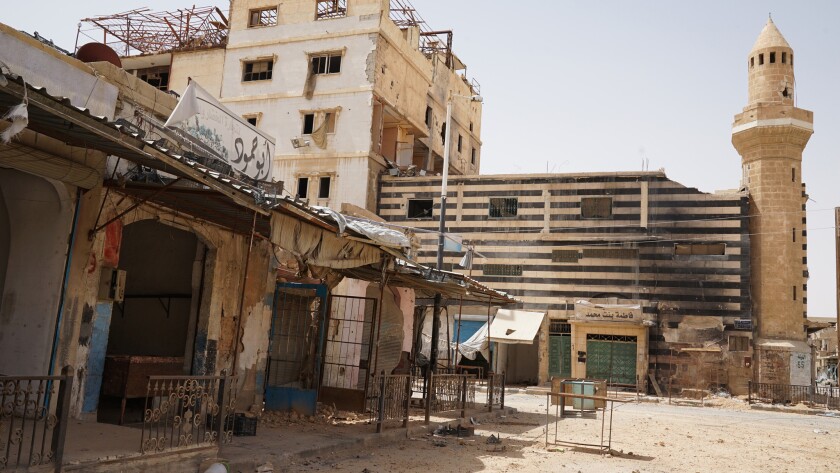 Reporting from Palmyra, Syria —
Her name was Fatima Fakri Fathallah. How her case came before hard-core Sunni Islamist judges is not clear. Nor is it evident how she found herself accused of adultery.
But there is no mystery about the verdict: guilty as charged. The penalty: death by stoning.
A summary sheet of her chilling case was among the assorted documents scattered in an unmarked three-story building here that served as the headquarters of the Islamic sharia court whose jurisprudence ruled this city during its nearly yearlong occupation by Islamic State.
The Syrian military, backed by Russian forces, finally drove the militants out of Palmyra in March, ending the group's grip on what was once a vibrant provincial center, best known as the entryway to the ruins of an ancient crossroads metropolis.
The militants fled so quickly the town remains semi-frozen in its most recent Islamic State incarnation, and objects left behind — from discarded armaments to rule books to Fakri's guilty verdict — provide an uncommon window into daily life under the thumb of the jihadis.
The extremists' systematic destruction of the iconic monuments at the Palmyra ruins, one of the planet's archaeological jewels, sparked global condemnation. Less remarked upon was Islamic State's regime of terror here in the town adjoining the ruins, which is known in Arabic as Tadmur.
The Syrian military, backed by Russian forces, finally drove the militants out of Palmyra in March, ending the group's grip on what was once a vibrant provincial center that is now in ruins.
Viewing itself as a legitimate government, Islamic State set up a fledgling bureaucracy to deal with matters both mundane and consequential. The militants took their tasks seriously, and an abundance of paperwork displays an inflated sense of self-importance—and a clear conceit that they had settled in to stay. Islamic State administrators proved to be meddlesome and often homicidal micro-managers.
During the course of two occupations by the militants, Islamic State loyalists took the trouble to stencil new, multi-colored numbers on the town's streets and buildings, an apparent effort to keep track of everyone living under the group's maxims. The militants carefully noted each resident's address, occupation and other details.
Palmyra, once a city of 70,000, is now mostly deserted and guarded by Syrian and Russian troops.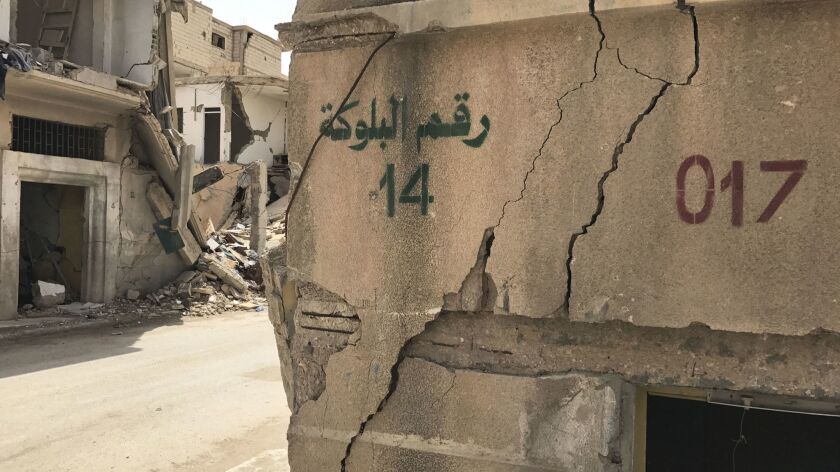 A visit here in 2014, before the first occupation, found a lively place where animated young men in Barcelona's signature blue-and-garnet soccer jerseys gathered on a cool evening in a restaurant to watch a televised match. In a storefront down a side street, a shopkeeper in Arab dress furtively dispensed beer and spirits, normally proscribed pleasures in traditional Muslim communities. International tourists frequented restaurants, tea shops and Internet cafes, savoring Arab hospitality.
It was May 2015 when Islamic State first stormed Palmyra. The city was strategically significant: Aside from its historical import, it stands near natural gas fields and along key routes to Iraq, as well as to Damascus and other major population centers. Syrian and Russian forces evicted Islamic State in March 2016, but the militants recaptured the city in December — before finally being driven out in March.
The initial, rapid jihadi advance meant many residents were unable to flee, and townsfolk soon discovered the group had a hidden network of informers in Palmyra.
Triumphant Islamic State cadres soon went door to door, rounding up those regarded as collaborators with the "apostate" leadership in Damascus. Hundreds were reported executed in the first few days of occupation.
Reaching Palmyra now entails a jarring and surreal journey, beginning in the war-pulverized city of Homs and heading east through a paradoxically bucolic stretch of green hills and stands of olive and almond trees, along with grazing cows and sheep. Blankets of red poppies and yellow buttercups complete a tableau reminiscent of southern Italy.