Civilians are trapped and the dead lie unburied as fighting rages in Turkey's Kurdish heartland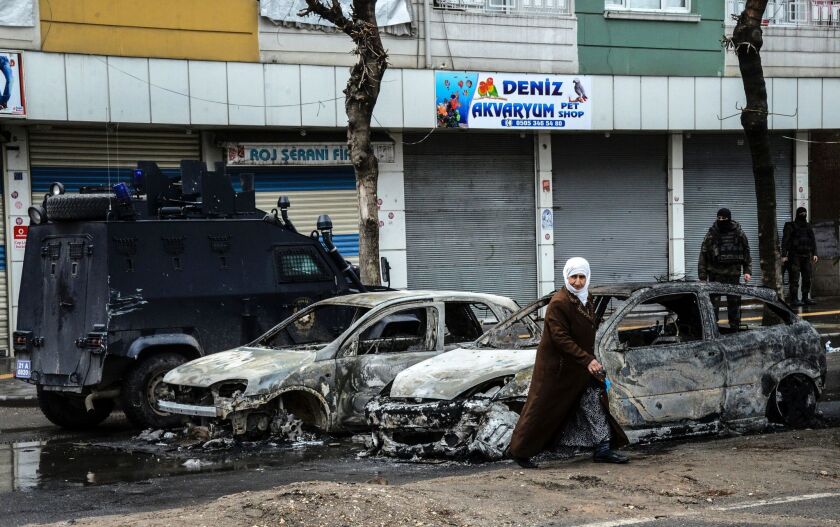 reporting from DIYARBAKIR, Turkey —
A war has been raging in Turkey's southeast for the last several months — though it has gone largely unnoticed in the West. Tens of thousands of people have been displaced as Turkish forces clash with an increasingly fierce Kurdish insurgency.
In Diyarbakir's ancient Sur neighborhood, heavily armed police at steel and wire checkpoints search residents for weapons and explosives. Armored vehicles prowl the streets.
Kurdish fighters have been holed up in the neighborhood, digging trenches, burying improvised bombs and declaring self-rule for the last eight months. Combined with Kurdish territorial gains in neighboring Syria and unexpectedly strong support for the pro-Kurdish Peoples' Democratic Party in last year's parliamentary elections, the situation has officials in Turkey increasingly concerned that Kurds are making progress toward their long-held goal of establishing a fully autonomous Kurdish homeland — some of it on Turkish soil.
The military descended on Sur on Dec. 3 to clear bombs and trenches. Tanks rolled along streets, pumping shells into insurgent positions as helicopters circled above. Teams of special forces police slugged it out in street combat with insurgents from the Kurdistan Workers' Party, or PKK.
The fighting has caused substantial damage in the traditional seat of Kurdish power and culture in Turkey.
"Sur is the heart of Amed," said Emin Ermin, local manager of the Kurdish-focused Human Rights Assn., or IHD, using the Kurdish word for Diyarbakir. "Our history is found there, and they are destroying it."
Most of Sur's residents fled during the early stages of the Turkish operation, locals and rights monitors said. They scattered throughout Diyarbakir, a sprawling metropolitan hub with a population of about a million.
A 48-year-old woman named Nursel, who asked that her last name not be used because of fear for her safety, said she and five of her six children were trapped in Sur for nearly two months before getting out.
"Because of the tear gas and fighting, we spent very long periods confined to our house," she said. "We were unable to leave.
"Electricity was cut. Most of the shops were shut. We couldn't make phone calls or use the Internet. My children were terrified of going outside because of the snipers."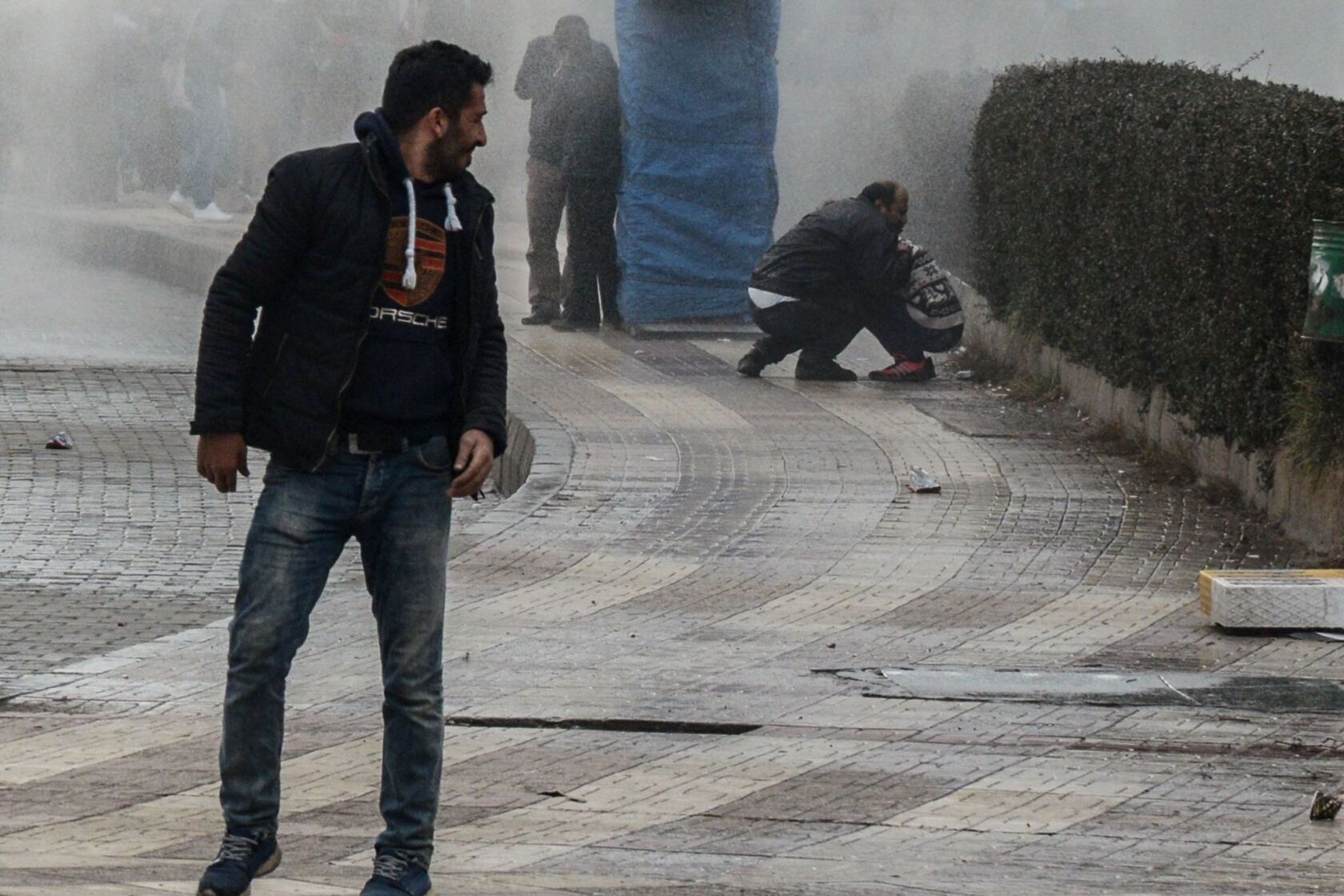 People take cover as Turkish police fire a water cannon and tear gas during a demonstration against government-imposed curfews in Diyarbakir on Feb. 24, 2016
(ILYAS AKENGIN / AFP/Getty Images)
Journalist Ayse Surme reacts after she was injured when Turkish police fired tear gas during a demonstration in Diyarbakir on Feb. 24, 2016 against government-imposed curfews on areas of eastern Turkey.
(ILYAS AKENGIN / AFP/Getty Images)
Kurdish boys who earn a living collecting garbage run from Turkish police's water cannon during a demonstration against government-imposed curfews in Diyarbakir on Feb. 24.
(ILYAS AKENGIN / AFP/Getty Images)
Turkish soldiers patrol Diyarbakir's historical Sur district on Feb. 26, 2016 . Violence has flared since the collapse in July of a fragile two-and-a-half-year truce aimed at bringing a halt to decades of a Kurdish insurgency.
(ILYAS AKENGIN / AFP/Getty Images)
Residents flee the fighting in Diyarbakir.
(ILYAS AKENGIN / AFP/Getty Images)
People carry their belongings as they flee from the fighting in Diyarbakir.
(ILYAS AKENGIN / AFP/Getty Images)
People walk past security forces as they leave their houses during clashes in central Diyarbakir.
(ILYAS AKENGIN / AFP/Getty Images)
A woman pushing a stoller walks past a government soldier in central Diyarbakir. The city has been ravaged by street fighting between Turkish police and Kurdish insurgents.
(ILYAS AKENGIN / AFP/Getty Images)
People carry their belongings as they return to their homes on March 13, after clashes ended in Sur.
(ILYAS AKENGIN / AFP/Getty Images)
She returned briefly Saturday to gather belongings from her home. "My children are traumatized from what went on," she said. "They never want to go back."
About 200 civilians remain trapped by fighting in Diyarbakir, Ermin estimated. "They are surviving by hiding in basements, with little food or water."
Corpses festered amid piles of rubble because nobody could get to them, medical officials said. "Many times we tried to get in and treat the wounded," said Ozgur Ozan, the Diyarbakir Medical Assn.'s general secretary. "The authorities prevented us from entering."
The Turkish government said it has targeted only insurgents in its war against what it calls Kurdish terrorism.
Activists have been sharing the image of a dead woman lying face-down in debris, a breakfast tray by her side and blood sprayed across the floor. A civilian, 38-year-old Melek Alpaydin was killed Jan. 3 when a shell slammed into the building where she sought refuge. It is unclear whether security forces or insurgents fired the ordnance.
"She had just come from the worst part of Sur," said Nursel, who knew her. "She thought she would be safer there."
The PKK, which the U.S. considers a terrorist organization, has waged a 30-year insurgency against the Turkish state, demanding greater political and cultural rights for the nation's long-repressed Kurdish minority. Three years of peace talks with the group broke down in July.
On Sunday, a car bomb in Ankara, Turkey's capital, killed 37 people. Although authorities did not immediately say who was responsible, Turkish warplanes retaliated Monday by bombing PKK hide-outs in the mountains of northern Iraq. The government said 18 targets were hit.
There are renewed fears of attacks on civilians as fighting has spread from the PKK's mountain strongholds to the cities. Many of the guerrillas clashing in Sur and other cities across Turkey's southeast are teenagers from a youth militia closely linked to the PKK.
In Sur, vendors have been left picking through shops that were trashed in the fighting. Walls were charred. Freshly turned soil indicated where advancing police forces filled in trenches as they squeezed the insurgents into shrinking corners of the neighborhood.
Six of Sur's 15 boroughs remain under curfew, according to rights groups. Journalists and independent observers were denied access beyond police lines throughout the curfew, making it difficult to verify information coming out of Sur.
Johnson is a special correspondent.
ALSO
Third major bomb blast in six months rocks Turkish capital
Report finds little progress at curbing Border Patrol abuses
President Putin orders Russian military to start pullout from Syria
---
Must-read stories from the L.A. Times
Get all the day's most vital news with our Today's Headlines newsletter, sent every weekday morning.
You may occasionally receive promotional content from the Los Angeles Times.