Turkey and the U.S. used to be close allies. Today, they can't even agree on a phone call
Reporting from ISTANBUL, Turkey —
Since the start of the Cold War, Turkey has been one of the United States' top allies in a region not known for pro-American sentiment.
It joined the North Atlantic Treaty Organization in 1952, helping the U.S. build a bulwark against the Soviet Union. It opened its bases to U.S. warplanes during the 1991 Persian Gulf War and the more recent fight against Islamic State. Its progressive Muslim democracy was once touted as a model for other Middle Eastern countries.
Now, the two sides can't even agree on what was said in a phone call.
That call, held Wednesday between President Trump and Turkish President Recep Tayyip Erdogan, was the Trump administration's most recent attempt at repairing a relationship that reached a new nadir this week, with Ankara accusing Washington of establishing what it called a "terror corridor" in northern Syria.
Turkey also threatened military action against American soldiers standing in the way of an offensive, dubbed "Operation Olive Branch," to rout a Syrian Kurdish militia that Ankara regards as a terrorist group — but which the U.S. has fashioned as its on-the-ground vanguard against the militant group Islamic State. (Ankara insists the Syrian Kurds have ties to a Kurdish separatist movement it has fought at home for decades.)
The offensive, which began late last week, developed into a no-holds-barred assault on the Syrian Kurdish enclave of Afrin with ground troops and Syrian rebels fighting to breach Kurdish defensive lines.
The White House said Trump had "urged Turkey to de-escalate, limit its military actions, and avoid civilian casualties and increases to [the numbers of] displaced persons and refugees." It went on to say that the president "urged Turkey to exercise caution and to avoid any actions that might risk conflict between Turkish and American forces."
That last reference was to U.S. troops who patrol the Syrian city of Manbij, about 60 miles east of Afrin.
It was at least the third time the administration has complained about Turkish attacks, to no apparent effect, even as the Turkish military said two soldiers and more than 260 "terrorists" had been killed so far in the operation.
"We will not leave the blood of our martyrs on the ground and will continue our struggle until we root out terror," Turkish Foreign Minister Mevlut Cavusoglu said.
The White House said that Trump also "expressed concern about destructive and false rhetoric coming from Turkey," eliciting a truculent rebuke from Ankara, which insisted that the American president did not raise objections to the Turkish military operation and that the two men merely "exchanged views."
Also on Thursday, Secretary of State Rex Tillerson met with Nechirvan Barzani, the prime minister of Iraq's Kurdish region, on the sidelines of the Davos, Switzerland, economic conference. To a reporter's question, Tillerson denied he had proposed creating a roughly 18-mile-wide safe zone along the Turkish-Syrian border in an earlier conversation with Cavusoglu.
"We spoke about a number of possible options, but we did not propose anything," Tillerson said.
Afrin has long been the site where the United States' knotty policy toward the Kurds was most evident. In the earlier years of the Syrian war, Kurdish troops were trained and equipped by the Pentagon and fought against CIA-backed rebel factions in areas around the Kurdish enclave.
Then, as now, U.S. officials maintained they would support the Kurds in areas east of the Euphrates River as well as Manbij against Islamic State, but considered Afrin and the Kurdish militiamen stationed there to be a separate entity.
Those contradictions could be ignored as long as Islamic State was a factor. But the group's defeat, not to mention the creation of a Kurdish-led Border Security Force, put the U.S. on a collision course with Ankara.
The Border Security Force was the last straw for Turkey's political leadership, which touted the operation in Afrin as a war not just against Kurdish forces, but also against the United States.
"Obviously this is a tense situation," State Department spokeswoman Heather Nauert said this week. "We are calling on the Turks to de-escalate the situation. We're calling for a decrease in violence and that's something that is extremely important to us."
Yet there is little evidence that Ankara is in the mood for a de-escalation, especially before a Turkish public that views the operation as proof of a newfound bravado.
The country appears to be gripped by a patriotic frenzy. The Turkish religious affairs directorate organized special prayers for the soldiers taking part in the operation, with verses from the Koranic chapter entitled "Conquest" read out at tens of thousands of mosques the evening the operation began and the morning after.
Turkish news channels have covered the operation extensively, with anchors trumpeting troop advances in front of green screens depicting computer-generated fighter jets and tanks spitting fiery shells.
Pro-government and opposition politicians have also raced to applaud the offensive.
In Hatay province, where Turkish soldiers and armor are being staged for the incursion across the border in Syria, mothers cooked meals and passed them out to soldiers waiting to be deployed. Dozens of members of an Ottoman-style military marching band performed for soldiers.
"There have always been a few loonies who want to fight abroad, like in the Chechen war, or in Bosnia or Kosovo," said Umut Ozkirimli, of the Center for Middle Eastern Studies at Lund University, who studies Turkish nationalism. "But now it is more of a national hysteria."
Meanwhile, anyone in Turkey questioning the operation, Erdogan said, was a traitor. He singled out the pro-Kurdish People's Democratic Party, which has called for protests against the incursion.
"Nobody should take this call seriously," Erdogan said. "They will pay the heavy price. This is a national struggle. We would crush anybody who opposes this. There will be no compromises or tolerance on this issue."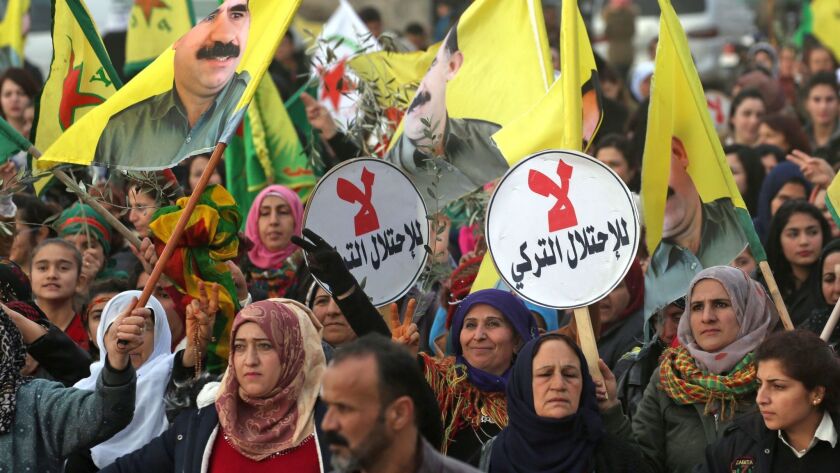 Among more than 150 people detained since the start of the operation were two leaders from the party. Even though it is the second largest opposition party in parliament, more than a dozen of its lawmakers face terrorism charges because of views that the government says support the outlawed Kurdistan Workers' Party.
In Istanbul's Kadikoy neighborhood, popular with opposition voters, police detained 11 people at a protest against the operation, and prosecutors later charged them with participating in an unlawful demonstration. Authorities in several provinces in the predominantly Kurdish southeast imposed a blanket ban on demonstrations against the operation.
The operation has also fanned anti-American fervor.
"That the U.S. … is targeting not only Syria and Iraq but also Turkey is no longer a debate," wrote Ibrahim Karagul, a columnist with the Turkish daily Yeni Safak.
There are other fissures in the relationship between the two countries. Erdogan and his aides have accused Washington of protecting Fethullah Gulen, an Islamic cleric who they say orchestrated a failed 2016 military coup and is a terrorist. The Justice Department has said there are no grounds to extradite the cleric, who has lived in rural Pennsylvania for nearly two decades.
Trump also complained that several U.S. citizens and local U.S. Embassy employees were among those targeted by a government-led crackdown after the coup attempt, when Turkish authorities arrested or fired tens of thousands of teachers, journalists, judges, human rights activists and others.
There is debate within the administration about whether the relationship with Ankara can be repaired. Some experts believe Washington will eventually slap Turkey with sanctions related to banking practices, weapons purchases and the detention of an American pastor.
"If the U.S. doesn't attach repercussions to its concerns, and make those repercussions high enough, it is not likely they will be listened to," Howard Eissenstat, an expert on Turkey at St. Lawrence University, said.
Special correspondents Farooq and Bulos reported from Istanbul and Aleppo, Syria, respectively, and Times staff writer Wilkinson from Washington.
---
The Latinx experience chronicled
Get the Latinx Files newsletter for stories that capture the multitudes within our communities.
You may occasionally receive promotional content from the Los Angeles Times.