Iran's next president promises more openness on nuclear program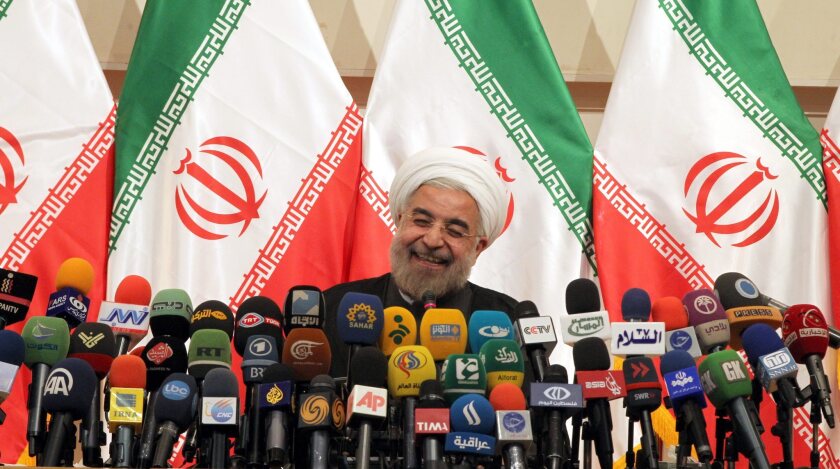 TEHRAN — Iranian President-elect Hassan Rowhani on Monday promised to make the country's nuclear program more transparent, fueling hopes that the moderate cleric can make headway on an issue that has wreaked havoc on the Islamic Republic's international relations and resulted in punishing economic sanctions.
But he made it clear that Iran would not consider halting its uranium enrichment activities, which he said were "within the framework of law," and called the sanctions "baseless."
U.S. officials suspect that Iran is trying to achieve the capacity to build nuclear weapons. Iran says its nuclear program is exclusively for civilian uses, such as energy generation and cancer treatment.
"Of course, our activities are already transparent," Rowhani, a former nuclear negotiator, said at his first news conference since his surprise election win Saturday. But, he said, "the only way to end the sanctions is to increase the transparency and trust" between Iran and the world.
The White House appeared guarded this weekend about the possibility that Rowhani could bring progress to long-stalled nuclear talks.
"If he lives up to his obligations under the U.N. Security Council resolution to come clean on this illicit nuclear program, he will find a partner in us," White House Chief of Staff Denis McDonough said Sunday on CBS' "Face the Nation." "But to get to that point, we need him to live up to the obligations on the nuclear program."
Israeli Prime Minister Benjamin Netanyahu was more blunt.
"Let us not delude ourselves," he said Sunday at the start of his weekly Cabinet meeting. "The international community must not become caught up in wishes and be tempted to relax the pressure on Iran to stop its nuclear program."
Rowhani, who will succeed President Mahmoud Ahmadinejad in August, said his government will seek "constructive interaction with the world."
"I hope other countries also use this opportunity," he said.
He described the standoff with the United States as "an old wound that needs to be ... healed in the course of time." But, he said, before there can be direct talks, the U.S. must recognize Iran's "rights, including nuclear rights," agree not to interfere in the country's internal affairs and abandon its "bullying" policies toward Iran.
Asked about Syria's civil war, in which Iran has provided key backing to President Bashar Assad over the objections of the U.S. and its allies, Rowhani said finding a solution was "the responsibility of the Syrian people."
"Until the next election in Syria in 2014, the current government must be officially recognized by the world," Rowhani said.
ALSO:
Russia warns against 'no-fly' zone over Syria
Two-state solution a 'dead end,' Israeli minister says

Edward Snowden calls U.S. intelligence 'aggressively criminal'
Mostaghim is a special correspondent. Times staff writer Alexandra Zavis in Los Angeles contributed to this report.
---
Must-read stories from the L.A. Times
Get all the day's most vital news with our Today's Headlines newsletter, sent every weekday morning.
You may occasionally receive promotional content from the Los Angeles Times.