New Zealand quake: Homes, bridge damaged, no injuries reported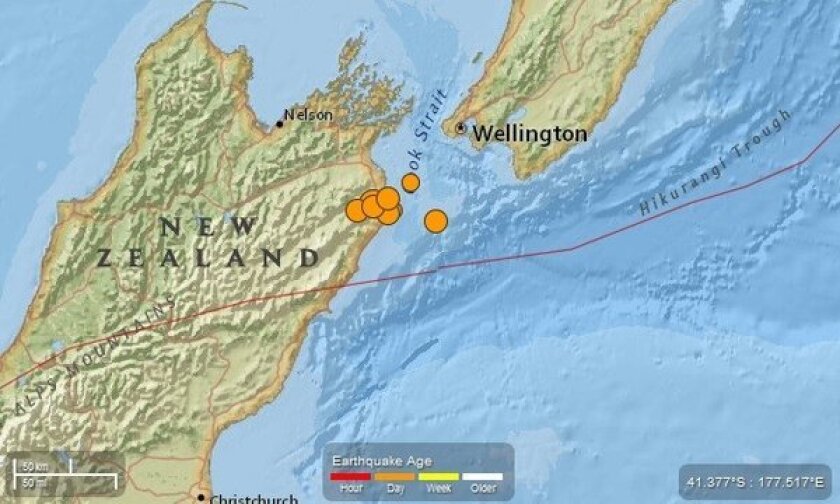 A strong earthquake has shaken the area around Wellington, New Zealand, but initial indications were that damage was minor and no serious injuries were reported.
The quake struck just after 2:30 p.m. local time Friday (7:30 p.m. Thursday PDT). The U.S. Geological Survey measured the magnitude at 6.8, and said the quake was centered 17 miles south-southwest of Blenheim, on New Zealand's South Island. Blenheim is on the coast about 50 miles across Cook Strait from Wellington, the capital of New Zealand.
Local reports put the magnitude at 6.2, but said it could end up being higher.
The New Zealand Herald quoted seismologist Bill Fry of New Zealand's Institute of Geological and Nuclear Sciences (known as GNS Science) as saying it was a "very strong, shallow shake" that was widely felt.
No tsunami warning was issued, the Herald said. It said there were reports of one house that collapsed in the town of Seddon, just south of Blenheim.
The Associated Press cited police spokeswoman Barbara Dunn as saying boulders fell onto State Highway 1, the major route for traffic near Seddon. She said she was trying to verify reports of the severely damaged home in Seddon.
[Updated 10:52 p.m. Aug. 15: Several homes near the epicenter were severely damaged, with chimneys collapsing and roofs caving in, Dunn said later. She said a bridge was severely damaged on the main highway near Seddon, and that rocks and debris had fallen onto the road. Police closed a section of the highway.
Some buildings in Wellington, the capital, were evacuated, and items were knocked off shelves in places.
Police said a number of people were freed from Wellington elevators that stopped working. The initial temblor also forced the nation's stock exchange to close for more than an hour.]
The quake followed smaller temblors two weeks ago. New Zealand, part of the Pacific "Ring of Fire," is known for regular seismic activity. A severe earthquake in the city of Christchurch in 2011 killed 185 people and destroyed much of the city's downtown.
New Zealand's government sent a Twitter alert on its disaster account, Get Ready Get Thru:
Big quake and aftershocks felt here in Wellington. Remember: Drop, Cover and Hold is the correct action to take in an earthquake. #eqnz— Get Ready Get Thru (@NZGetThru) Aug. 16, 2013
Other tweets spoke to the alarm that some residents felt:
Urgh! That earthquake was waaaay too big for comfort! #wellington #eqnz— Dion O'Neale (@droneale) August 16, 2013
New Zealand Radio broadcast reports of minor damage across a broad swath of the country, adding: "The earthquake was felt as far north as Auckland and as far south as Christchurch, where it was described as a long wobbling sensation."
ALSO:
Mexico's 'Queen of the Pacific' heading home, but what's next?
U.N. chief arrives in Ramallah to aid Israeli-Palestinian negotiations
Death toll from car bombing in Hezbollah's Beirut stronghold at least 14
---
The Latinx experience chronicled
Get the Latinx Files newsletter for stories that capture the multitudes within our communities.
You may occasionally receive promotional content from the Los Angeles Times.