Russian dairy plant closed after workers bathe in the milk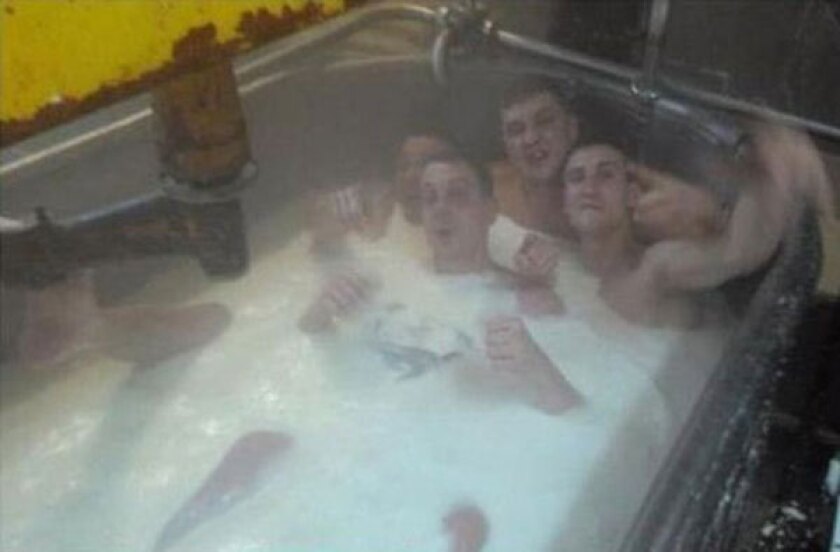 MOSCOW -- A Siberian dairy plant was temporarily closed Friday after its workers had been found bathing in milk, a Russian consumer oversight agency reported.
Trade House Cheeses, a dairy producer in Omsk, about 1,600 miles east of Moscow, was closed for 90 days by regional authorities for an urgent inspection after complaints resulting from photographs and a video posted by one of its employees on a Russian social network.
In the photographs and video clips posted on New Year's Eve by worker Artyom Romanov, a group of undressed employees relax in a container of milk as part of their celebration. While still partly undressed, they then demonstrate cheese making in a clownish manner.
"But in reality our work is very boring.)))))" Romanov wrote in a caption accompanying the images.
"In a checkup we found the container where the workers were bathing and the bowls in which they were making cheese and a mass of other violations of sanitary-epidemic norms," Marina Boyko, deputy chief of the Omsk region's sanitary inspection agency, said in an interview with Lifenews, an online publication.
After the video appeared on NTV, a federal television network, many residents of Omsk refused to buy products made at the plant, an NTV report said this week.
"The production and service facilities are in an unsatisfactory sanitary-technical condition," the statement read. "Conditions for personal hygiene are lacking."
The appalling conditions and outrageous practices at the Omsk plant are quite a common occurrence these days in Russia as sanitary oversight has become virtually nonexistent, said Dmitry Yanin, a Russian consumer service expert.
"For five years Russia has been languishing in a so-called experiment of practically exercising no control over consumer production after a law was introduced limiting inspections of such facilities to only once every three years," said Yanin, the board chairman of the Russian Confederation of Consumer Societies, a Moscow-based group.
"What happened in this dairy plant in Omsk is, of course, a case of sheer idiocy, but nowadays there is nothing to prevent such idiots from indulging in similar outrages or routinely violating production and sanitary conditions elsewhere in the country."
The plant in question could be closed for a thorough inspection five days after a prosecutor's approval, Yanin said, "which in many cases gives violators ample time to correct their problems before an inspection only to resort to malpractices again once the checkup is over."
The average salary of a sanitary inspector is equal to $500 a month, but instead of raising that, the government decided to try to prevent the inspectors from taking bribes by in effect seriously curbing their ability to control production norms and practices, Yanin said.
More often than not, that has led to dire consequences, especially in food production and catering services, resulting in thousands of health-related cases every year, he said.
In the western city of Kaliningrad, 74 cases of acute food poisoning from eating shawarma (meat kebab) at a local cafeteria were registered this week, Rospotrebnadzor Kaliningrad reported on its website.
Fifty-two of the cases were hospitalized in a regional infectious diseases clinic, and 47 were diagnosed with a salmonella infection, the report said. The facility in question was closed for inspection.
"But for the video appearing on a social net and but for over 70 people poisoned from eating some horrible stuff, we would have never known about the risks of using these facilities' products," Yanin said. "The entire sphere of food production is now completely out of the state's control, which means that none of us are safe when we buy food in Russia these days."
---
Must-read stories from the L.A. Times
Get all the day's most vital news with our Today's Headlines newsletter, sent every weekday morning.
You may occasionally receive promotional content from the Los Angeles Times.