Spain exits bailout program; second Eurozone country to do so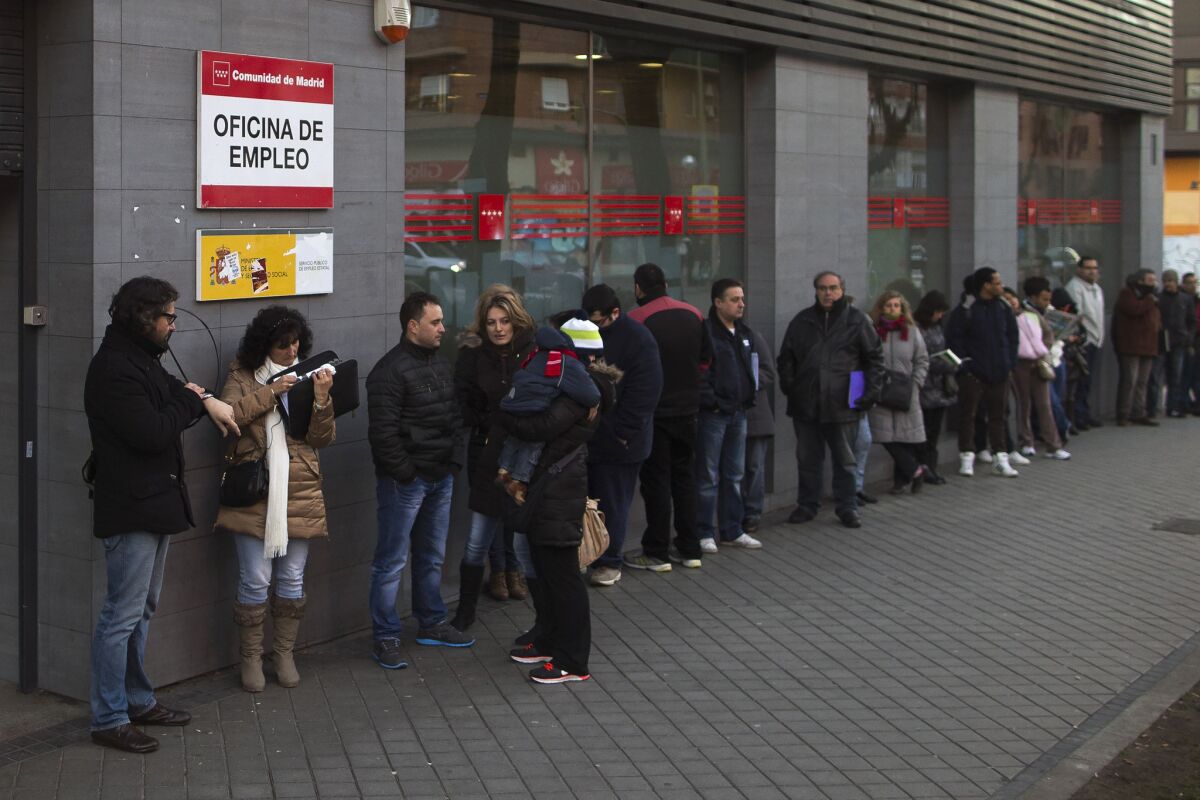 MADRID -- Spain exited its international bailout program Thursday, becoming the second Eurozone country to do so, amid a tentative economic recovery marred by persistently high unemployment.
The Spanish government heralded the bailout exit as a milestone, but acknowledged more progress was needed in a country with a jobless rate of 26%.
"I look not only at the future but also the present with hope," Prime Minister Mariano Rajoy told parliament Wednesday, on the eve of the bailout exit. "Although the unemployment figures in Europe, and in particular some member countries such as Spain, are still unacceptably high, I believe we can say that the worst is over and that we are now on the path to recovery."
In June 2012, Madrid requested international aid for its banks, which were hobbled by bad real-estate debt after the country's construction bubble burst. Europe offered a credit line of up to $137 billion; Spanish banks ended up tapping $56.6 billion of that over the past 18 months.
Thursday's exit means that Spanish banks will no longer have access to bailout loans. And they must still pay back what they've borrowed, with interest, over the next 15 years.
Since Spain requested the aid, its economy has rebounded, posting growth in the last two quarters of 2013 and officially emerging from recession. The International Monetary Fund, which oversaw the bailout along with the European Commission and European Central Bank, has tripled its growth forecast for Spain this year, though from a paltry 0.2% to a slightly better 0.6%.
Spain is also paying much lower interest rates to borrow money. Yields on 10-year treasury bonds are down to 2006 levels, a sign of investor confidence in the government's ability to maintain interest payments on its heavy debt. Two years ago, borrowing costs had risen so high that some feared Spain, the Eurozone's fourth-largest economy, would have to seek a government bailout from neighbors who could scarcely afford it.
Spain still faces serious problems. Economists say it could be years before jobs return. And there are fears that Spanish banks, buoyed by the bailout loans and improving confidence, are not writing down their bad real-estate debt as swiftly as prescribed.
"The big game that politicians and bank CEOs are playing is 'extend and pretend.' If we pretend that our banks are really healthy, then eventually all the assets underlying things on our balance sheets will regain value, and we won't actually have to take such big losses," said Megan Greene, chief economist at Maverick Intelligence in London. "That's the game everyone in Europe has been trying to play. And you know, Spain might get away with it, just because sentiment in Europe generally has improved so much."
Greene said she believed that Spain would eventually need additional aid, if the reality of its banks' balance sheets came to light.
Spain was the biggest of the five bailed-out countries in Europe, but it was the cheapest to rescue. Its bailout was unique in that loans were earmarked for financial institutions, not government coffers. However, the rescue money is officially on the Spanish government's tab, which has helped push up the level of public debt.
Ireland was the first of the Eurozone countries to exit its bailout program, on Dec. 15 of last year.
Frayer is a special correspondent.
---
Must-read stories from the L.A. Times
Get the day's top news with our Today's Headlines newsletter, sent every weekday morning.
You may occasionally receive promotional content from the Los Angeles Times.