Syria: Evacuation in besieged Homs continues amid cease-fire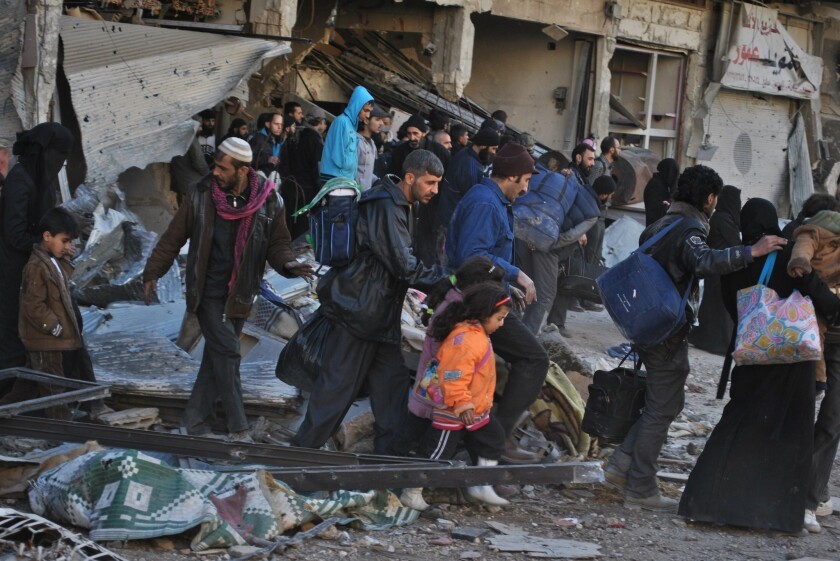 <i>This post has been updated. See the note below for details.</i>
HOMS, Syria -- Relief workers entered the Old City of Homs on Wednesday in the latest United Nations-backed effort to bring aid to civilians trapped inside and evacuate those who wish to leave the besieged ancient quarter.
The U.N. has brokered a cease-fire between government forces who surround the war-battered district and armed rebels bunkered down inside the ruins of the Old City.
[Updated, 6:04 a.m. PST, Feb. 12: At about 3:30 p.m. local time, evacuees began to emerge from the Old City in white U.N. four-wheel-drive vehicles. Men in the first group were injured, some in wheelchairs and on crutches. All looked dazed and bedraggled.
Some families carried their suitcases, and children scampered behind their mothers.
"I want peace," said one bearded man in his 20s, on crutches and his right leg taped for a severe wound. "This is why I came out."
All were taken initially to a banquet hall on the edge of the Old City that has been converted into a temporary processing area for the evacuees.
After the initial group of injured, at least one busload full of families from the Old City arrived at the temporary processing area.]
Hundreds of military-age men evacuated from the Old City are undergoing questioning to ensure they were not involved in armed rebellion, authorities said. U.N. officials have voiced concern about the plight of the men.
The complex operation has drawn global notice and focused attention on the plight of more than 240,000 Syrians nationwide said to be trapped in districts besieged by one side or another in the almost three-year war. Many suffer from shortages of food and other staples, U.N. officials have said.
About 2,500 people were marooned inside Homs' Old City at the start of the current aid effort, according to estimates.
Officials from the U.N., the Syrian government and various relief agencies expressed optimism that more civilians would be evacuated on Wednesday and that aid would be delivered. On Tuesday, relief convoys were unable to enter the Old City, apparently after delicate negotiations to guarantee entry fell through.
So far, officials said, more than 1,100 people have been evacuated from the Old City during an operation that began on Friday. The effort was slated to last three days, but was extended for another three days on Monday; it was scheduled to end after Wednesday's operations were complete. There was no immediate word on whether the high-profile aid initiative would be extended yet again.
Despite the cease-fire, aid convoys were attacked with gunfire and mortars and at least 10 people have been killed and many injured since the operation began on Monday, the U.N. said. No aid staffers were among the fatalities. There was no official word yet on how Wednesday's operation unfolded.
Women, children and the elderly evacuated from Old Homs were allowed to return to their families, authorities said. Medical treatment was provided for the sick and ailing. Those leaving spoke of a shortage of food and a daily fear of snipers and shelling. The area has been under siege for almost two years.
Homs, Syria's third-largest city, has long been a flash point of the Syrian war. Government forces have pushed back rebels in the past year or so and the Old City is one of only two remaining opposition-held districts in the city limits.
Men of military age being evacuated from the Old City must undergo a screening process, Syrian authorities said. Syrian authorities seek to determine if any were involved in "terrorist" actions, as the government characterizes the armed rebellion.
Among those evacuated so far, authorities said, were 344 men between the ages of 16 and 54. Under terms of the agreement between the U.N. and the Syrian government, all are subject to questioning and a possible judicial process.
U.N. officials have urged Syrian authorities to allow them to reunite with their families. Syrian officials said they must first pass through a legal review, case by case.
"Everyone is being treated fairly, according to the terms of the law," Homs Gov. Talal Barazi said on Wednesday. "This is the process that was agreed upon."
So far, he said, 145 men between 16 and 54 had been processed; of those, he said, 111 were released and pledged allegiance to the government. Many were involved in logistical, media and other opposition activities, but not armed rebellion, the governor said. The other 34 were kept for additional questioning and a possible judicial process, the governor said. Some could face terrorism charges, he said, but that was still not determined.
Another batch of 199 fighting-age men who were evacuated on Monday were still awaiting screening, the governor said.
Special correspondent Nabih Bulos contributed to this report.
patrick.mcdonnell@latimes.com

---
Must-read stories from the L.A. Times
Get all the day's most vital news with our Today's Headlines newsletter, sent every weekday morning.
You may occasionally receive promotional content from the Los Angeles Times.