Northrop to shed nearly 600 jobs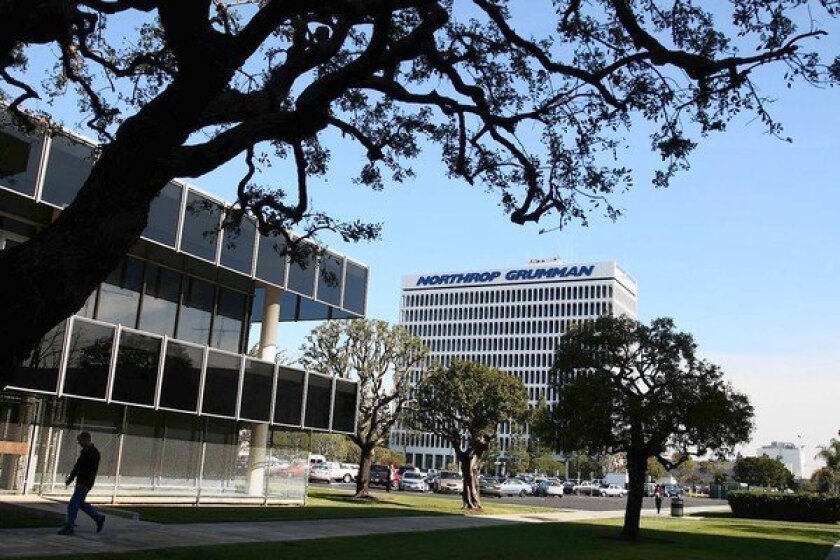 In another wallop to Southern California's aerospace industry, defense giant Northrop Grumman Corp. said it is preparing to trim its payroll by nearly 600 workers.
Responding to billions of dollars in proposed Pentagon budget cuts, Northrop confirmed it has accepted buyouts from about 590 employees in its aerospace division.
Most employees participating in the voluntary buyout program, which began in July, will leave by the end of September. The rest will remain as long as Dec. 14.
Photos: Northrop history in L.A.
This is the latest workforce reduction at Northrop's operations in Southern California — home to the vast majority of the 21,000 employees in its aerospace division. But the broader Southland aerospace industry has been downsizing to reflect new budget realities in Washington, where Congress has tightened purse strings on the Pentagon.
"Because of defense budget uncertainties and pressures on current and projected business, we must adjust our budgets by the end of this year to be prepared to meet the challenges of what shapes up as a demanding 2013," Northrop spokesman Thomas Henson said in a statement. "This is a necessary step to address the affordability that will allow us to effectively compete in a very cost-conscious marketplace."
Most of the jobs affected are in the Southland, at sprawling complexes in Redondo Beach, El Segundo and Palmdale. The voluntary program offered employees a severance package consisting of a payout and medical insurance benefits, whose amounts and length are tied to length of company service.
U.S. military spending — after growing by double digits since the Sept. 11, 2001, terrorist attacks — is now expected to be reduced by $487 billion over the next decade. But as much as $600 billion in additional cuts are being discussed in Washington.
Under a law approved last year, federal funds of all kinds would be held back, or "sequestered," until there is budget agreement, at which time the funds may be reinstated. The buzzword used by contractors for the cutbacks is "sequestration."
Although there is much speculation about whether Congress would let those automatic cuts actually occur in January, military contractors have been ringing alarms about the potential fallout.
In a worst-case scenario, the Aerospace Industries Assn., an Arlington, Va., trade group, estimated 1 million jobs of all kinds would be lost nationwide, including 126,000 in California.
"We are absolutely anticipating more cuts in employment numbers as Jan. 2 approaches," association spokesman Dan Stohr said. "There's still a great amount of detail that companies need in order to plan a way forward."
The new budget realities have especially stung Southern California's aerospace industry.
In January 2011, Boeing cut 900 jobs at its sprawling Long Beach plant, where it builds C-17 cargo jets. Later that year, Lockheed Martin Corp. cut about 1,500 positions across its aeronautics business, including jobs in California. Northrop cut 500 jobs in its aerospace division last year.
"Northrop has to do what it has to do in this tough budget environment," said Robert Kleinhenz, chief economist for the Los Angeles County Economic Development Corp. "But it's unfortunate that it happens to be a tough time in the local economy."
As of July, unemployment in California stood at 10.7%. In Los Angeles County, it is 11.9%. New numbers for August are expected Friday, but Kleinhenz expects little, if any, improvement.
"We've been going sideways for many months now," he said. "Hard to imagine we're going to see sizable growth."
Northrop said it received 666 applications for the buyouts and accepted about 590. The company added that it currently has about 250 job openings for positions across the aerospace sector — most of them in Southern California — funded by ongoing contracts.
Of Northrop's employees in its aerospace division; about 17,000 work in California. The company's engineers and technicians are primarily in the Southland, where they design and produce center fuselages for F/A-18 fighter jets in El Segundo and satellites in Redondo Beach.
The company also has a large operation in Palmdale, where it built the B-2 stealth bomber. That's where it now builds fuselages for the upcoming radar-evading F-35 fighter jets, which will be used by the Navy, Marine Corps and Air Force.
Northrop has about 70,000 employees across the globe, developing and building weapons and high-tech equipment that touch practically every aspect of U.S. military and intelligence operations.
---