Holiday Book Guide 2014: Nonfiction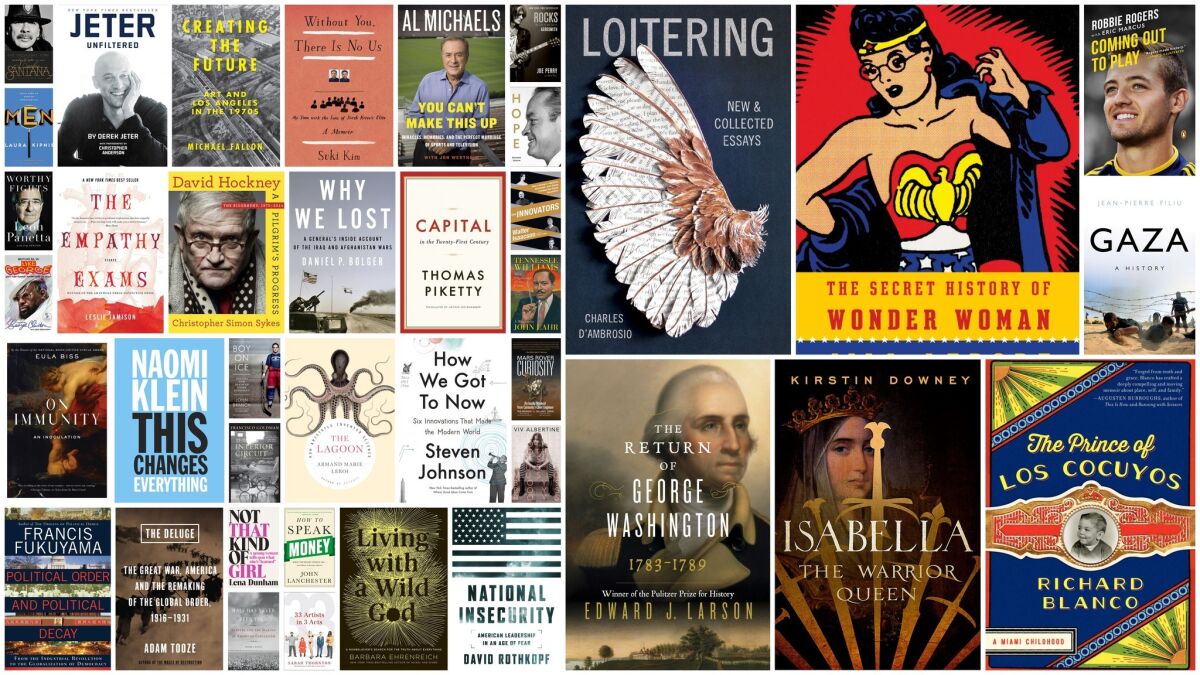 Capitalism, George Washington, empathy, war, the Mars Rover, Bob Hope and Derek Jeter are among the topics covered in a selection of new nonfiction titles. See all our holiday books recommendations.
Skip to: History | Current Affairs | Essays | Arts/Entertainment | Memoir/Bio | Science/Tech | Sports
History
The Half Has Never Been Told
Slavery and the Making of American Capitalism
Basic, $35
This ambitious socioeconomic history suggests that slavery in the antebellum South was a chapter in the nascent global economy.
Isabella
The Warrior Queen
Nan A. Talese/Doubleday, $35
A new biography of the controversial queen, best known for sponsoring Christopher Columbus and establishing the Spanish Inquisition.
Gaza
A History
Oxford University Press, $29.95
A French historian and former diplomat turns his eyes to the Gaza Strip, home to decades of rancor between Israel and Palestine.
Political Order and Political Decay
From the Industrial Revolution to the Globalization of Democracy
Farrar, Straus and Giroux, $35
In a follow-up to his acclaimed "The Origins of Political Order," Fukuyama considers what makes modern politics work and why we get it wrong so often.
How We Got to Now
Six Innovations That Made the Modern World
Riverhead, $30
There are no lone inventors, argues Johnson — innovations like glass and clocks are the work of networks, and new inventions help spawn others in complex ways.
The Return of George Washington
1783-1789
William Morrow, $29.99
The Pulitzer Prize-winning historian looks at what might be called Washington's missing years, between the end of the American Revolution and his presidency.
The Secret History of Wonder Woman
Alfred A. Knopf, $29.95
The surprising story of the creator of Wonder Woman, a polyamorous academic who invented the lie-detector test and surrounded himself with strong women.
The Deluge
The Great War, America and the Remaking of the Global Order, 1916-1931
Viking, $40
The Yale history professor argues that World War I led to the decline of Europe as the world's seat of political power and the ascent of the U.S.
Current Affairs
Why We Lost
A General's Inside Account of the Iraq and Afghanistan Wars
Eamon Dolan/Houghton Mifflin Harcourt, $28
America lost the war on terror, but it didn't have to be that way, argues the retired U.S. Army lieutenant general who served in both wars.
This Changes Everything
Capitalism vs. the Climate
Simon & Schuster, $30
Klein turns her sharp gaze to global warming, the uneven response, and what the crisis says about our political and economic systems.
How to Speak Money
What the Money People Say — and What It Really Means
W.W. Norton, $26.95
Don't know a garden hedge from a hedge fund? Lanchester's new book explains what the financial experts mean when they talk about money.
Capital in the Twenty-First Century
Belknap/Harvard University Press, $39.95
In this unlikely hit for the French economist, Piketty warns that economic inequality is getting worse and that it could lead to a dangerous oligarchy.
National Insecurity
American Leadership in an Age of Fear
PublicAffairs, $29.99
Terrorism and a failing economy have made Americans live in fear, argues Rothkopf, whose new book explores how that happened.
Essays
On Immunity
An Inoculation
Graywolf, $24
A thoughtful, elegantly written treatise on the history of vaccination and its recent controversies.
Loitering
New and Collected Essays
Tin House, $15.95 paper
This collection from the Oregon cult author takes on topics such as whaling, J.D. Salinger and sexual abuse.
The Empathy Exams
Graywolf, $15 paper
In this breakout collection, Jamison combines philosophy, memoir, imagination and journalism to investigate many aspects of empathy.
Men
Notes From an Ongoing Investigation
Metropolitan, $25
The insightful author of "Against Love" takes men as a starting point to explore various pressures on gender in today's culture.
Arts/Entertainment
Clothes, Clothes, Clothes. Music, Music, Music. Boys, Boys, Boys
A Memoir
Thomas Dunne Books, $27.99
A member of pioneering female band the Slits self-deprecatingly recalls her adventures in punk rock, romance and motherhood.
Brothers Be, Yo Like George, Ain't That Funkin' Kinda Hard on You?
A Memoir
Atria, $27
A wild ride through the life of the peerless, visionary, out-of-this-world founder of Parliament Funkadelic.
Not That Kind of Girl
A Young Woman Tells You What She's 'Learned'
Random House, $28
Framed as an advice book, this memoir touches on elements of the actress-writer's life including virginity, date rape, friends and therapy.
Creating the Future
Art and Los Angeles in the 1970s
Counterpoint, $28
The L.A. art scene was just as vital in the 1970s as it was before or after, Fallon claims, citing the influence of performance art, feminism and the Chicano Art movement.
Tennessee Williams
Mad Pilgrimage of the Flesh
W.W. Norton, $39.95
An indispensable and astute biography of the gifted playwright that doesn't skimp on sex, drugs or nervous breakdowns.
Rocks
My Life In and Out of Aerosmith
Simon & Schuster, $27.99
Aerosmith's guitarist chronicles his life from quiet nature-loving boy to living on the edge, with sex, drugs and … you know the rest.
The Universal Tone
Bringing My Story to Light
Little, Brown, $30
A memoir from the legendary Mexican American blues-rock musician who's always had a keen interest in spirituality and mysticism.
David Hockney
The Biography, 1975-2012
Nan A. Talese/Doubleday, $40
The second volume of the biography of an artist who's as synonymous with Southern California as he is with his native England.
33 Artists in 3 Acts
W.W. Norton, $26.95
What does it mean to be an artist? The author of the bestseller "Seven Days in the Art World" tries to answer that question with these intimate portraits.
Hope
Entertainer of the Century
Simon & Schuster, $30
An honest look at beloved actor and comedian who nonetheless had a dark side.
Memoir/Bio
The Prince of Los Cocuyos
A Miami Childhood
Ecco, $25.99
Blanco, who in 2013 became the first Latino and first gay U.S. inaugural poet, chronicles his childhood as the son of Cuban immigrants in Miami.
Living With a Wild God
A Nonbeliever's Search for the Truth About Everything
Twelve, $26
Ehrenreich rediscovers a teenage journal chronicling a spiritual awakening and takes it up again, as an atheist, six decades later.
The Interior Circuit
A Mexico City Chronicle
Grove, $26
Goldman explores Mexico City's landscape and politics as he is forced to reconstruct his life after his wife's death.
Without You, There Is No Us
My Time With the Sons of North Korea's Elite
Crown, $24
An immigrant from South Korea to the U.S., author Kim chronicles six months spent teaching in a North Korean university — including the day Kim Jong-il died.
Worthy Fights
A Memoir of Leadership in War and Peace
Penguin Press, $36
The ex-CIA director, who left the Cabinet in 2013, critiques President Obama's handling of international affairs and White House management.
Science/Tech
Being Mortal
Medicine and What Matters in the End
Metropolitan, $26
The American way of dying is lonely, expensive and often painful; surgeon and journalist Gawande argues that doctors need to adopt a more humane approach to end-of-life issues.
The Innovators
How a Group of Hackers, Geniuses, and Geeks Created the Digital Revolution
Simon & Schuster, $35
The author follows up his blockbuster biography of Steve Jobs with a look at several computer pioneers and how their inventions changed the world.
The Lagoon
How Aristotle Invented Science
Viking, $29.95
Scientist Leroi argues that Aristotle wasn't just a philosopher but also an academic pioneer who essentially invented biology as we know it.
Mars Rover Curiosity
An Inside Account From Curiosity's Chief Engineer
Smithsonian, $29.95
The story of one of America's greatest and most unlikely moments in space exploration: the successful landing of the rover Curiosity on Mars.
Sports
Boy on Ice
The Life and Death of Derek Boogaard
W.W. Norton, $26.95
A Pulitzer-winning reporter makes his literary debut with the story of a troubled hockey star who died at age 28 of a drug overdose.
You Can't Make This Up
Miracles, Memories, and the Perfect Marriage of Sports and Television
William Morrow, $28.99
A memoir from the legendary sports broadcaster and former "Monday Night Football" play-by-play announcer, who brought the world "Do you believe in miracles? Yes!"
Coming Out to Play
Penguin, $17 paper
The L.A. Galaxy winger writes about his life, from his childhood as a soccer-obsessed California kid to his decision to come out as gay in 2013.
Jeter Unfiltered
Gallery/Jeter Publishing, $28
The New York Yankees' shortstop looks back on his final season on and off the field in this book filled with never-before-published photos.
---
Get the latest news, events and more from the Los Angeles Times Book Club, and help us get L.A. reading and talking.
You may occasionally receive promotional content from the Los Angeles Times.