Louise Erdrich's 'The Round House' mixes tragedy, coming of age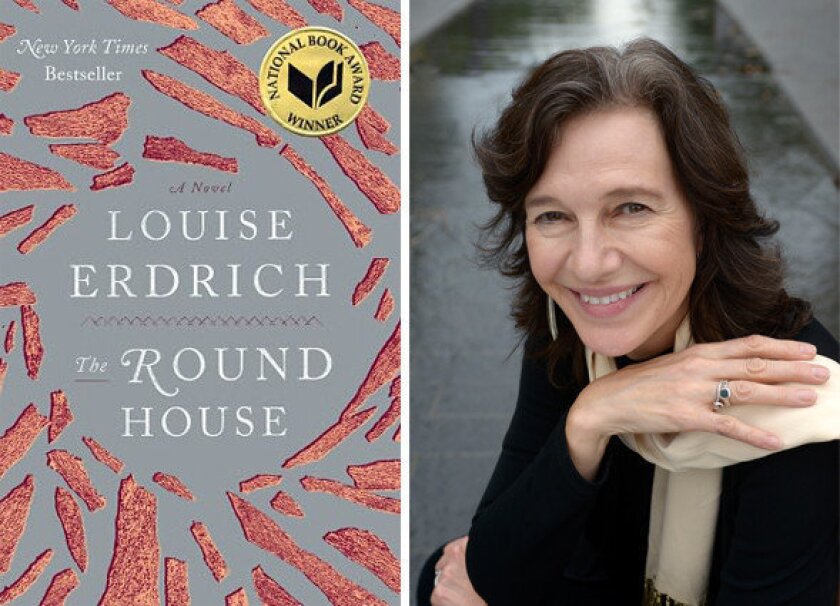 ---
The Round House
A novel
Louise Erdrich
Harper: 336 pages, $27.99
---
Louise Erdrich's "The Round House" is a solid coming-of-age novel set on a fictional North Dakota Ojibwe reservation, the subject of much of her work. That this book — good, but not extraordinarily so — won the National Book Award on Nov. 14 illustrates just how idiosyncratic literary competitions can be.
With its cover now adorned by the National Book Awards' gold medallion, "The Round House" will, presumably, find a wider audience than it would have before. Erdrich has been building this narrative world since "Love Medicine" in 1984; yet for those who don't yet know it, this book provides a decent entree.
In the novel, Joe, a sheltered 13-year-old, must come to terms with crime, justice and adult sexuality after his mother is brutally raped. She is so traumatized that she initially will not speak of the incident or name her attacker, and Joe decides to find the culprit. He quizzes his father, eavesdrops on conversations and bikes around the reservation with his three closest friends, investigating.
Interspersed with this quest are more mundane scenes from Joe's everyday life — boyishly lusting after his uncle's buxom girlfriend, reading his father's books, skinny-dipping with his friends, going to his grandfather Mooshum's birthday party. The tribe's mythic-slash-spiritual history is also present; Joe learns forgotten legends when Mooshum talks in his sleep.
Joe's mother is devastated, almost beyond the reach of her friends and family. His father does his best to try to bring some normalcy back to the household, but the sadness there weighs on Joe. Both he and his father know that the attack took place at the intersection of native and state lands – jurisdiction isn't clear. The authorities may not be able to bring about justice, even after a clear suspect emerges.
To all this weighty drama Erdrich brings a touch of humor, while she imbues the new generation — Joe and his three best friends — with a sense of potential and hope. There are teen crushes, outrageously inappropriate old people, and faithful friends. In some ways, it feels comfortable and familiar, like "Encyclopedia Brown" with darker content, or "Stand by Me" with not-quite-as-dire a crime at its heart.
Of course, Erdrich also brings in details of life on an Ojibwe reservation unfamiliar to most readers. Families are poor, fry bread is a comfort food, and the powwow a welcome annual celebration.
Erdrich doesn't fetishize these details; they are presented in the plain-spoken language of the every day: "The girls bought cotton candy. They peeled off strips of fluff for us. We drank pop and tried to crush the cans in our fists. Things started up. Veterans brought in the American flag, the MIA-POW flag, the flag of our Tribal Nation, our traditional Eagle Staff.... We stood on the top tier to watch it all: the drums, the rousing synchrony of bells, rattles, deer clackers, and the flashing music of the jingle dancers. Grand Entry always caught my breath and made me step along with the dancers."
Chunks of the book could stand on their own. Mooshum's midnight mumblings are actually told in the form of short stories. Another character recites her history the same way, an impossibly thorough account for a conversation over a dinner table. And some scenes — discovering a priest's past in the Marines, teens joking around naked in the woods — feel like set pieces, not so much part of the plot as grafted onto this novel.
The characters in "The Round House" are part of a larger story Erdrich has been telling most of her career. Threads connecting the characters run through her novels and short stories; Mooshum and Joe's father, Judge Antone Bazil Coutts, appeared in Erdrich's 2008 novel, "The Plague of Doves." Because her novels aren't chronological — this one is set in 1988 — and because history and legend often merge in the storytelling, it is possible to pick one up without feeling the absence of the others.
In a world this sprawling, some individual events lose their emotional power. Mooshum's decrepitude, played for laughs, is more poignant if the reader can remember his ribald youth. The status of wives and other women, peripheral to the thoughts of the 13-year-old narrator, means more when the reader has encountered them elsewhere, up close.
Joe often serves as an observational lens without much of a personal point of view. This is in part the conundrum of the adolescent — Joe is a child finding his way to the man he might become, under the shadow of the crime against his mother. His unknowingness emphasizes how hard it is for the many elements of the story to hold together. The reader can watch them happen but may not be moved by them.
---
Get the latest news, events and more from the Los Angeles Times Book Club, and help us get L.A. reading and talking.
You may occasionally receive promotional content from the Los Angeles Times.