Conspiracy theorist Alex Jones is co-writing a book with 'The Game' author Neil Strauss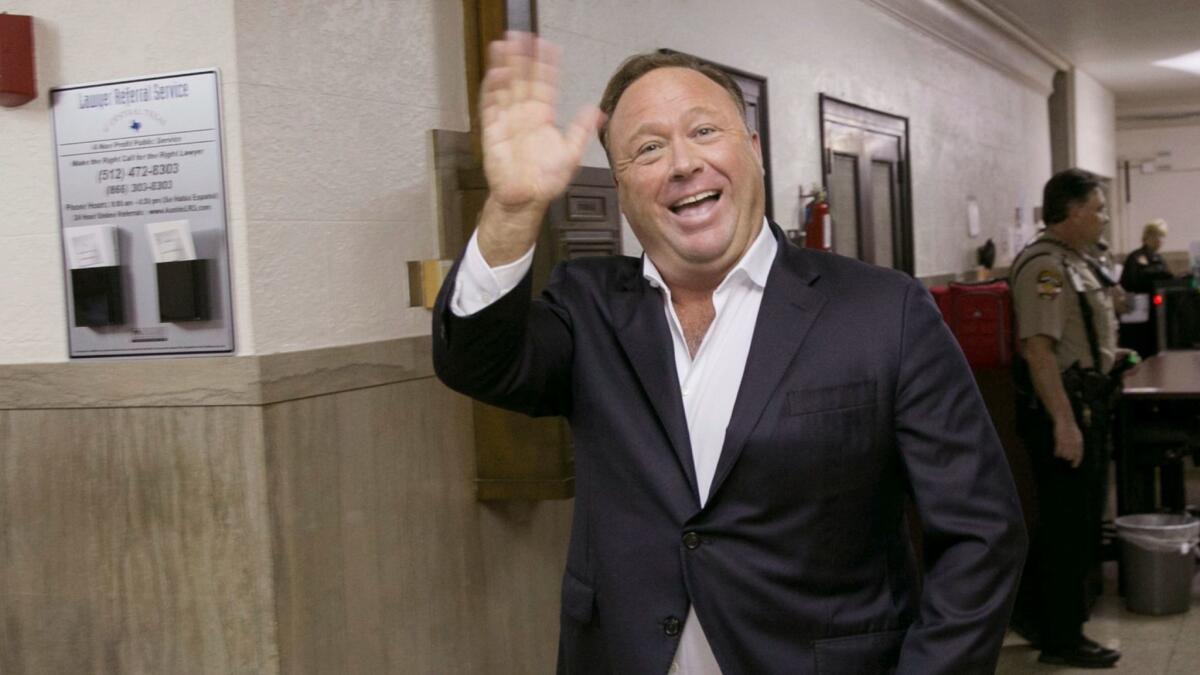 Alex Jones, the conspiracy theorist, radio show host and publisher of the extremist right-wing website InfoWars, is co-writing a book with "The Game" author Neil Strauss, CNN reports.
The network obtained a proposal sent to major publishers for a book to be titled "The Secret History of the Modern World & the War for the Future."
The proposal promises that reading the book "will be like the moment you first discovered sex."
Which isn't necessarily good.
The book proposal was shopped to publishers by Marc Gerald of Los Angeles-based United Talent Agency, according to CNN. However, an unnamed representative of UTA told CNN that it was not representing the book and that it had been circulated without internal approval.
A representative of UTA confirmed to the Times, "UTA does not represent this book."
The book proposal leverages Jones' reputation for spreading conspiracies as a catchy brand. Conspiracy theories promoted by Jones' website Infowars include the false claim that the massacre at Sandy Hook Elementary School was a hoax.
"[T]here is a conspiracy that, no matter who you are, you have to admit is true," the proposal reads. "There is a war for your mind. A war to make you docile. A war to make you a sheep. A war to take away your initiative, your freedom, and your control over your own life."
The Austin, Texas-based Jones has for years been a controversial figure on the far right. In addition to his claim about Sandy Hook, he has asserted that the Sept. 11 attacks were "an inside job" and that Barack Obama was "the global head of Al-Qaeda." Jones has been praised by Donald Trump, who during the 2016 presidential campaign called his reputation "amazing."
Neil Strauss is best known for his bestselling 2005 book "The Game: Penetrating the Secret Society of Pickup Artists," which chronicles his friendship with Erik von Markovik, a "pick-up artist" who goes by the assumed name "Mystery" and shares his society's lessons for dating — and manipulating — women.
Strauss has previously co-written books with rocker Marilyn Manson, the heavy metal band Mötley Crüe and the pornographic actress Jenna Jameson.
The proposal for the Jones book claims that it will be "a classic" and that Jones would be willing to publicize the book, should it find a publisher.
"I'm open to as many book signings as you'd like me to do, as well as impactful promotional outlets," Jones writes in the proposal. "The few interviews I have done previously have made headline news. Be it accurate or not, people love writing about me. But most important to me, besides the months of promotion that I'm looking forward to doing, I'm writing this book for the long road. I am putting a lot of work into it, distilling my knowledge, philosophy, and mission, into some 120,000 words."
The book apparently has yet to find a publisher.
---
UPDATES:
Jan 23, 12:45 p.m.: This story was updated with a comment from UTA.
Get the latest news, events and more from the Los Angeles Times Book Club, and help us get L.A. reading and talking.
You may occasionally receive promotional content from the Los Angeles Times.