Q&A: Felicia Day lets the world know that 'You're Never Weird on the Internet (Almost)'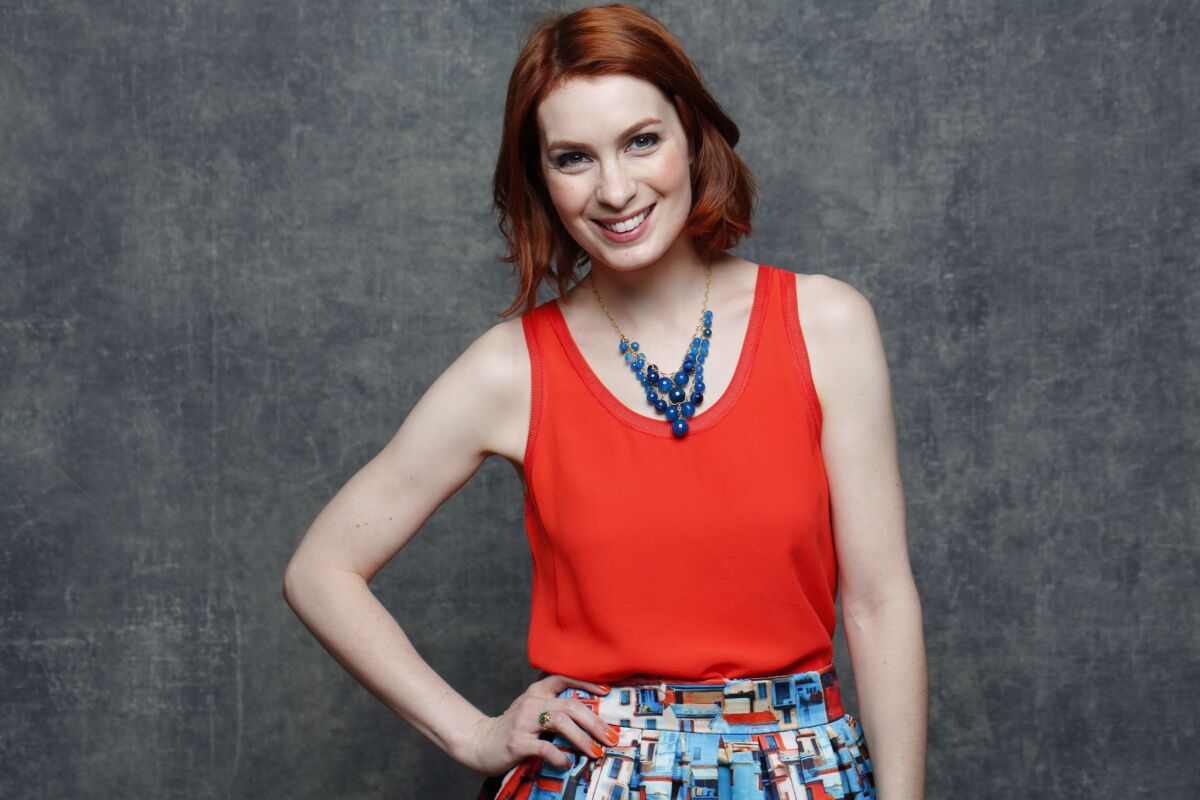 In her memoir, "You're Never Weird on the Internet (Almost)" (Touchstone: $25.99), actress Felicia Day admits that she's often referred to as "that quirky chick in that one science-fiction show" or as "usually the lone female on lists of prominent nerds." But she's much more than that.
Yes, she was one of the slayerettes in the last television season of "Buffy the Vampire Slayer," she had prominent roles on fan-centric shows like "Supernatural" and "Eureka" and she played Penny in Joss Whedon's online musical sensation "Dr. Horrible's Sing-a-long Blog."
But the Internet is where Day found her voice. She created and stars in the Web series "The Guild" and is the founder of Geek & Sundry, a multiplatform media outlet that is a hub for the geek community. She does all of this, plus is a champion of romance novels and board games, and she still found time to write a book.
"Memoirs are hard! What I wanted to do was open the door to this new world, which is digital media, since my life is exactly the same years as the emergence of the Internet," Day said. "It's like the industrial revolution, a technological revolution, and hopefully it opens doors for people rather than closes them. That's why I wanted to have that message of openness and creativity and expressing yourself — the Pollyanna view of technology."
The multi-hyphenate spoke to Jacket Copy about her journey from "weird home-schooled kid to early online adopter to business owner and creator" and what it took to write and publish her memoir.
What made you decide to do the book?
The book started as a speech I gave several times right after Geek & Sundry was formed. I was asked to speak at YouTube events, at brand seminars, at Wharton Business School. So I had to put together a survey of my life, which I've never done before, and people responded so well to my journey from weird home-schooled kid to early online adopter to business owner and creator, that when the idea came to me to do a book, I was like 'Oh, I already have an outline here.' Of course, it changed a lot during all the iterations in the year that I took to write it.
The core of it that people tended to respond to ... was embracing your uniqueness and being able to get your voice out there as a unique person using opportunities and places that did not exist before.
Although you were prepared through your speech work, was it still a daunting task?
It was definitely daunting. I was really just using that as a template and a starting point. But, like any artistic venture, hopefully it morphs as you get into it. I had to be very mathematical about it — I have a math degree — if I was going to be able to achieve a book, which is much longer than a screenplay, which I had written before. … I used a program to help me track my word count. I created a structure within the program, called Scrivener, to sort of break up my tasks into smaller tasks, and that's how I was able to get through it. I think structure always gives you a place to wander because if you just say 'Hey, do a book,' it looks like you're just trying to scale Mt. Everest in flip-flops.
A math degree — what did you think your path was going to be once you got that?
I always knew that I wanted to be an actor. I don't know why. It was sort of this blind faith that I had in myself — that I talk about in the book — where it was a very big adjustment period after I got to Hollywood. But mathematics is something that I was very good at, and I love achieving things, and there's a certain sense of order that the mathematical universe gives you in that you always have the tools to be able to solve any problem.
It wasn't really a situation where I saw a future there. It was creating … the basics of a backup plan, which I never, ever wanted to do. I tend to throw myself off cliffs and see where I land, in every single step of my life. As a risk-averse person, I don't know why I do that.
You talk about embracing your weirdness in the book. How do you deal with the success you have now?
At the end of my book, there's a whole chapter dealing with depression and anxiety and really struggling with success. I think that's something that no one really tells you about. When you achieve what you were aiming for and get the recognition that you were looking for, all of these other problems start piling on. It's not something that you want to complain about because you were always driving yourself toward being recognized, achieving a certain amount of popularity, having so many doors open for you. But that can be almost as crushing as no one wanting to hear you.
That's what I struggled dealing with. Being able to remain myself with all of these opportunities and trying to please a lot of people and having expectations heaped on me that I didn't know if I could live up to. Now, I'm definitely more able to deal with those things and see the long term of a career versus trying to chase every opportunity. … The great thing about this new digital world is that you don't have to be one thing. Really, as a digital person, you have to be good at many things or you can't succeed.
Was writing your memoir cathartic? You talked a bit about depression, and later in your book, about having a nervous breakdown.
Absolutely. Writing this book was an adventure in self-therapy that I never thought I would explore. In examining your life from a bird's-eye view as an objective person, and especially when you're trying to look at your journey and make it usable for other people versus self-indulgent or manipulative, that is a very, very hard task, and also illuminating. I realized that certain things in your life form you in a way that is permanent. … To me, the thing I take away from writing a memoir is that everyone should have a memoir — to be able to get that bird's-eye view of their life and be aware of the patterns of their behavior so that they can guide themselves versus letting the unconscious guide them.
That's a lot of self-discovery. And it took a year to write?
About a year to write the book, and then a couple of months of editing. The whole publishing industry is so interesting because I'm in the world of the immediate publishing. I have an idea, the impulse is there, I shoot it and I post it immediately. … Publishing is such a long-tail sort of business, but to see it up close — it's like assembling a battleship, piece by piece over months and months, and finally you release it into the world and you just hope that it sails.
What's exciting to me is that every time I had an idea that molded my world, meaning the digital world, they were really accepting of it. That's what I think old media needs to do is embrace what new media is finding but also keep what works in their business.
---
Get the latest news, events and more from the Los Angeles Times Book Club, and help us get L.A. reading and talking.
You may occasionally receive promotional content from the Los Angeles Times.