Hillary Rodham Clinton storms to the top -- of bestseller lists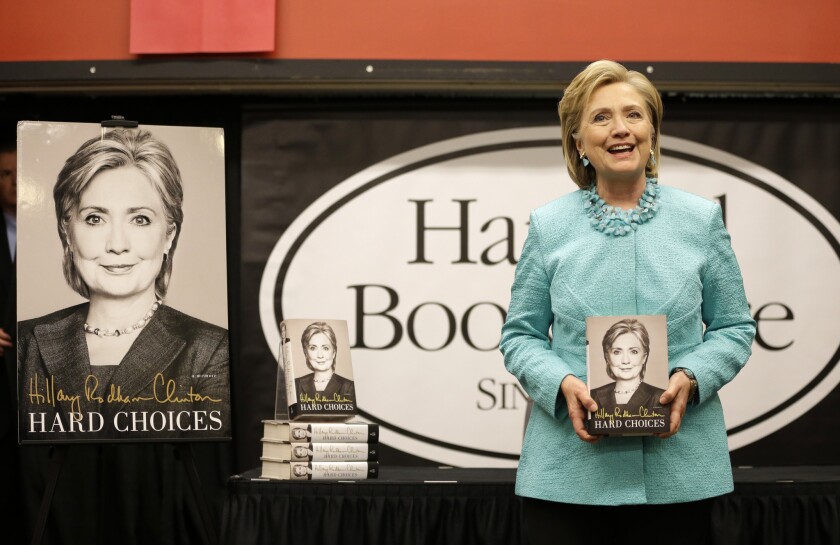 Hillary Rodham Clinton is on top. On top of bestseller lists, that is.
"Hard Choices," Clinton's memoir, has sold more than 100,000 copies during its first week on sale, publisher Simon & Schuster told the Associated Press. The book covers her years as secretary of State.
"We're elated," said Simon & Schuster's president and publisher, Jonathan Karp. "This book is on a trajectory to be the bestselling nonfiction book of the year."
That's a good trajectory as far as her publisher is concerned. But many observers, and perhaps her memoir's readers, are curious about another path: Is Clinton on her way to the road to the White House?
Those critical of the idea of a Clinton presidential run point out that "Hard Choices" sales are just a fraction of her 2003 memoir, "Living History," which sold 600,000 copies its first week out. At the time, Clinton was the first lady, and her memoir promised to reveal her feelings about the affair between her husband and Monica Lewinsky. The 500,000-book difference has led some to call "Hard Choices" a bomb.
But is it? The book-buying environment is different. The closing of Borders bookstores means there are hundreds of fewer stores around the country selling books.
Clinton's 100,000-plus sales of "Hard Choices" can be cast in a positive or negative light, depending on the comparison. She's doing much better than Mitt Romney did with his pre-presidential run memoir, "No Apology," which sold about 42,000 copies its first week out. Lagging even further behind in first-week sales are Herman Cain, whose "This Is Herman Cain!" sold 12,000 copies; Rick Perry, whose "Fed Up" sold 3,300 copies; and Joe Biden, who sold 1,400 copies of "Promises to Keep."
But Clinton's book sales are dwarfed by the book from a politician who came out of nowhere — well, Alaska — and captured the nation's attention. Sarah Palin's first book, "Going Rogue," sold 469,000 copies its first week out. That stratospheric number put her 2009 book ahead of new books by James Patterson, Stephen King and Dan Brown.
Clinton's book may continue to perform well — particularly if she decides to get in the presidential race.
Like passing notes in class; I'm @paperhaus on Twitter
---
Get the latest news, events and more from the Los Angeles Times Book Club, and help us get L.A. reading and talking.
You may occasionally receive promotional content from the Los Angeles Times.