'Diary of a Wimpy Kid's' Jeff Kinney hits the middle school road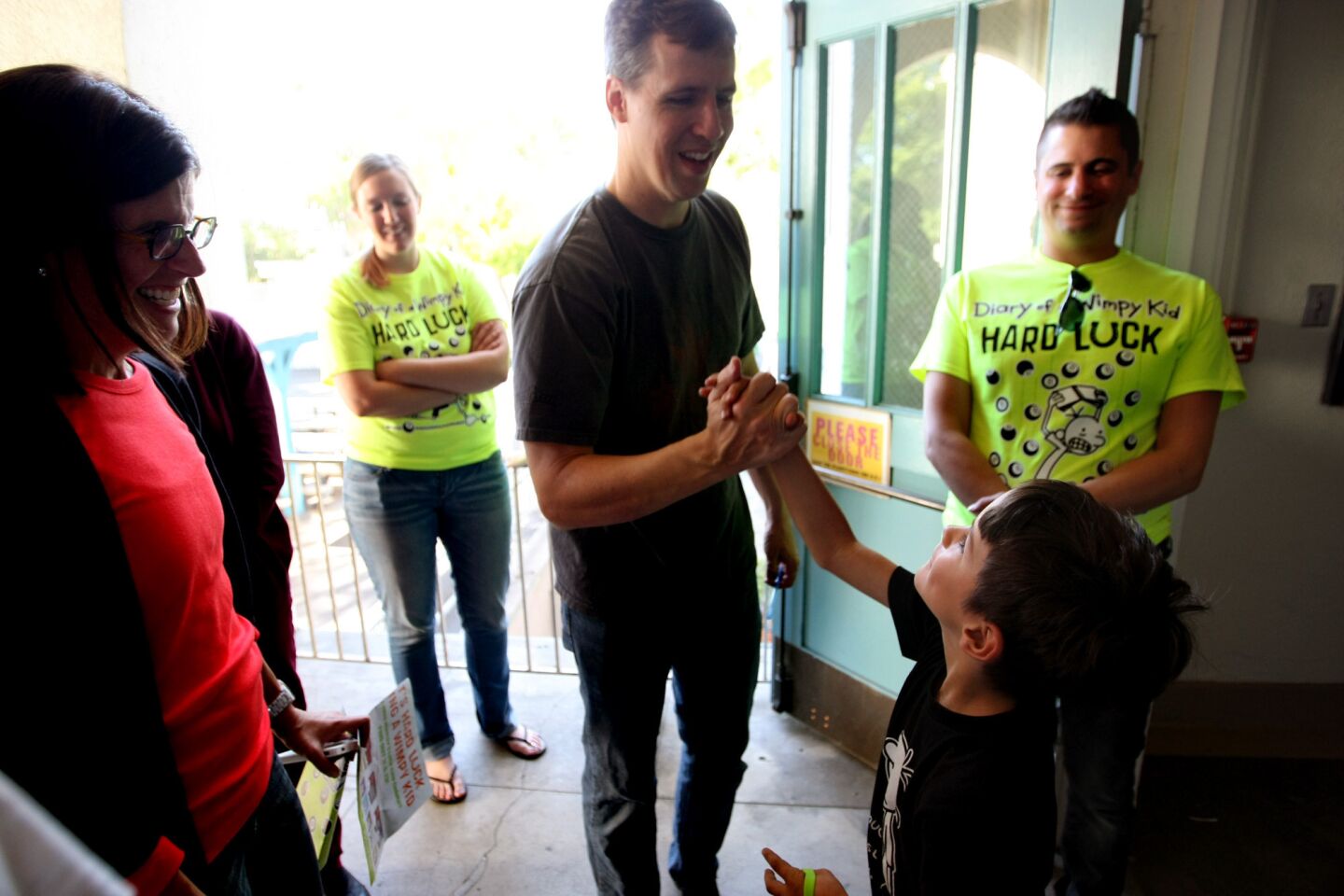 "Diary of a Wimpy Kid" writer Jeff Kinney greets a student at Franklin Avenue Elementary School in L.A. Kinney is on a bus tour promoting the latest entry in his series, "Diary of a Wimpy Kid: Hard Luck."
(Genaro Molina / Los Angeles Times)
Students at Franklin Avenue Elementary School cheer "Wimpy Kid" writer Jeff Kinney as he prepares to take the stage.
(Genaro Molina / Los Angeles Times)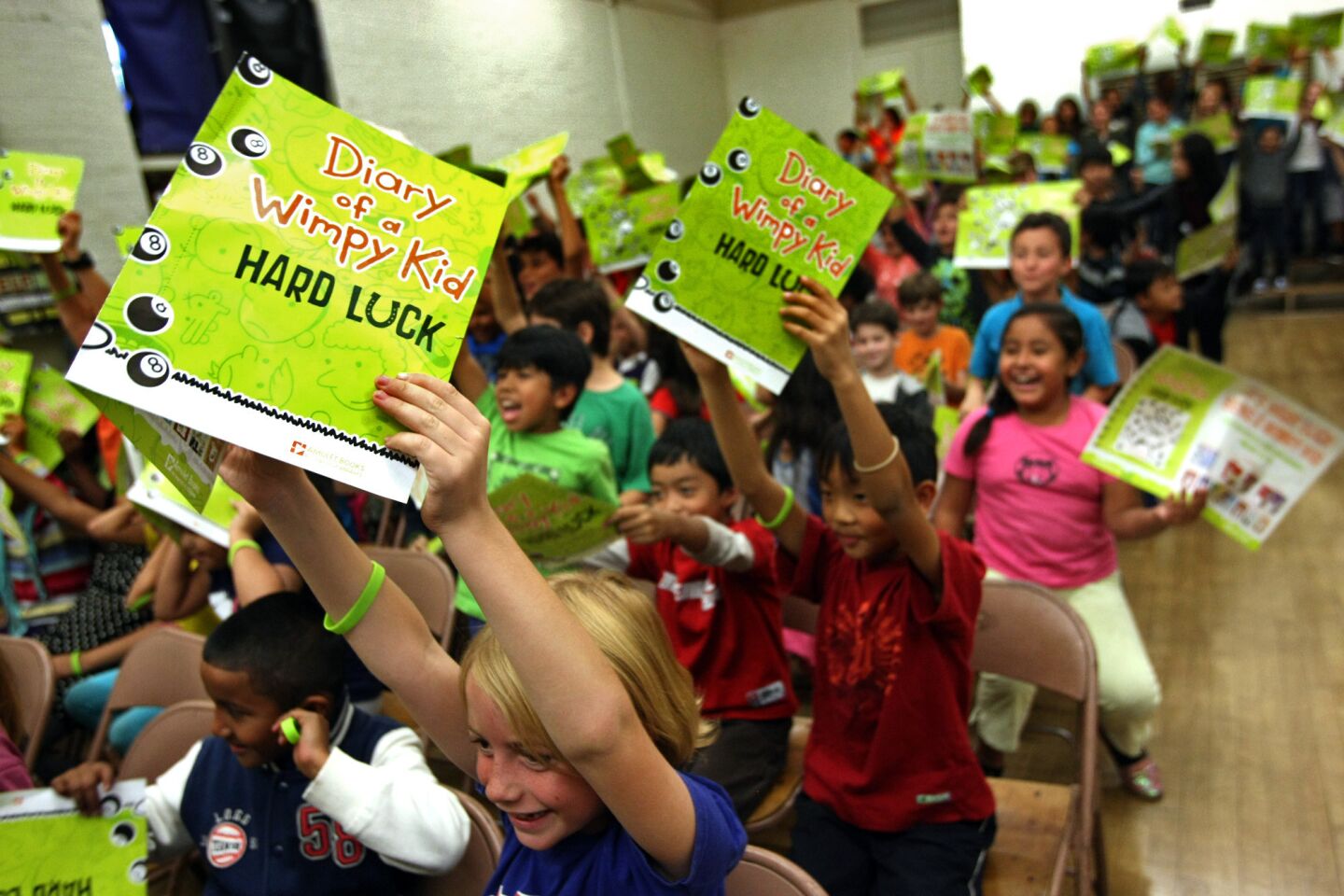 Jeff Kinney gets a not-so wimpy response from the kids at Franklin Avenue Elementary School in Los Angeles.
(Genaro Molina / Los Angeles Times)
Jeff Kinney shows students at Franklin Avenue Elementary School how he comes up with the ideas for his "Diary of a Wimpy Kid" books.
(Genaro Molina / Los Angeles Times)
Jeff Kinney's presentation at Franklin Avenue Elementary School is part of his "Diary of a Wimpy Kid: Hard Luck" book tour.
(Genaro Molina / Los Angeles Times)
Jeff Kinney is all smiles during his "Diary of a Wimpy Kid" presentation at Franklin Avenue Elementary School.
(Genaro Molina / Los Angeles Times)
Jeff Kinney is on a cross-country tour aboard a distinctly green bus in support of his new "Diary of a Wimpy Kid: Hard Luck," the eighth in the hit series.
(Genaro Molina / Los Angeles Times)
The first time through middle school was bad for Jeff Kinney. But the second time? Golden.
Kinney is the writer and cartoonist behind the "Diary of a Wimpy Kid" books, a series that revels in the thugs and cliques, the clueless parents, the awkward bodies, treacherous siblings and excruciating moments of grades 6 through 8. The seven "novels in cartoons" he published between 2007 and 2012 have sold more than 115 million copies worldwide — many of them, teachers and parents say, to boys previously allergic to reading. There have been three movies.
Now comes Book 8, "Diary of a Wimpy Kid: Hard Luck." On Tuesday, its release date, Kinney was crisscrossing Los Angeles in a "Wimpy Kid" tour bus that had been painted a nearly glowing green to match the cover of the new book.
PHOTOS: Jeff Kinney boards 'Diary of a Wimpy Kid: Hard Luck' bus
Kinney arrived at Franklin Elementary School in Los Feliz clad in jeans and a gray T-shirt, as casual as a grade-school kid despite his height (6-foot-1) and age (42). In one pocket he carried a hotel notepad bearing a series of drawings, like ballpoint hieroglyphics.
"I do all my speeches in pictures," Kinney said. "If I wrote words, I'd get locked in on them."
Then he stepped into the packed auditorium, faced about 200 high-spirited third-, fourth- and fifth-graders, and asked: "Did you guys just have some sugary drinks?"
One reason kids clamor for Kinney's books is their main character, Greg Heffley — an unreliable narrator whose misdeeds thrill young readers and make some older ones nervous. There's no obvious moral instruction in a "Wimpy Kid" book, but plenty of sly wit.
To write one, Kinney told the kids, he first comes up with 350 jokes, then strings them into a plot, draws the cartoon, dickers with his editor, and keeps cutting until he's down to 217 pages.
As most of the kids at Franklin seemed to know, Kinney's "day job" is running Poptropica.com, a children's online role-playing game that launched in the same year as the "Wimpy Kid" books. Worldwide, kids have created more than 560 million virtual characters within the game. Kinney, who created the game as an employee of the publisher Pearson, remains connected to the company with plenty of creative input, though his bosses have loosened his schedule and responsibilities to allow for his global fame.
Kinney spent his own middle school years (junior-high in those days) at Eugene Burroughs school in Accokeek, Md. At the University of Maryland, Kinney won notice with a strip called "Igdoof" in the campus paper. But once he graduated, he hit a wall.
"I really wanted to be a newspaper cartoonist, but nobody liked my work," Kinney said. "I didn't have the control or flair that was necessary to create something that didn't look childish."
So he took jobs doing newspaper, Web, software and game production and design, among other things. And then in early 1998 he hit upon the idea of a kid's diary. This was not entirely new — Sue Townsend's "The Secret Diary of Adrian Mole, aged 13 3/4," came out in 1982 — but Kinney's stick-figure-esque illustrations gave the idea a new dimension.
After years of refining characters, stockpiling jokes and a tentative Internet foray, Kinney sold the manuscript that became the "Wimpy Kid" series in 2006. Nowadays, Kinney and his wife and two sons live in Plainville, Mass., where Kinney leads Cub Scouts and coaches soccer. (In fact, he flies home from the book tour on weekends to coach.)
By 1:30 p.m. on book-release day, the "Wimpy Kid" bus had crossed to the Westside and Kinney was recalling his own middle school years.
"I made mistakes. I wasn't that smart. I wasn't that brave," he said. He gives Greg these flaws, Kinney said, because "kids can sniff out a moral. They can feel the heavy hand of an adult."
He plans at least two more books, sees no reason why Greg should ever get to high school, and offers this advice to those in or approaching middle school: "It gets better. I've never run into a person who yearns for their middle school days."
By 2:30 Kinney was signing again, this time for Children's Book World on West Pico Boulevard — three seconds per signature, a longer moment for chat and a photo — as 100 children waited and thumbed through the new book.
The main character "reminds me of my sister. She's always getting in trouble," said Emmeline, 10, of Chino Hills.
"I like the idea of how this is a diary. So it's not like an author's writing it — it's like a kid is writing," said Yaniv, 12, of Los Angeles. "Some of the things you learn are things your parents don't want you to be learning."
At 3:30, eastbound again on the bus, Kinney squinted through reading glasses at his laptop.
"Hey," he said. "We just got No. 1 on Amazon."
By 6:30 the campaign had advanced to Vroman's in Pasadena, biggest event of the day, where a DJ, fortune teller and photo booth were installed. Here, Kinney had an energy drink at his side and another 500 or more people to meet, including Dolores Wiarco, librarian of Woodcrest Junior High School in Ontario.
"I have thousands of books, and the books that they fight over are these. The humor. The simplicity," she said. "I really believe these books are opening doors for them."
When a boy of about 11 stepped up soon after, Kinney asked him, "Are you going to go upstairs and dance? You can dance with your mom. There's nothing cooler than that." The author and the boy smiled like conspirators.
From California, the "Wimpy Kid" express heads to Arizona, Oregon, Washington and Vancouver. And then it'll be nearly time to start on the next book. As Kinney told the kids at Franklin Elementary that morning, it takes him most of a year to do each one as he balances demands of Poptropica, his family and his dog.
Oh, and one other thing.
"I have ADD," he told the crowd. "Does anybody here have ADD? You do? Congratulations. You're going to go far."
christopher.reynolds@latimes.com
Get the latest news, events and more from the Los Angeles Times Book Club, and help us get L.A. reading and talking.
You may occasionally receive promotional content from the Los Angeles Times.