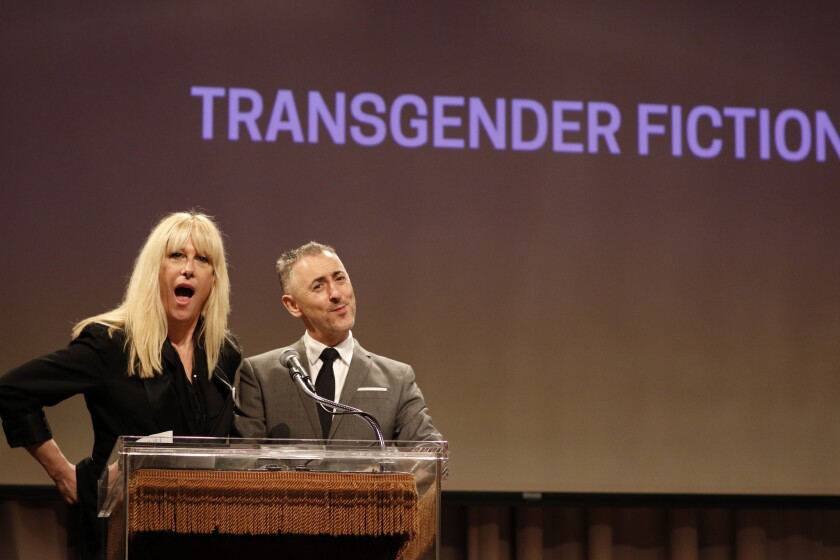 The 27th Lambda Literary Awards were presented in New York on Monday night, celebrating the best gay, lesbian and transgender books of the year. A parade of actors, celebrities and activists presented the awards, which were hosted by comedian Kate Clinton.
Two writers were honored with lifetime achievement awards: Rita Mae Brown, author of "Rubyfruit Jungle," was presented with the Pioneer Award by Gloria Steinem. Filmmaker and author John Waters, who was given the Trustee Award for Excellence in Literature, dedicated his award to the original owners of the Provincetown Bookstore, where he said he worked for a summer when he was young and received his true education.
Among the winners were presidential inaugural poet Richard Blanco, whose memoir "The Prince of Los Cocuyos" won the award for best gay memoir, and journalist Charles M. Blow, whose autobiography "Fire Shut Up In My Bones" won the prize for best bisexual nonfiction.
Both books are widely available from major publishers -- HarperCollins/Ecco and Houghton Mifflin Harcourt, respectively. Many of the other works that took prizes Monday night are published by smaller independent publishers, some of which make publishing books that speak to bisexual, gay, lesbian and transgendered readers part of their mission. The complete list of award winners is below.
Lesbian Fiction: "Yabo" by Alexis De Veaux (RedBone Press)
Gay Fiction: "I Loved You More" by Tom Spanbauer (Hawthorne Books)
Bisexual Fiction: "Give It to Me" by Ana Castillo (The Feminist Press)
Transgender Fiction: "A Safe Girl To Love" by Casey Plett (Topside Press)
LGBT Debut Fiction: "The Walk-In Closet" by Abdi Nazemian (Curtis Brown Unlimited)
LGBT Nonfiction: "Hold Tight Gently: Michael Callen, Essex Hemphill, and the Battlefield of AIDS" by Martin Duberman (The New Press)
Bisexual Nonfiction: "Fire Shut Up In My Bones" by Charles M. Blow (Houghton Mifflin Harcourt)
Transgender Nonfiction: "Man Alive: A True Story of Violence, Forgiveness and Becoming a Man" by Thomas Page McBee (City Lights/Sister Spit)
Lesbian Poetry: "Mysterious Acts by My People" by Valerie Wetlaufer (Sibling Rivalry Press)
Gay Poetry: "[insert] boy" by Danez Smith (YesYes Books)
Lesbian Mystery: "The Old Deep and Dark" by Ellen Hart (Minotaur Books)
Gay Mystery: "Blackmail, My Love: A Murder Mystery" by Katie Gilmartin (Cleis Press)
Lesbian Memoir/Biography: "Ain't Gonna Let Nobody Turn Me Around: Forty Years of Movement Building with Barbara Smith" by editors Alethia Jones and Virginia Eubanks, with Barbara Smith (SUNY Press)
Gay Memoir/Biography: Two awards -- Gay Memoir: "The Prince of Los Cocuyos" by Richard Blanco (HarperCollins/Ecco). Gay Biography: "Tennessee Williams: Mad Pilgrimage of the Flesh" by John Lahr (W.W. Norton & Co.)
Lesbian Romance: "The Farmer's Daughter" by Robbi McCoy (Bella Books)
Gay Romance: "Salvation: A Novel of the Civil War" by Jeff Mann (Bear Bones Books)
Lesbian Erotica: "Lesbian Sex Bible" by Diana Cage (Quiver Books)
Gay Erotica: "The King" by Tiffany Reisz (MIRA Books)
LGBT Anthology: "Understanding and Teaching U.S. Lesbian, Gay, Bisexual, and Transgender History" by Leila J. Rupp & Susan K. Freeman (University of Wisconsin Press)
LGBT Children's/Young Adult: "Five, Six, Seven, Nate!" by Tim Federle (Simon & Schuster Books for Young Readers)
LGBT Drama: "Bootycandy" by Robert O'Hara (Samuel French)
LGBT Graphic Novels: "Second Avenue Caper" by Joyce Brabner, art by Mark Zingarelli (Hill and Wang, a division of Farrar, Straus and Giroux)
LGBT SF/F/Horror: "Bitter Waters" by Chaz Brenchley (Lethe Press)
LGBT Studies: "The Delectable Negro: Human Consumption and Homoeroticism within U.S. Slave Culture" by Vincent Woodard, Ed. Justin A. Joyce and Dwight McBride (New York University Press)
Book news and more; I'm @paperhaus on Twitter
---