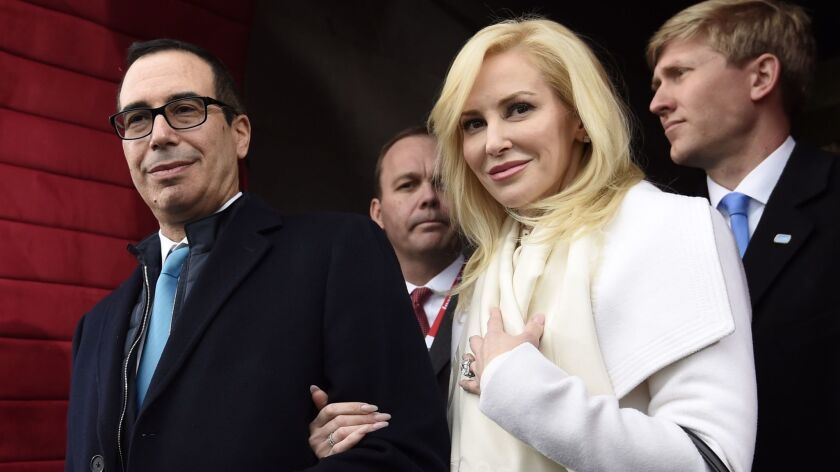 Louise Linton, the wife of U.S. Treasury Secretary Steven T. Mnuchin and author of a controversial self-published 2016 memoir about her experiences volunteering in Africa, is drawing fire over her Instagram account.
On an account that has since been made private, Linton posted a photo of herself and Mnuchin getting off a U.S. government jet with the caption, "Great #daytrip to #Kentucky! #nicest #people #beautiful #countryside #rolandmouret pants #tomford sunnies, #hermesscarf #vanetinorockstudheels #valentino #usa."
The post immediately drew criticism, Buzzfeed reports, including from user Jenni Miller, who wrote, "Glad we could pay for your little getaway. #deplorable."
Linton fired back with a long, emoji-studded comment that began, "Aw!!! Did you think this was a personal trip?! Adorable!"
"Do you think the US govt paid for our honeymoon or personal travel?!" she continued. "Lololol. Have you given more to the economy than me and my husband? Either as an individual earner in taxes OR in self sacrifice to your country?"
"Your life looks cute," Linton wrote near the end of the tirade. "Have a pleasant evening. Go chill out and watch the new game of thrones. It's fab!"
Linton's rant comes just over a year after her memoir, "In Congo's Shadow: One Girl's Perilous Journey to the Heart of Africa," drew fire from people who questioned the veracity of her account of her time in Zambia, accused her of perpetuating stereotypes of Africans and of writing a "white savior" fantasy.
Karen Attiah of the Washington Post wrote that Linton "may have written the defining work of the White-Savior-in-Africa genre for the digital age…. she deploys, with maximum flourish, just about every lazy trope there is when it comes to writing about Africa."
Linton later pulled the self-published book from sale and apologized, telling the (London) Times, "I am deeply sorry to those whom I have offended with my book . . . I now see how my characterizations of the country and its people have been interpreted as condescending."
Linton's Instagram post was widely mocked on Twitter, with some users tying the controversy to her literary past:
---