Q&A: Meet our new U.S. Poet Laureate, Tracy K. Smith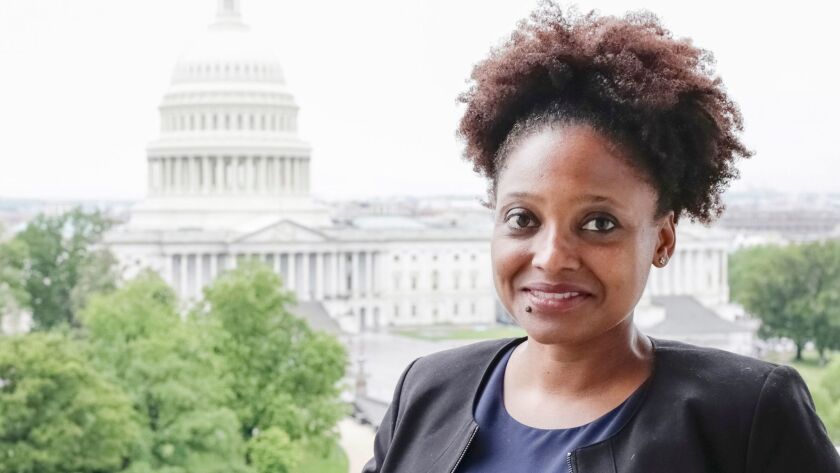 On an early June day, Tracy K. Smith looked out the window of her office at Princeton University at a sculpture by Picasso as students and their families prepared for graduation activities. None of them knew that Smith, who was fielding a battery of phone calls, would soon be announced as the U.S. poet laureate. The Library of Congress makes it official Wednesday.
At 45, Smith is unusually young to receive the honor — other younger recipients include Rita Dove, Robert Lowell and Natasha Tretheway. Established in 1936 as the consultant in poetry and changed in 1985 by Congress to poet laureate, the position has also been held by Donald Hall, Robert Pinsky, Robert Penn Warren, Philip Levine and Joseph Brodsky. Smith succeeds Juan Felipe Herrera who was the first Latino poet laureate.
From a childhood in Fairfield, Calif. — which is between San Francisco and Sacramento — to winning the Cave Canem poetry prize for 2003's "The Body's Question" and on to being awarded the 2012 Pulitzer Prize in poetry for her most recent collection, "Life on Mars," Smith has shown a singular focus and dedication to her craft. If the role of the poet laureate is, in part, to be an ambassador, Smith will be a representative for listening, quiet and contemplation. She spoke to me by phone from that office; our conversation has been edited.
---
The poet laureate title often caps off a career, but you're getting it at 45. What does that mean to you?
There's a different kind of weight that I've been mulling over in that regard. Anytime acknowledgement comes — and this is the greatest acknowledgement that I've experienced ever as a writer — it makes me feel like, OK, someone's listening, and someone wants me to keep doing what I love and need to do. And that feels really good. Beyond that, I try and push away any sense of the external pressure to be a certain kind of writer, and really focus on the work that sustains me, which is quiet, and it's private, and it's contemplative. I feel really fortunate that Natasha Tretheway, who was also a young laureate, is a friend — seeing how her work as a writer continues to grow and change, and she's pushing herself now into a new genre, I feel heartened that this doesn't have to be the end point of anything in my career, but rather a turning point.
I have this idea that this forum of the laureateship might open up inroads to different, quieter kinds of conversations than I'm used to having.

— Tracy K. Smith
Being poet laureate includes having a public engagement role. Do you know what you might do?
That's something I'm beginning to think about. Luckily I have a little bit of time to formulate a clear sense of what I'd like to do, and what might be still new for the office. I know my curiosity as a writer and as a person makes me really interested in moving to parts of the country that I haven't explored through writers festivals or through the kind of campus visits that I do on a regular basis, and engaging with people who may be readers of poetry and may not. And listening to what their reactions to this art form sound like, and what kinds of stories within their own set of experiences are spoken to. What stories get activated by that conversation. I have this idea that this forum of the laureateship might open up inroads to different, quieter kinds of conversations than I'm used to having, in places that have maybe less access to festivals or reading series.
When you say "quieter," what do you mean?
I like to use that word because I feel like a poem draws us, draws me, into a quieter space, a decibel level that sits below the register of the media that we live with. I'm talking about advertising and the sound bites that we are drawn toward with and without our consent. I like the way that when you're reading a poem, it's one voice talking quietly to you about something that has happened. Something that has made the speaker of the poem to feel powerfully changed, powerfully present, powerfully alive. And the conversations that come out of that kind of engagement are also thoughtful. They're not about reacting immediately with utter confidence to something, but teasing out something that is nuanced and a little bit unusual. A poem, necessarily, sits at a register that's different from our usual conversational voices. You have to listen more actively to get to the heart of what's being said, what you as a reader or listener are being asked to feel, or notice.
Read Tracy K. Smith's poem "Wade in the Water" at the New Yorker, where you can also hear her read it aloud »
Could you tell me about that experience of reading, listening?
I first got caught up in this marvelous feeling of being spoken to in that very direct, private, magical way by a poem when I was really young. I was in grade school and had found an Emily Dickinson poem in a textbook. The poem that begins, "I'm nobody, who are you? Are you nobody, too? Then there's a pair of us! Don't tell!" Feeling like I was in collusion with someone that knew more about me than I knew about myself, and who I suspected was right. And I liked that feeling. Then it was a handful of years later when I realized there were poets who were still alive and writing; reading publicly and talking about their work. That's when I understood that this was a vocation that could be real for me. It wasn't just a matter of dreaming about bygone days when people wrote poems but of actually finding communities of people who were still doing that, and who could teach me how to do it.
What role did the organization Cave Canem have in creating community for you?
Cave Canem is a yearly retreat for black poets where there are workshops with a group of faculty members and readings. It's this really beautiful gathering where a lot of art gets made and a lot of conversations and teaching happen. There's also a book prize that Cave Canem sponsors for a book of poems by a black poet. So it's kind of a home for black poetry. What I really have seen happen over the last 20 years is how Cave Canem has, I think, reinvigorated American poetry. And now other organizations have kind of followed suit. Kundiman, which is an Asian American retreat similar to Cave Canem, has been going for close to 20 years now. And there are other ways that the chorus of American poetry has broadened and deepened in ways that I think are really beautiful, owing in really direct ways to what Cave Canem has done.
What advice would you give to a poet who doesn't have a community, has only reached the dead poet speaking to them from the page?
There are so many more resources now for finding the community that will nurture you. Part of it I think comes from doing a little bit of investigation online and saying, where is there going to be a reading near me? Or what journals post their poems online so I can be in real time observation of things that people are writing right now? And then I would also say, reading is probably a pretty good thing to cleave to. As I've been teaching longer and longer, I realize I learn so much from the voices I'm naturally drawn to, the writers I love on an instinctive level — but I also learn so much from the writers that I have to work to grasp. I learn so much about different approaches to question asking, and even different contexts to explore. I'm always telling young writers, continue to read what you love, but push yourself beyond the bounds or limits of your own taste, because it helps you to grow.
You're a professor at Princeton, serve as the chair of its creative writing department, are married and have young children. How do you create the quiet and space to write?
I think that since having kids, it's really easy. My tolerance for noise has probably changed a lot. For me, quiet and space to create is 8:45 in the morning, everybody's at school, and there's just the hum of the refrigerator. That'll do it for me. That's my trick. Just close the door and sit down, knowing I only have a handful of hours before it's going to get noisy again.
Our current conversation is so racially charged. What role do you think poetry can have to play in that? Does it have a responsibility?
I feel like the responsibility of the poet is to the urges that set the poem into motion. And generally those urges are for something that is more concrete, more nuanced, more visceral, move observable and more mysterious than the kind of things that are attempting to call our attention to them in the discourse you're talking about. I feel like that's so necessary. It's so necessary to look away from your computer screen where things are popping up, and where some of your strong opinions — some of which are founded on real, measured thought, but many of which are founded on a kind of gut reaction — where those things are challenged. What you're forced to do is listen anew to something. And to say that the most successful path through a set of questions is not to go to the simplest, flattest, loudest point and rush out, but to move, with a lot of attention, and with some self-doubt, and with a willingness to be persuaded through all of the more nuanced facets of the conversation.
Another way of saying that would be, our lives are so much more interesting than the ways that they are described from the outside. We're so much more important to one another as individuals — with experiences and questions and histories — than we are as social categories. It's important to think about those sources that are saying, wait, you have a mother, and this is your relationship with her, this is what you wish could be different, and this is what you wish you could return to. I have a mother too, and she looks nothing like yours, but we can have something to say to each other. Those are the kind of conversations that art fosters. I think they're incredibly necessary right now. Always. But any time that we feel social uncertainty, those are the kinds of conversations that are steadying.
Already a subscriber? Thank you for your support. If you are not, please consider subscribing today. Get full access to our signature journalism for just 99 cents for the first four weeks.
---
Get the latest news, events and more from the Los Angeles Times Book Club, and help us get L.A. reading and talking.
You may occasionally receive promotional content from the Los Angeles Times.