11 Images
Reading about race and conflict in America
In Ferguson
In Ferguson, Mo., on Aug. 11, demonstrators scatter after facing tear gas on a hill.
(Matt Pearce / Los Angeles Times)
Books on Tulsa
Two books about the devastating conflict in Tulsa in 1921: "Riot and Remembrance" by James S. Hirsch and "The Burning" by Tim Madigan.
(Houghton Mifflin Harcourt, St. Martin's Press)
Tulsa Race Riot 1921
Mount Zion Baptist Church in Tulsa, Okla., burns during the 1921 Tulsa Race Riot. The city's black neighborhood Greenwood, 34 square blocks, was burned by white mobs.
(AP)
Zoot Suit riots
In 1943 in Los Angeles, roving gangs of U.S. servicemen attacked and stripped Mexican Americans they spotted wearing Zoot suits. The two young men on the ground were victims; many were arrested and jailed.
(Associated Press)
Books dealing with the Zoot Suit riots
Two books dealing with the Zoot Suit riots: "North from Mexico" by Carey McWilliams and "Race, Police, and the Making of a Political Identity" by Edward J. Escobar.
(Handout)
Watts on fire
In Los Angeles, 1965: Buildings in Watts burning. From the book "Black Los Angeles: American Dreams and Racial Realities."
(Los Angeles Times / NYU Press)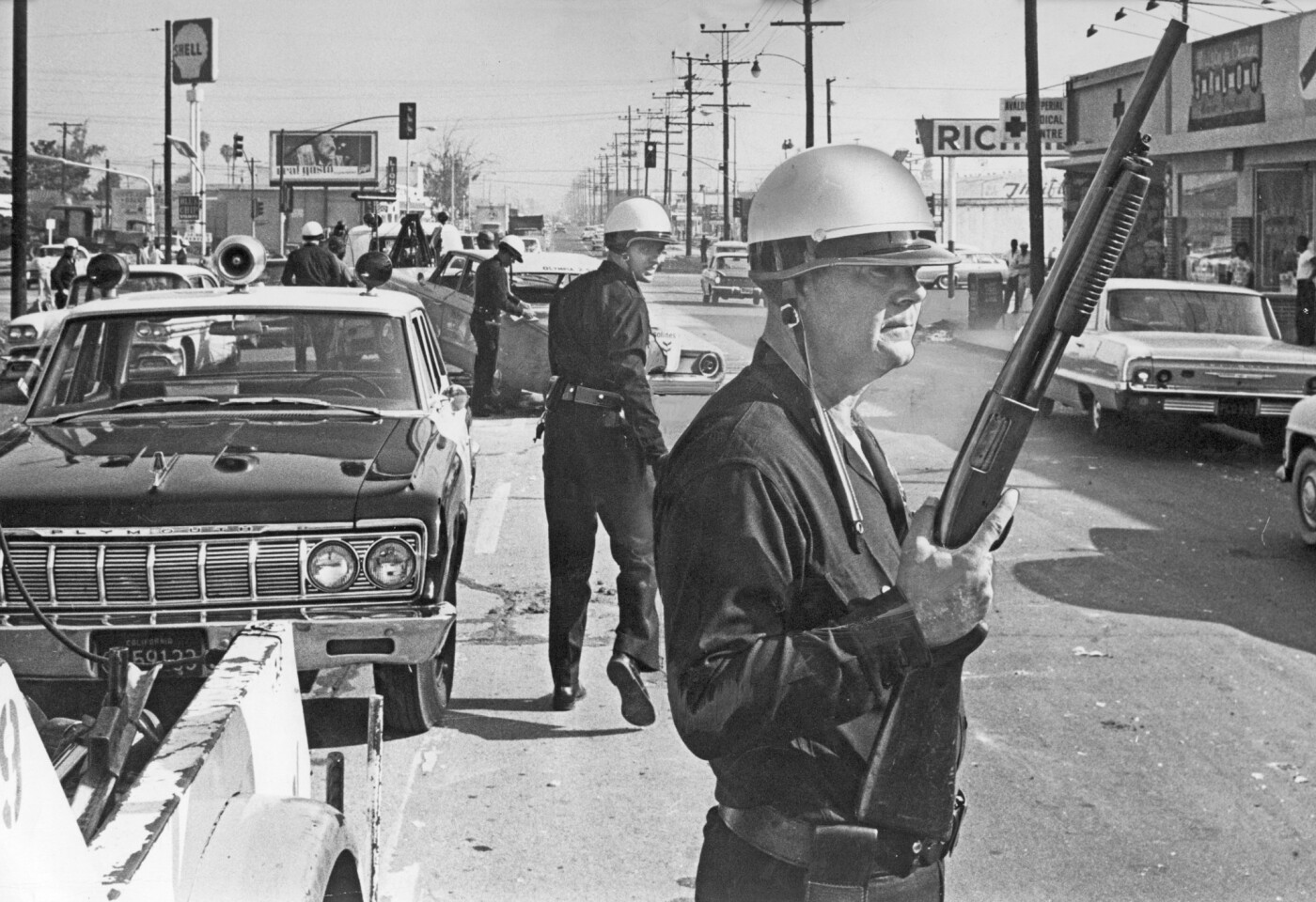 Watts, 1965
White Los Angeles Police Department officers stand guard and clear debris during the 1965 Watts riots.
(Los Angeles Times)
Rodney King
A video of white LAPD officers beating black motorist Rodney King in 1991 had explosive consequences.
(George Holliday / AP)
South Central, 1992
A building burns in South Central Los Angeles in 1992. After three police officers were found not guilty of beating Rodney King, three days of riots caused $1 billion in damages.
(Paul Sakuma / AP)
L.A. protests 1992
A protester at L.A. City Hall after the Rodney King verdict held up a sign reading, "We will not rest."
(Kirk McKoy / Los Angeles Times)
Latasha Harlins
In 1991, 15-year-old Latasha Harlins was shot and killed by a Korean shopowner, escalating racial tensions in Los Angeles. "The Contested Murder of Latasha Harlins" is by Brenda Stevenson.
(Oxford University Press / File)