13 Images
12 essential presidential campaign books
John F. Kennedy campaigning in 1960 with Sen. George McGovern, who would run for president in 1972. Both campaigns – as well as those in 1964, 1968 and 1980 – were detailed in Theodore H. White's "Making of the President" series. His books set the standard for comprehensive campaign reporting.
(Associated Press)
When Joe McGinniss went inside Richard Nixon's 1968 campaign in "The Selling of the President," readers were shocked by the elaborate PR and television strategies he revealed.
(Associated Press )
Norman Mailer, seen here at a rally opposing the Vietnam War, went to the Republican and Democratic conventions in 1968 and lived to tell the tale in "Miami and the Siege of Chicago."
(Associated Press)
Hunter S. Thompson's extraordinary, under-the-influence coverage of the 1972 campaign for Rolling Stone was dubbed gonzo journalism. "Fear and Loathing on the Campaign Trail '72," was not, however, simply drug-addled madness; politically-informed Thompson could write like a demon and was driven by a sense of moral outrage.
(Magnolia Pictures)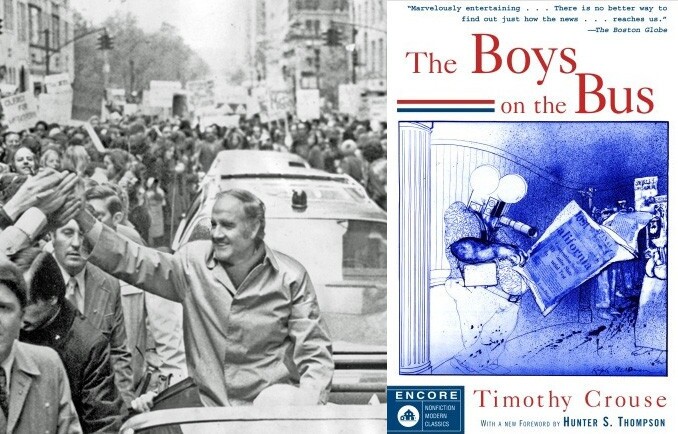 Young Timothy Crouse was sent on the 1972 campaign as Hunter S. Thompson's handler. His book tells the story of both the campaign and its media coverage, from inside the press bus.
(Associated Press )
Writing about the 1988 campaign in "What it Takes," Richard Ben Cramer made Bob Dole seem like the most compelling candidate – but the narrative turned elsewhere, to nominees George H.W. Bush and Michael Dukakis.
(Associated Press)
The bestselling novel "Primary Colors," a satire based on Bill Clinton's 1992 campaign, was originally published anonymously. Newsweek columnist Joe Klein, at podium, finally admitted to being the author at a news conference with then-Random House President Harry Evans, right.
(Bebeto Matthews / Associated Press )
Steve Erickson's "American Nomad: Pop Visions, Restless Politics, and Apocalyptic Memories at the End of the Millennium" combined coverage of the 1996 campaign for Rolling Stone, memoir and novelistic exploration of the nation's psyche.
(Stefano Paltera / Los Angeles Times)
Rolling Stone writer Matt Taibbi did his best to revive the gonzo tradition in "Spanking the Donkey," his chronicle of the 2004 presidential campaign.
(EPA)
Outsider Democrat Dennis Kucinich, seen here at a fundraiser with Morgan Fairchild and Elliott Gould, was one of several candidates who briefly ignited author Stephen Elliott's hopes in his narrative of the 2004 race, "Looking Forward to It."
(Lawrence K. Ho / Los Angeles Times)
The 2011 novel "O," an anonymous satire of the Obama campaign, wasn't as successful as "Primary Colors." It turned out to have been written by senior McCain campaign strategist Mark Salter, seen here at a rally two weeks before the election.
(Chip Somodevilla / Getty Images)
In addition to tracking the 2008 presidential nominees -- Barack Obama and John McCain -- "Game Change" by John Heilemann and Mark Halperin followed the stories of contenders Hillary Rodham Clinton, John Edwards, Rudy Giuliani and vice presidential candidate Sarah Palin.
(Jim Bourg / Associated Press )