15 Images
Nobel Prize in literature winners
Musician Bob Dylan wins the 2016 Nobel Prize in literature.
(Robert Gauthier / Los Angeles Times)
Svetlana Alexievich, of Belarus, won the 2015 Nobel Prize in literature for her oral histories of life in and around Russia.
(Markus Schreiber / AP)
French novelist Patrick Modiano won the 2014 Nobel Prize in Literature (Christophe Ena / AP)
Known for her short stories, Alice Munro won the 2013 Nobel Prize in Literature.
(Derek Shapman / EPA)
After Chinese writer Mo Yan won the 2012 Nobel Prize in Literature, Chinese authorities were pleased, while some other nations questioned his willingness to accept censorship. (JONATHAN NACKSTRAND / AFP/Getty Images)
Swedish poet Tomas Transtromer, 80, was awarded the 2011 Nobel Prize in Literature. He had long been thought to be a strong contender for the prize, which is awarded by the Swedish Academy. (Fredrik Sandberg / EPA)
Peruvian writer Mario Vargas Llosa won the 2010 Nobel Prize in Literature. It had been 20 years since a Latin American writer had received the prize. (Justin Lane / EPA)
Jean-Marie Gustave Le Clezio was awarded the 2008 Nobel Prize in Literature at age 68. The French author's work had not been widely published in America; his win took U.S. readers by surprise. (Michel Euler / Associated Press)
Doris Lessing, 88, holds flowers on her doorstep after learning she had been awarded the 2007 Nobel Prize in Literature. Lessing was born in Iran to British parents and raised in Zimbabwe, when it was still the British colony of Rhodesia. (Shaun Curry / AFP/Getty Images)
Turkish novelist Orhan Pamuk was awarded the 2006 Nobel Prize in Literature at age 54. He had come to the world's attention, in part, for publicly defying a Turkish law forbidding the mention of the Armenian genocide. (Bebeto Matthews / Associated Press )
British playwright Harold Pinter, was awarded the Nobel Prize in Literature in 2005 after living with cancer for four years. He died three years later. (John Stillwell / AP)
Hungarian novelist Imre Kertesz, who was awarded the 2002 Nobel Prize in Literature at age 73, is a survivor of the concentration camps at Auschwitz and Buchenwald. (Guenter Vahlkampf / AFP/Getty Images)
Gao Xingjian was a dissident writer in China before immigrating to France. The novelist and playwright was awarded the Nobel Prize for Literature in 2000. (Vincent Yu / Associated Press )
South African novelist and short story writer Nadine Gordimer, right, shown with writer Salman Rushdie in 2004, was awarded the 1991 Nobel Prize in Literature. In addition to her creative work, she has been an international leader of PEN, a nonprofit organization that advocates for imperiled writers. (Mandel Ngan / AFP/Getty Images)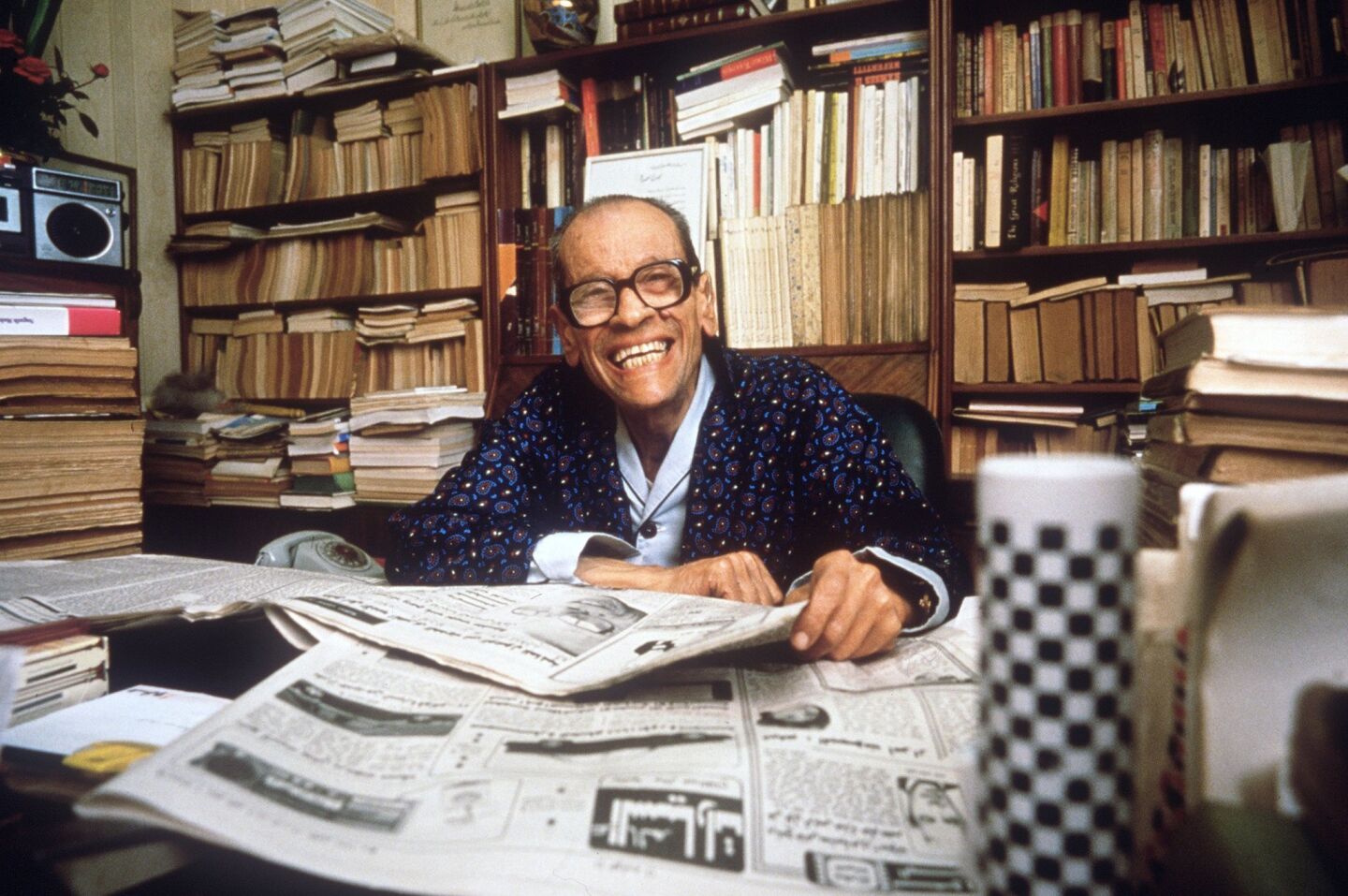 Egyptian novelist Naguib Mahfouz was the first Arab author to be awarded the Nobel Prize in Literature, which he won a few days before this photo was taken in 1988. (Peter Oftedal / AFP/Getty Images)