Robert A. Caro's 'Working' gives a glimpse into the biographer's mind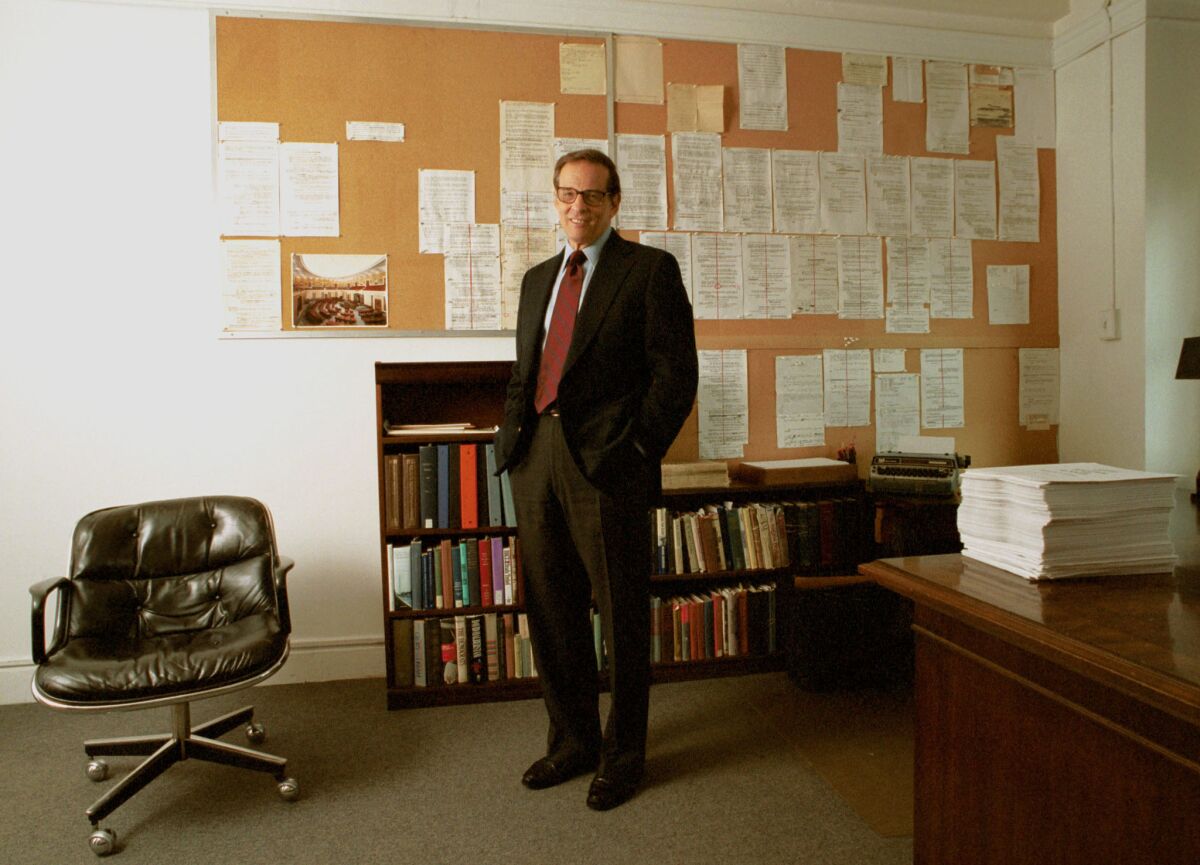 He digs deep into boxes of documents seldom if ever examined before. He writes in longhand (though he threads his work through a Smith Corona Electra 210 typewriter later). He is drawn to men who have done great deeds and inflicted great hurt. But the true theme of Robert A. Caro — biographer of New York visionary builder Robert Moses and Texas political behemoth Lyndon Johnson — is power.
The power to do good or harm. The power of power to make harm a byproduct of good. The way power empowers. The way those without power are the victim of power. Power in all its manifestations, shapes, degrees, impulses. And, it must be said, the question of whether an 83-year-old man with centuries-old procedures, priorities and perspectives, will have the physical power, the intellectual power and the willpower to bring to an end his multi-volume study of Johnson.
All this is the subject of a compelling but uncharacteristic Caro book with a simple title, "Working," a digestible length (a mere 240 pages, about a fifth of the 1,162 pages of "The Power Broker," about Moses), and the focus on the writer himself — and how he does his remarkable work. It is a feast — the only low-cal feast delivered from that venerable and venerated Smith Corona in years — for anyone interested in reading, and in writing.
But first a clarification, and it comes at the very beginning of this volume. We think of Caro as a biographer, to be sure, but he doesn't, and we shouldn't.
"From the very start,'' he explains, "I thought of writing biographies as a means of illuminating the times of the men I was writing about and then great forces that molded those times — particularly the force that is political power."
As a result, his books are of the sort that critics call "life and times" volumes — the William Manchester trilogy on Churchill is a good example, as is Robert Blake's classic portrait of Disraeli — and they are grounded, quite literally, in the soil from which Caro's subjects emerged. For the first volume of the Johnson series, Caro spent three years in the Hill Country of Texas, to better understand the land, and the man.
"That changed everything," Caro writes. "As soon as we had moved there, as soon as the people of the Hill Country realized we were there to stay, their attitude towards us softened; they started to talk to me in a different way." He also was able to write in a different way, to imagine, for example, how Johnson's mother, Rebekah, looked out over "an endless vista of hills, hills on which there was visible not a single house … hills on which nothing moved, empty shills with, above them, empty sky; a hawk circling silently overhead was an event."
He speaks, too, of how he went back, and back, and back again, to Johnson's early friends, difficult conversations because, he came to realize, all those early LBJ friends "had talked to too many people like me." Actually, that's not quite right. They had never talked to anyone remotely like Caro, who never settled for one interview when 11 might be possible, and productive.
His are labor-intensive works, and in the beginning the book on Moses almost broke him even as it left him almost broke. But he understood a great truth that led him to track down every (or nearly every) fact about Moses: "He, more than any mayor or governor, molded the city to his vision, put his mark upon it so deeply that today, 50 years after he left power, we are still, to an astonishing extent, living in the city he shaped."
This book will, alternately, terrify, humble and inspire writers. Everyone looks for shortcuts. Caro deplores them. No one likes to do multiple drafts; Caro is addicted to them.
"Sometimes I look at a page I typed but have reworked in pencil," he writes, "and there's hardly a word in type left on it. Or no words in type left at all — every one has been crossed out."
Sadly the writer of this review did no such thing. I am, to be sure, embarrassed — but grateful to have had a glimpse inside the head, and the work, of one of the great masters of contemporary nonfiction. The first volume of his LBJ series is called "The Path to Power." This brisk volume might be regarded as the path to writing with power. For most of us, alas, it is the road not taken.
::
Robert A. Caro
Knopf; 240 pp., $25
Shribman, for 16 years the executive editor of the Pittsburgh Post-Gazette, is a nationally syndicated columnist.
---
Get the latest news, events and more from the Los Angeles Times Book Club, and help us get L.A. reading and talking.
You may occasionally receive promotional content from the Los Angeles Times.