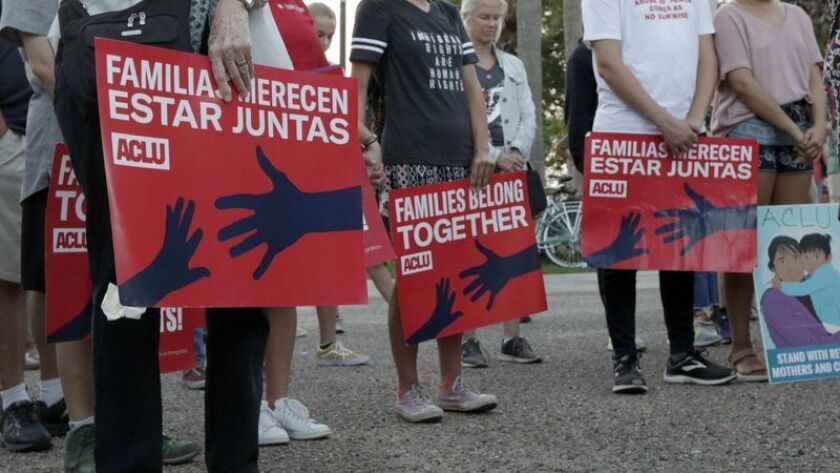 Several independent bookstores across the country have pledged to donate part of their sales over the holiday weekend to a nonprofit group offering low-cost legal services to immigrants and refugees.
The bookstores will be raising money as part of a campaign called #BookstoresAgainstBorders, the brainchild of the owners and staff of A Room of One's Own, a 44-year-old bookstore in Madison, Wis. The organizers of the fundraiser are urging booksellers to donate part of their profits from July 5 through July 7 to the Refugee and Immigrant Center for Education and Legal Services (RAICES), a nonprofit organization with several offices in Texas.
More than 60 bookstores and publishers have signed up to support the campaign on its fundraising platform website, and others have announced their participation on Twitter.
California stores have also joined the campaign including Bookshop Santa Cruz, Point Reyes Books in Point Reyes Station, Cellar Door Books in Riverside and Folio Books in San Francisco.
Book lovers! Sign up for the new L.A. Times Book Club for upcoming author events »
Gretchen Treu, the co-owner of A Room of One's Own, told Publishers Weekly that the store's staff was spurred into action by reports of poor living conditions in detention facilities housing immigrants, many of them young children.
"I feel furious; I feel helpless," Treu said. "I'm certainly not celebrating. To think of children very like mine living in the conditions we're seeing, in the richest country in the world, in the supposed 'land of the free,' that is such a deep and growing anger in me. I can't keep doing only what I have been doing."
Treu told Madison365 that the idea for the fundraiser came from Misian Taylor, a bookseller at the store, who suggested raising money for a nonprofit group that supported immigrants' rights.
"We kind of sat with that for a night, and then we kind of said, 'We can donate about 10 percent of our sales for a given period of time.' And we started just putting that together," Treu said. "We were like, 'Well, maybe we can let some other bookstores know, maybe others will join us.' That sort of snowballed."
In a statement on the bookstore's website, the owners and staff of A Room of One's Own wrote that they "are deciding against hopelessness and deciding against how small we feel."
"We love books because they show us ways into other worlds, mindsets, experiences, and futures," the statement reads in part. "Reading, buying, loving books — and what they do for us — is not, and has never been, a passive act but is, and always will be, an act of resistance."
Taylor, the bookseller who initially suggested the idea for the fundraiser, told the website Tone Madison that reading and selling books "are inherently acts of resistance."
"Imagining is an engine of hope and strength that is absolutely necessary if we are going to get through this human rights crisis without feeling small and robbed of our agency and power," Taylor said. "And maybe next time it's not raising money for RAICES, maybe next time it's a walk out and a march, maybe it's phone banking and calling representatives, maybe it's a caravan to the border. Whatever we're going to do, we need to do it, and we need each other to do it."
---