Books were good to Anthony Bourdain — but TV was even better
Books Editor
"I was never sitting in a garret struggling over an unpublished manuscript," Anthony Bourdain once told me about how he got started as a writer. As he chronicled in his bestselling gonzo memoir "Kitchen Confidential," he was a chef in New York with excess appetites (food, booze, drugs) and a great gift for storytelling.
He landed that book contract completely by accident. He'd written an essay about working in a restaurant kitchen for the New York Press — the now-defunct scrappy free weekly that was always overshadowed by the Village Voice — but his editor couldn't get it in.
"Week after week, we kept getting bumped," Bourdain said when we talked in Manhattan in 2011. "Out of frustration and drunken rage, I sent it to the New Yorker."
The New Yorker published it. And a book contract soon followed.
Published in the summer of 2000, "Kitchen Confidential" was, Los Angeles Times reviewer Laurie Stone wrote, "tremendously appealing, joyously penned" and "an elegant meld of insider reporting on the food business and personal memoir."
That memoir had a unique point of view, more Hunter S. Thompson than Julia Child, and something in it instantly appealed.
"He readily strips down to his foulest and most wolfish impulses because he enjoys showing them off and because he's parlayed them into a career — though at times they've gotten the better of him. Assuming that years of Oprah have schooled us in the origins of self-loathing, he doesn't convene a support group to inventory his addictions, rather he matter-of-factly refers to years doing drugs (including heroin), smoking three packs a day (he still does) and screwing any woman who moved in any space available (sometimes on 50-pound flour sacks)," Stone wrote.
"Though drugs are out of his life for nearly sabotaging his career, he doesn't repent his past behavior," she continued. "He needs to be contained (pretty much every minute of the day and night), and he's found his ideal holding cell in the restaurant kitchen, where he's free to be a barking, swaggering, finger-sniffing, keen-eyed beast."
"Kitchen Confidential" spent 92 weeks on our Food books bestseller list and was named one of The Times' best nonfiction books of the year. The memoir made it possible for him to leave kitchens behind, something he'd later say his body wasn't up to anymore, anyway.
Stone captured something about it that would carry through Bourdain's career. "Resentment and rage, Bourdain's cherished motivators, fuel many of his life choices but not this narrative," she wrote. "The book is a love letter to what has nourished him."
That love of food prompted the Food Network to offer him a contract: "A Cook's Tour" premiered in early 2002 and ran into 2003. The fit was awkward — he'd soon leave for the Travel Channel and later move to CNN — but not as awkward as his relationship with the literary establishment. If you track his output in The Times' books pages, Bourdain got one shot at being bad-behavior Bourdain, and then he was supposed to shape up.
His next book was also titled "A Cook's Tour"; its contents parallel the television show's travels to Cambodia, Vietnam, the Sahara, Northern California and beyond.
"He lacks what a concerned elementary school principal might call critical faculties, which is a polite way of saying he does not know when to stop," sniffed the critic Karen Stabiner in our review. "Whether it is garbage in (drugs, of which nicotine is the most innocent) or garbage out (a predilection for sequential, multilingual obscenities), Bourdain is your guy. He retires the notion of the restrained, cerebral, artful chef."
Here comes the real pearl-clutching: "This time around, Bourdain is off in search of the perfect meal. Not your idea of a perfect meal, which might revolve around such civilized thrills as a beautiful wine or a bottomless bowl of caviar," Stabiner wrote. "His idea — which reads more like a catered screening of 'Apocalypse Now.'"
What Stabiner missed — and I'm not sure how, because he lays it out in those first pages — is that Bourdain headed into the land of "Apocalypse Now" and "Heart of Darkness" because he wanted to talk to, eat with and get drunk with the people who lived there.
When this happened in between pages, a book critic (who dreamed of caviar as an ultimate thrill — seriously?) could swiftly dismiss it. But when it happened on screen, Bourdain's enthusiasm and curiosity came through. And so he became a TV star who got to explore the cuisines and cultures of the world.
Although he would publish other books — notably "The Nasty Bits" in 2006 and "Medium Raw" in 2010 — The Times turned away from Bourdain as a writer, skipping them entirely.
Was it because he'd become too much of a TV brand? Bourdain had become popular in a way writers rarely do. Even as he switched networks, he had a solid fanbase. When he died Friday in France, he had 7.5 million Twitter followers. And it wasn't just online: I saw one fan who had planned her Vietnam vacation based on Bourdain's travels.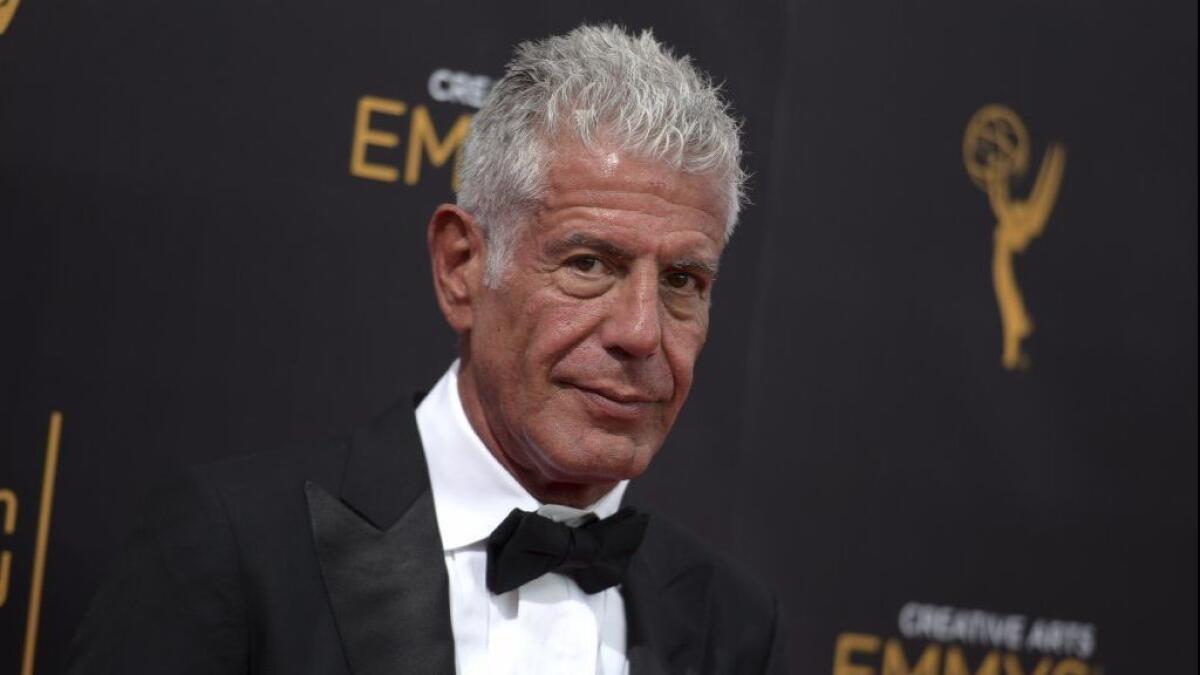 It's too bad that Bourdain and the literary culture parted ways: Bourdain was ridiculously well-read. Before he entered kindergarten, he was reading books, real books. He had a tattoo referencing the 16th century essayist Montaigne. (He asked me, had I read Montaigne, and I had to answer no.)
The occasion was the announcement of his new imprint at publisher Ecco. He wasn't sure what shape it would take, but his publishing output would eventually include Roy Choi's memoir with recipes, "L.A. Son"; "The Prophets of Smoked Meat" by Daniel Vaughn; North Dakota food critic Marilyn Hagerty's collected reviews, "Grand Forks"; and "wd~50" by Wylie Dufresne.
On the news of his death, Daniel Halpern, Ecco's president and publisher, said, "I've known Tony as an author and friend for many years. He not only revolutionized the memoir genre with his groundbreaking and iconic work 'Kitchen Confidential,' he supported emerging voices and chefs with his imprint Anthony Bourdain Books. His death is a great personal tragedy. Our thoughts are with his daughter and family at this difficult time."
The final two releases from Bourdain's imprint will be "We Fed an Island" by chef Jose Andrés and "Prisoner" by Jason Rezaian, the Iranian-American journalist Bourdain met with in Iran on "Parts Unknown" who was imprisoned there for 18 months.
When he started out with his travel shows, Bourdain wrote that he thought of the works of writers Joseph Conrad and Graham Greene. He cast himself, then, as the villain or the conflicted company man who enters a seductive, foreign world and is altered by it.
But his television programs showed him grow out of that. He deliberately went to places that Americans had identified as "other" — Iran, Libya, Russia, Cuba, poor neighborhoods in America — and showed the people there with understated empathy. And the episodes were artworks themselves, referencing classic cinema or playing with form (an episode in South Korea was backwards) and winning four Emmy Awards. The shows delivered international relations lessons in a package that, on the surface, might just bring in a Guy Fieri fan or two.
I always hoped that Bourdain would have the time, between television shows, to tell us his version of that experience, in writing, in his own words. I'm deeply sad that he won't write another book.
But at least we have the television record.
---
UPDATES:
2:03 p.m. This article was updated with additional information about Anthony Bourdain Books.
Sign up for our Book Club newsletter
Get the latest news, events and more from the Los Angeles Times Book Club, and help us get L.A. reading and talking.
You may occasionally receive promotional content from the Los Angeles Times.