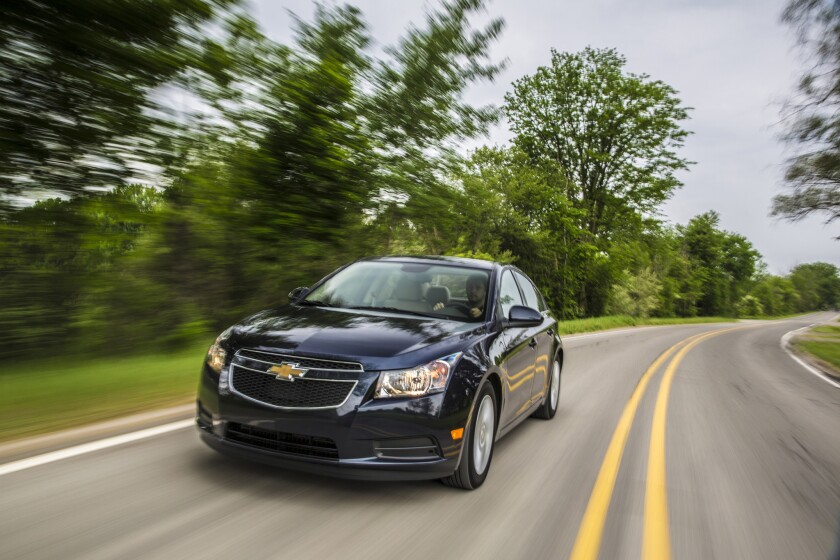 Summer beckons and blockbuster movie season is in full swing, a celebration of spectacle, big stars, hot cars and eye-popping special effects, perfect for munching popcorn in air-conditioned theaters and harboring warm-weather daydreams.
Hunkered down in a local multiplex, the thought struck us: When superheroes, zombie slayers and the like aren't busy saving the world, what stylish high-mileage rides would they choose? After all, as far as we can tell, the job of being Superman pays, like, zero dollars. What would he drive to save money at the pump?
In the interest of profiling some of the coolest Miles Ahead rides for summer 2013, we gave this great thought and careful consideration. Superheroes do tend to exercise superior judgment. And besides, giant sea monsters or super villains might be lurking just around the corner. You never know when you might need the right vehicle to handle the situation.
Superheroes
When he's tooling around Metropolis sniffing out scoops for the Daily Planet, Clark Kent needs to maintain a low, non-super profile with a smart, sensible ride. Say hello to the all-new Chevy Cruze Diesel, an attractive compact sedan with a 2-liter turbocharged four-cylinder engine that delivers 46 mpg highway — that's 700 miles on one tank — a blessing for someone pulling a journalist's meager salary.
"Cruze Clean Turbo Diesel is primed to win over diesel devotees and compact car buyers with its performance, torque and fuel economy," said Chevrolet's Chris Perry.
When he's Superman he can, of course, fly faster than a speeding bullet, so the need for a car is minimal. But when he's taking Lois Lane out on the town, it's easy to see the Man of Steel rolling in a Porsche Panamera Hybrid, a nice complement to his redesigned super outfit. Equipped like the gas-only Panamera S, this hybrid is a sexy and distinctive beauty with power to burn: Its supercharged 3-liter V-6 engine and electric motor generate 380 horsepower and 30 mpg. It's built for speed but goes easy on the environment. Things didn't go so well on Krypton, so Superman takes no chances on his adopted planet.
Astronauts
Going boldly into uncharted regions of the universe poses myriad challenges for intrepid explorers, like navigating rough extraterrestrial terrain in style while getting great fuel efficiency. And taking care to avoid fouling other planets with toxic emissions is downright neighborly. So we can totally see the stars of "After Earth" and "Star Trek Into Darkness" turning alien heads with the ML350 Bluetec 4Matic, a serious off-road ride with high-end amenities, a surly but elegant beast that chews up rough terrain and spits it out, packing a 240-horsepower 3-liter V-6 that gets up to 28 mpg. The M-Class features all the bells and whistles you expect from a Benz, such as mbrace2 in-car telematics and collision prevention assist, power liftgate and panoramic glass roof for tracking your home planet.
Need to tow a ton of interplanetary equipment or a space trailer? Look into the VW Touareg Hybrid, a distinctive and rugged luxury crossover that can tow more than 7,700 pounds and drives in all-electric mode at speeds up to 31 mph. The Touareg has a supercharged 3-liter V-6 engine that gets 333 horsepower, and the electric motor adds nearly 50 more.
Zombie slayers

Let's say you're shopping for a sweet new ride and a zombie pandemic plunges the population into "World War Z." Best to go zombie hunting efficiently while staying safe, comfortable and well-armed. Climb into a tough Ford F-150 Limited, a brawny but well-appointed truck with ample room to haul chainsaws and shotguns for the whole family, sporting a luxury interior drenched in rich red-and-black leather. The MyFord Touch system can access rear parking sensors and a backup camera — helpful for detecting sneaky brain-gobblers. Factor in the gas-saving 3.5-liter 365-horsepower EcoBoost V-6 engine and it's a dynamite package for a post-apocalyptic world.
Maybe you just want to get away fast, keeping your entrails intact without starting a ruckus. Consider the Tesla Model S all-electric supercar, a dazzling sport/luxury sedan that seats seven, generates up to 416 horsepower and goes zero to 60 in just 5.6 seconds. It takes a partial charge in just 30 minutes, assuming you can find a working outlet.
For those who prefer to navigate zombie uprisings with top-line European performance and engineering, the BMW ActiveHybrid 750 full-size luxury sedan has it all, including a silky smooth ride that's perfect for transporting grenades and high explosives with minimal risk. Open up the 4.4-liter 440-horsepower V-8 and let the walking dead eat your dust.
Giant robots

We can take inspiration from the Jaegers, those giant robots tasked with saving humanity from the evil Kaiju sea monsters in "Pacific Rim." These heroic high-tech creations operate by interfacing directly with the minds of pilots — not unlike the 2013 Acura ILX Hybrid. This all-new entry-level sedan — the luxury brand's first hybrid — is controlled by an advanced but straightforward system navigated by a multifunction center knob and color display panel. Premium and Technology packages drop in a super high-end audio system with digital storage, along with information and navigation systems and multi-view backup camera. All that and up to 39 mpg.
Another smart choice for a brave new robotic world, Ford's C-Max compact utility vehicle is an entirely original animal, offered in Hybrid and Energi plug-in modes. Both operate with new-generation interactivity — hands-free liftgate, park assist and voice-command control included. Superior robotic technology in an environmentally friendly package. Now that's heroic.
—Bob Young, Brand Publishing Writer
---