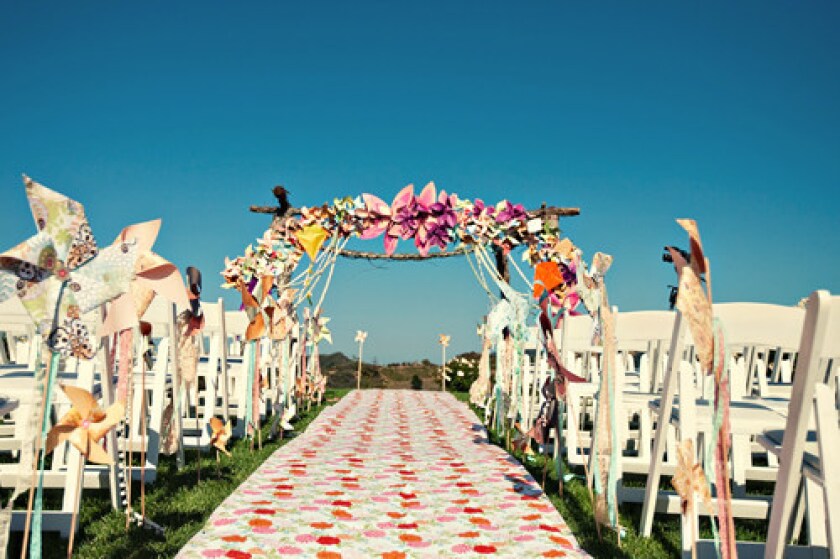 Having pets at your wedding isn't all that unusual. Most of us have seen at least one furry, four-legged ring bearer at a dog-lover's wedding. However, some couples are cranking it up a notch by including animals of a more exotic nature.
Take singer Katy Perry and comedian/actor Russell Brand. When they wed in India last October at the Aman-e-Khas resort outside the Ranthambhore Tiger Sanctuary, their nuptials featured camels, elephants, horses and — according to Indian press — at least one tiger. Brand's reported gift to his bride? A Bengal tiger named Machli.
But what kind of bride wants a wild animal at her wedding?
"A self-confident bride," said Marley Majcher, owner of The Party Goddess, an eventplanning company in Los Angeles. "Someone who sees her wedding as more of a party and wants to do something different."
Others incorporate certain animals to honor cultural traditions. Regardless, Majcher noted that those who invite wildlife to their weddings likely have plenty of disposable income. "After all, exotic animals aren't really 'must-haves' at a wedding," she said.
While lions, tigers and bears are still fairly unheard of, wildlife has been spotted at even the most elegant ceremonies. Here's why some couples are choosing to include them.


Tradition
An event planner who specializes in ethnic ceremonies, Nahid Farhoud of Wedding Elégance in San Diego has received requests for horses and elephants, in accordance with Hindu tradition.
"In a traditional Hindu wedding procession, known as the bharat, the bridegroom and some relatives and friends walk to the spot where the bride awaits," she said. "The bridegroom is often on a white horse, but an elephant is considered an even grander, more magnificent mode of transportation — the traditional choice for the maharajas, or Indian royals, at their weddings," Farhoud explained.
Jonathan Reeves of Beverly Hills' International Event Company planned a recent wedding for Rohit Mehta and Payal Sharma of Los Angeles that included an 8,800-pound elephant in a grand ceremony at the Beverly Wilshire Hotel. "The couple simply wanted to honor their ancestors," he said.
Mehta, along with his niece and nephew — followed by a procession of family and friends — rode the elephant down Wilshire Boulevard to where his bride and her family awaited.

Animal Ambiance
When Majcher got a request for penguins at a "winter wonderland" themed wedding in December 2008, she didn't even flinch.
"I've gotten a lot of crazy requests in my 11 years of event planning," she said. Some ask for pythons and reindeer. But Joey and Tara Martin of Pasadena insisted that penguins be included to round out their elaborate nuptials.
"There were rocks and a waterfall by the pool, and when we talked about making it a snowy, winter wonderland, the couple suggested penguins to complete the theme," Majcher said. "Originally, the idea was that the penguins would mingle with guests on the dance floor." But the handler ultimately decided to keep the animals away from the guests.
"Still, the penguins were a wonderful addition," she said.

Entertainment Value
When screenwriters Sheila Barnes and Robert Kuhn of Los Angeles wed in Florida 10 years ago, Barnes worried that the wedding, to be held at her mother-in-law's country club, would be too conservative.
"We had two different worlds coming together: the country club set and our Hollywood set, and though I knew the wedding would be beautiful, I was worried it wouldn't be fun," she said.
So Barnes hired Lenny the Monkey Man of South Florida to incorporate monkeys into the ceremony. Her guests -— and the groom — gasped in surprise when a monkey in a wedding gown pranced down the aisle accompanied by the Wedding March.
"Everyone just died laughing," Barnes said. "It was the perfect icebreaker."

Critter Challenges
Having an exotic animal at your wedding clearly offers unique challenges, said Reeves, an expert on the subject. After all, he managed to march an elephant through the streets of Beverly Hills.
"We were really lucky to get the cooperation of the City of Beverly Hills and so many others," Reeves said. "It also takes a special venue to have an elephant."
Majcher pointed out that having a wild wedding is "not for the micro-managing bride," as animals are completely unpredictable. "No matter how well-trained they are, you never know how they will react to the environment, the noise and the people," she said.
For those who love wild animals but aren't up to wrangling them at their wedding, a local wildlife park or zoo can be a great solution. Jenny Michalko and Randy Clemson held their nuptials at the Santa Barbara Zoo, overlooking the Pacific.
Despite the difficulties, animals can lend drama and excitement to a wedding. Reeves, for instance, found the Beverly Hills Hindu ceremony to be quite moving.
"The elephant walked through the Porte Cochere of the Beverly Wilshire while both families danced down the street with drummers and dancers," he said. Residents came out of their homes to follow the procession.
No one seemed to mind that city streets were blocked. "One man said to me: 'This is what life is all about — honoring our traditions.'"
– Jennifer Evans Gardner, Custom Publishing Writer
---