An urban farm and education center blooms in a formerly blighted San Diego lot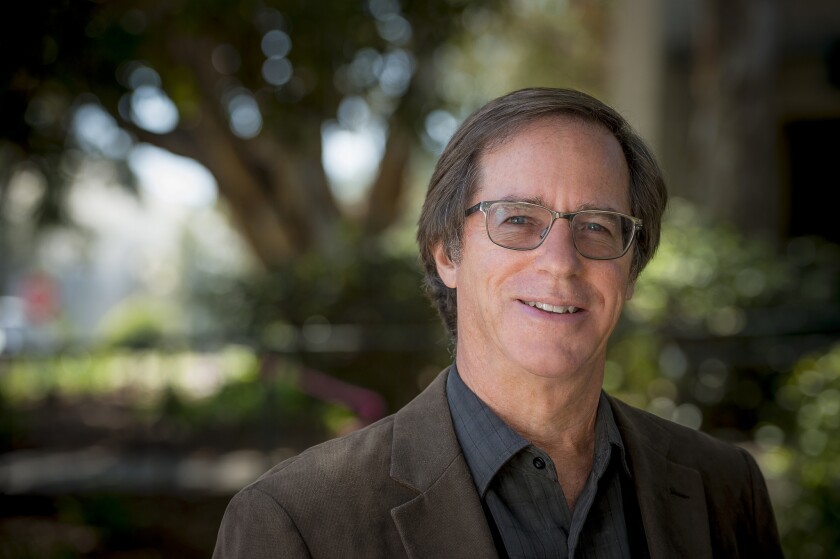 For years, a vacant lot in a low-income section of San Diego had been collecting abandoned cars and more than its share of trash. Now it's being transformed into an oasis of organically grown greens and a food forest complete with orange, olive, peach, apple, loquat and fig trees.
But it's more than just a community garden.
Thanks to a partnership led by UC San Diego that involves a local nonprofit and scores of residents thirsting for knowledge, today the fledgling Ocean View Growing Grounds in the southeast San Diego neighborhood of Mountain View is evolving into an educational center with workshops and an outdoor classroom for the agricultural and health sciences.
"We have an ambitious vision that goes far beyond a garden," said Keith Pezzoli, director of UC San Diego's Urban Studies and Planning Program, who has been working with researchers and residents on the Ocean View Growing Grounds since 2012. "This is a movement that is resulting in a change of culture and bringing UC San Diego into an underserved neighborhood, democratizing science and technology, one neighborhood at a time."
Teaching — and studying — urban agriculture
Mountain View, though just a few miles from the coast, is a world away from the San Diego seen on postcards. The neighborhood's median annual income is less than $21,000, and more than half of families with children under the age of 5 there live in poverty. The community, just west of the 805 freeway, has been designated a food desert, defined by the U.S. Department of Agriculture as lacking in grocery stores or ready access to fresh, healthful and affordable food.
The Ocean View Growing Grounds is part of the University of California's Global Food Initiative project, headed by a multidisciplinary team of researchers working with other UC campuses to analyze and evaluate urban agriculture in low-income communities such as Mountain View. The plan is to establish a multi-campus research and learning network.
Key to the San Diego effort is the Global Action Research Center (Global ARC), a San Diego-based nonprofit aiming to build healthy, sustainable communities. In 2013, Global ARC secured rights from the property's owner to lease the 20,000-square-foot plot and is, in turn, letting UC San Diego use the land.
"We weren't interested in creating another community garden," said Paul Watson Jr., Global ARC's executive director. "What we were interested in was turning this vacant piece of property into a learning center. We were interested in bringing in the university to teach the community about the science and the technology that is involved in creating a garden."
That made UC San Diego an ideal partner.
The education began right away. "Because this is a former brownfield — a parcel of land previously used for industrial or commercial purposes that may be contaminated with hazardous substances — it was important for us to do extensive soil testing that goes beyond what most community gardens would do," Pezzoli said. That offered an opportunity for interested residents to learn from the experts in the field.
Knowledge to go
The vision goes beyond the borders of the Ocean View Growing Grounds. It includes teaching residents how to grow vegetables at their own homes and creating a larger self-sustaining neighborhood food network.
Immediate plans for the Growing Grounds call for a greenhouse and an outdoor learning kitchen. In the long term, project leaders have their sights set on an aquaponics installation that'll demonstrate how to raise vegetables and fish using water.
The aim is for everything — outdoor kitchen, greenhouse, learning centers — to be in place within three years.
Karemah Alhark, an active community garden participant who lives within walking distance of the growing grounds, has been recruiting neighbors to help in planning and trying to build their interest in creating their own slice of urban agriculture.
"I'm looking at this as a hub of change, where the community can come in and get whatever information they need to learn about healthy eating and healthy living and building a healthy environment," Alhark said. "We want people to be involved. We want this to be a place where people can come and celebrate, bring their families, take part in educational programs and leadership development programs and have workshops at the outdoor kitchen."
—David Ogul, Brand Publishing Writer
---