Despite Tesla frenzy, electric car sales are far from robust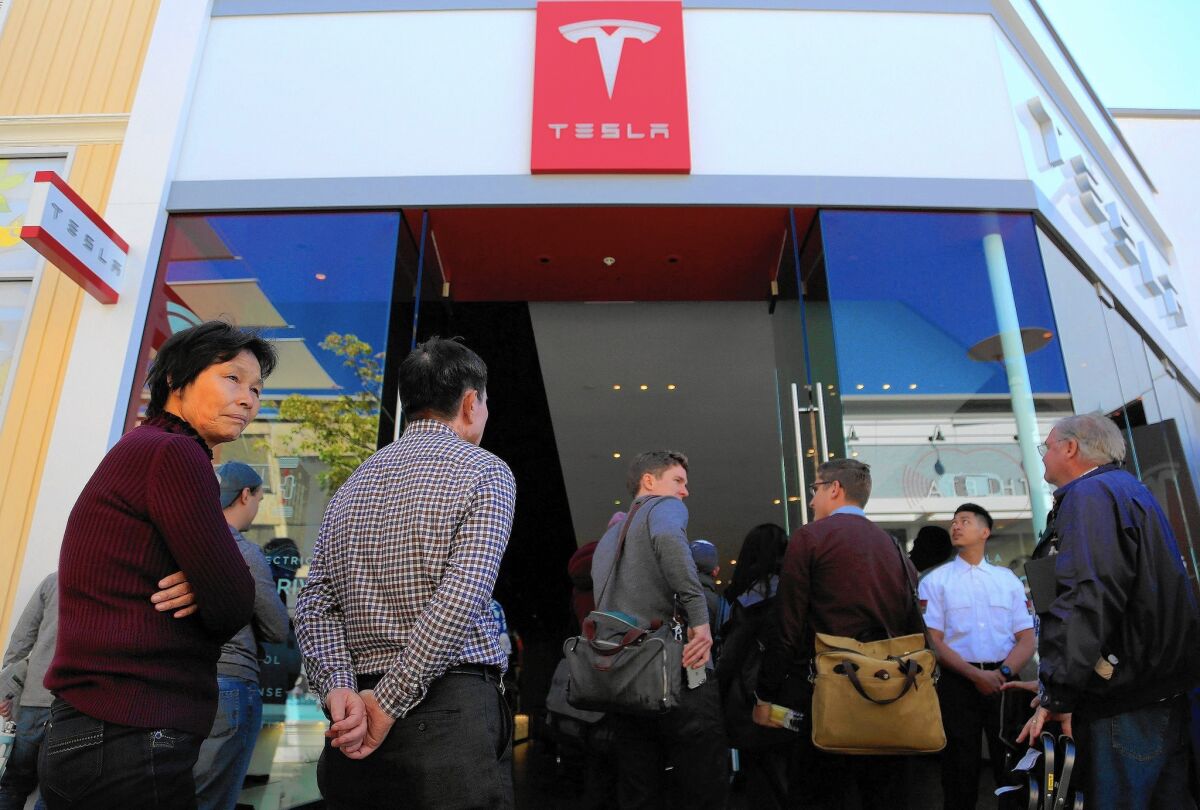 The recent hoopla around Tesla's planned Model 3 might lead one to think electric-car sales are surging. They're not.
The lines of customers in front of Tesla Motor Inc.'s dealerships March 31 did underline how electric cars have a growing presence in the automotive world.
Those customers were waiting to plunk down $1,000 to reserve Tesla's newest product, the $35,000 Model 3 sedan. Reservations topped 325,000, Tesla Chief Executive Elon Musk tweeted, even though the car won't be available until late 2017.
Despite the buzz surrounding the Model 3 and Tesla's two existing vehicles, the top-selling Model S sedan and the recently introduced Model X sport utility vehicle, electric-car sales remain a drop in the bucket for the U.S. auto industry.
Pure electric cars such as those sold by Tesla — that is, not counting hybrids that use batteries and a conventional internal-combustion engine — totaled 71,064 last year, according to the Electric Drive Transportation Assn., a trade group in Washington.
That amounted to only 0.4% of the record 17.4 million cars sold in the United States in 2015. Throw in the hybrids, and the electric-car industry's sales totaled 498,426 last year, but that still was a mere 2.9% of the market.
In addition, the industry's sales and market share fell from 2014, when sales totaled 570,945 and accounted for 3.5% of overall U.S. car purchases.
Nonetheless, "we have established a good foothold in the market," said Genevieve Cullen, president of the Electric Drive Transportation Assn. "All the major automakers are investing in some form of electrification."
At least a dozen pure electric cars are produced not only by Tesla but by the likes of BMW, Mercedes-Benz, Nissan, Chevrolet, Ford and Fiat. And others are on the way, including the McLaren P1 at $1.15 million.
There also are several other hybrid models, notably the popular Toyota Prius, which run on a combination of electric power and conventional internal-combustion engines.
The question is how rapidly more U.S. consumers will take a hard look at electric cars. That could depend on how rapidly battery technology keeps improving, so that consumers can drive longer distances without recharging.
"People are perhaps cautious in adapting to new models of transportation, and it's our job to demonstrate how it works," Cullen said.
But, she acknowledged, "the internal-combustion engine has a 100-year head start."
Here's a look at the electric cars out there.
BMW i3
BMW touts this four-passenger car's light weight due to a carbon fiber framework; 25% of its interior uses renewable materials.
Price: $43,395
Range: 81 miles
Charge, 120V: 20 hours
Charge, 240V: 3.5 hours
---
Chevrolet Spark EV
One of the most affordable electric vehicles. Accelerates 0 to 60 in 7.2 seconds. Charging options include using household outlet.
Price: $25,995
Range: 82 miles
Charge, 120V: 20 hours
Charge, 240V: 7 hours
---
Fiat 500e
An electric-powered version of the stylish two-door Fiat 500 hatchback; reviewers cited zippy handling but a cramped interior.
Price: $32,780
Range: 84 miles
Charge, 120V: 24 hours
Charge, 240V: 4 hours
---
Ford Focus Electric
Car and Driver magazine called the four-door Focus E the "Tesla Model S for the 99%: quiet, smooth and sophisticated."
Price: $29,995
Range: 76 miles
Charge, 120V: 20 hours
Charge, 240V: 3.6 hours
---
Kia Soul EV
This four-door, squarish electric vehicle was introduced to the U.S. market in late 2014 with limited availability; it can seat five passengers.
Price: $32,800
Range: 93 miles
Charge, 120V: 24 hours
Charge, 240V: 4.5 hours
---
Mercedes B-class
The car combines the style and luxury of a Mercedes with a 177-horsepower electric motor; five-door design and folding rear seats.
Price: $42,375
Range: 87 miles
Charge, 120V: 32 hours
Charge, 240V: 3.5 hours
---
Mitsubishi i-MiEV
The price of this four-passenger car is the cheapest in the electric-vehicle category. But the car's range also is the lowest.
Price: $23,845
Range: 62 miles
Charge, 120V: 14 to 22 hours
Charge, 240V: 6 hours
---
Nissan Leaf
Among the bestselling electrics; Edmunds.com called it "a mainstream passenger car, not a science experiment with a cramped cabin."
Price: $29,860
Range: 84 miles
Charge, 120V: 20 hours
Charge, 240V: 5 hours
---
Smart EV
The electric Smart for two passengers is small with limited range but is available as a convertible. The stubby car can park in tiny spots.
Price: $25,700
Range: 68 miles
Charge, 120V: 13 hours
Charge, 240V: 6 hours
---
Tesla Model S
This top-selling electric car thrust Tesla Motors into the limelight. It has a relatively long range and fast acceleration.
Price: $71,200
Range: 240 to 270 miles
Charge, 120V: 73 to 84 hours
Charge, 240V: 8 to 9 hours
---
Tesla Model X
Tesla's sport utility vehicle with all-wheel drive and stylish falcon-wing doors; production delays hampered early sales.
Price: $80,200
Range: 257 miles
Charge, 120V: 73 to 84 hours
Charge, 240V: 10 hours
---
VW e-Golf
The four-door electric version of Volkswagen's Golf. The vehicle is available only in California and about 10 other states.
Price: $29,815
Range: 83 miles
Charge, 120V: 20 hours
Charge, 240V: 4 hours
---
For more business news, follow @PeltzLATimes on Twitter.
ALSO
Elon Musk faces big challenges to deliver Tesla Model 3s
Government subsidies may be gone before most buyers can get a Tesla Model 3
Tesla issues safety recall for Model X: Back seats could fold forward in sudden stop
---