Turbocharged cars' gas mileage may be lackluster after all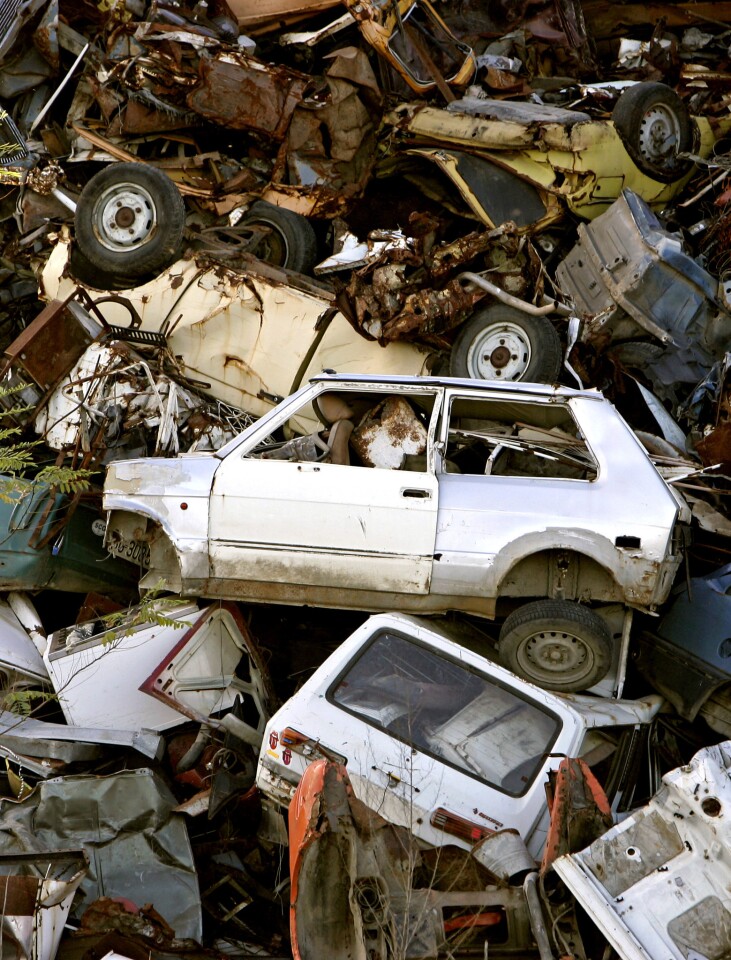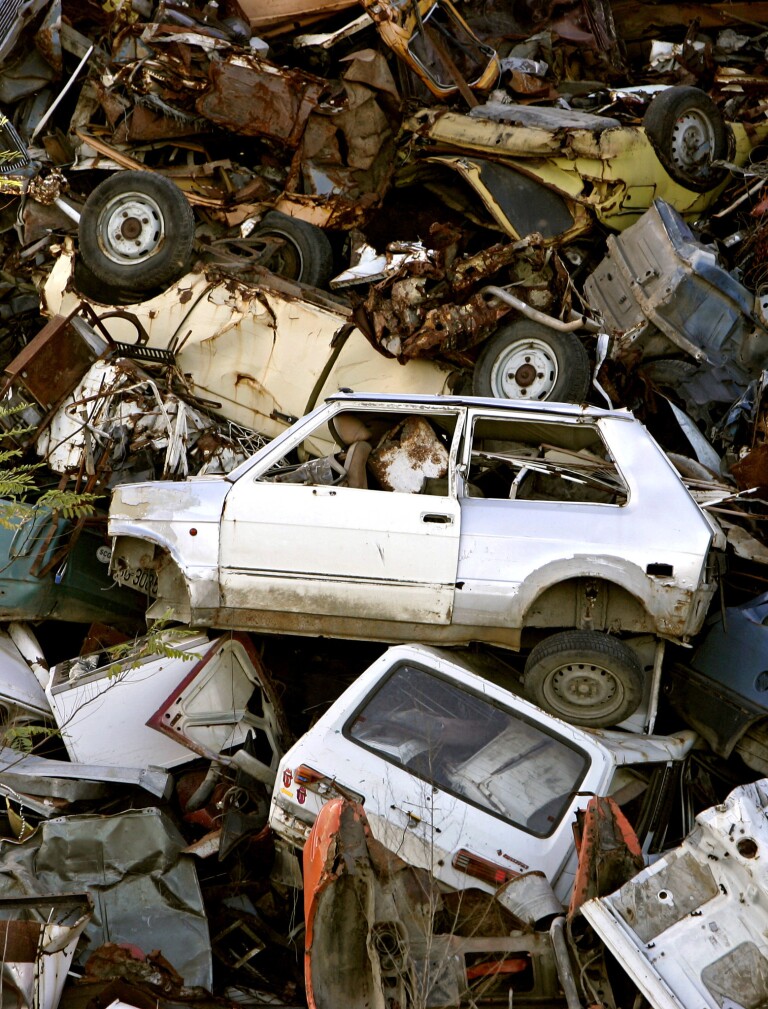 A Serbian-made version of the Fiat 127 that people thought couldn't possibly be as awful as its low price suggested. But it was!
(Darko Vojinovic / Associated Press)
While electric vehicles continue to grab the green-car spotlight, an older technology has quietly emerged as a player in the fuel economy wars: turbocharging.
Once the province of performance cars, turbochargers now power economy cars, family sedans and even full-sized trucks. Turbos now account for an estimated 13% of U.S. auto sales, according to Honeywell International Inc., a leading turbo supplier. That's double what it was in 2010.
The increase is driven by ever-stricter federal fuel economy standards. Turbochargers, which inject compressed air into engine cylinders, enable automakers to squeeze more oomph out of smaller motors.
Complete results: Turbo vs. non-turbo fuel economy
But not everyone is sold on turbos. Toyota and Honda continue to avoid the technology. And critics including Consumer Reports question its efficiency and performance advantages. In a new report, the product testing organization found that most turbos failed to deliver on advertised fuel economy or to outperform non-turbo rivals with bigger engines.
"There are better ways to save fuel, including hybrids, diesels and other advanced technologies," the magazine said.
Still, automakers including Ford, Volkswagen and BMW are bullish on turbos. Some predict the U.S. car market will soon look more like Europe, where more than half the cars are turbocharged.
"We're going 100% into turbo technology," said Rainer Michel, vice president of product strategy for Volkswagen of America. "From a physics standpoint, nobody will get around it."
Ford shocked the industry two years ago when it introduced a turbocharged six-cylinder version of its hefty F-Series truck, the bestselling vehicle in the United States. Noting that truck buyers favored the traditional V-8, Car and Driver magazine said the engine "might as well be a hood-mounted tofu dispenser."
Today, the twin-turbo V-6 now sells better than any other option — including two V-8s — at 42% of all F-150 sales. "It's surprised even us at how well it's done," said Ford spokesman Richard Truett.
But Consumer Reports found that the EcoBoost truck achieved 15 miles per gallon in combined city and highway driving, less than its 17 mpg combined rating from the Environmental Protection Agency — and about the same as Ford's 5.0-liter V-8.
Ford released a statement Monday saying the Consumer Reports "findings are not consistent with our internal and external feedback. It shows EcoBoost vehicles lead in customer satisfaction for fuel economy across segments — including surveys by J.D. Power."
Ford now offers 15 nameplates with EcoBoost engines and plans to add more, including a three-cylinder Ford Fiesta that will be among the smallest engines sold in America. General Motors is close behind, increasing turbo models to eight this year from four. Sales of 2013 model-year turbos so far represent 14% of all GM cars, up from 7% in the 2012 model year, said Rick Balsley, GM's engineering group manager for charging.
By comparison, gas-electric hybrids account for about 3% of all U.S. car sales. Figures for U.S. turbo sales include vehicles with diesel engines. Diesels, which also account for about 3% of the market, have been turbocharged since the late 1970s because of their particular performance and pollution issues. The recent growth in turbocharging involves gasoline engines.
"The U.S. is an emerging market for turbos," said Tony Schultz, vice president for the Americas at Honeywell Turbo Technologies. "We're growing as fast here as we are in China."
A blast of hot air?
Some major automakers have resisted turbocharging, relying instead on tweaking traditional engines to find power and fuel economy. "We're not jumping on the bandwagon," Honda spokesman Chris Martin said. "At this point, we have such efficient and powerful engine options that we haven't needed the turbo."
Toyota, the world's largest automaker, is focusing instead on hybrid technologies and efforts to reduce weight and make cars more aerodynamic, specialist Moe Durand said. Today's turbos are impressive, he said, but their efficiency can suffer in real-world use. "For absolute fuel economy, you're still going to do better with a hybrid," Durand said.
Consumer Reports found that turbo engines — across segments and automakers — generally failed to outperform larger non-turbo engines. Ford's 1.6-liter turbo Fusion, for instance, returned 25 mpg and took nearly 8.9 seconds to get from zero to 60 mph. Honda's non-turbo 2.5-liter Accord, meanwhile, got 30 mpg and took 8.2 seconds to reach 60 mph.
Comparing turbo and non-turbo versions of the Chevrolet Cruze, the magazine found the more expensive turbo version to accelerate only marginally faster and return identical fuel economy — 26 mpg.
"The small-displacement turbos certainly are not the magic bullet in terms of fuel efficiency," said Jake Fisher, director of automotive testing at Consumer Reports. "Their EPA ratings look good on paper, but in our testing, they not only don't perform as marketed, but not as well as conventional powertrains."
GM responded with a statement: "If you have a heavy foot on a turbocharged engine, you're not necessarily going to see a lot of fuel economy benefits. As is generally the case, the improved fuel economy you get is really dependent on how you drive."
Consumer Reports did not pan every turbo model, noting that the BMW 3 Series it tested recently delivered "both good fuel economy (28 mpg) and acceleration." And it said the 2.0-liter turbo four-cylinder found in Volkswagen and Audi models returns impressive mileage, though the magazine has not tested it against comparable non-turbo competitors.
The cult of turbo
Today's turbo renaissance marks a turnaround from the bad-old days of turbocharging in the 1980s. Back then, the technology became the automotive equivalent of crack cocaine — an intense high followed by self-destruction.
Images of exotic turbocharged sports cars graced the walls of teenagers' bedrooms everywhere, and the word "turbo" embedded itself in the culture as a synonym for fast and cool. It has since been applied willy-nilly to unrelated products such as sunglasses, razors, even tax software.
The reality of owning the turbo cars proved less cool. Turbochargers often blew out before 100,000 miles and damaged engines. Consumers started to see them as disposable vehicles. Resale values fell through the floor.
Driving turbo cars proved an acquired taste because of "turbo lag" — the power didn't kick in until the middle of the rev range, creating a herky-jerky driving dynamic.
"In those old turbo cars, you'd rev up the engine and all of a sudden — bang! — you get the turbo power. For daily drive ability, they were very bad," said Michel of Volkswagen. "On a 180-degree highway ramp, hit the gas at the wrong moment, and you're off the road."
Today's new slate of turbos drive better and appear, at least initially, to have overcome the reliability issues. That's because the technology has been honed — tamed, really — with a combination of other complementary technologies, including engine-management systems that can precisely calibrate air, fuel and spark.
Today's turbocharged cars target an entirely different consumer, GM's Balsley said. "Now we're putting turbos in cars for consumers that may not even know they have a turbo — or care."
ALSO:
Full coverage: Detroit Auto Show
Top 10 cars destined to be collector's items
Consumer Reports: Toyota, Ford, Honda rank best in consumer perception
@LAThevenot on Twitter
---