German automakers who once laughed off Elon Musk are now starting to worry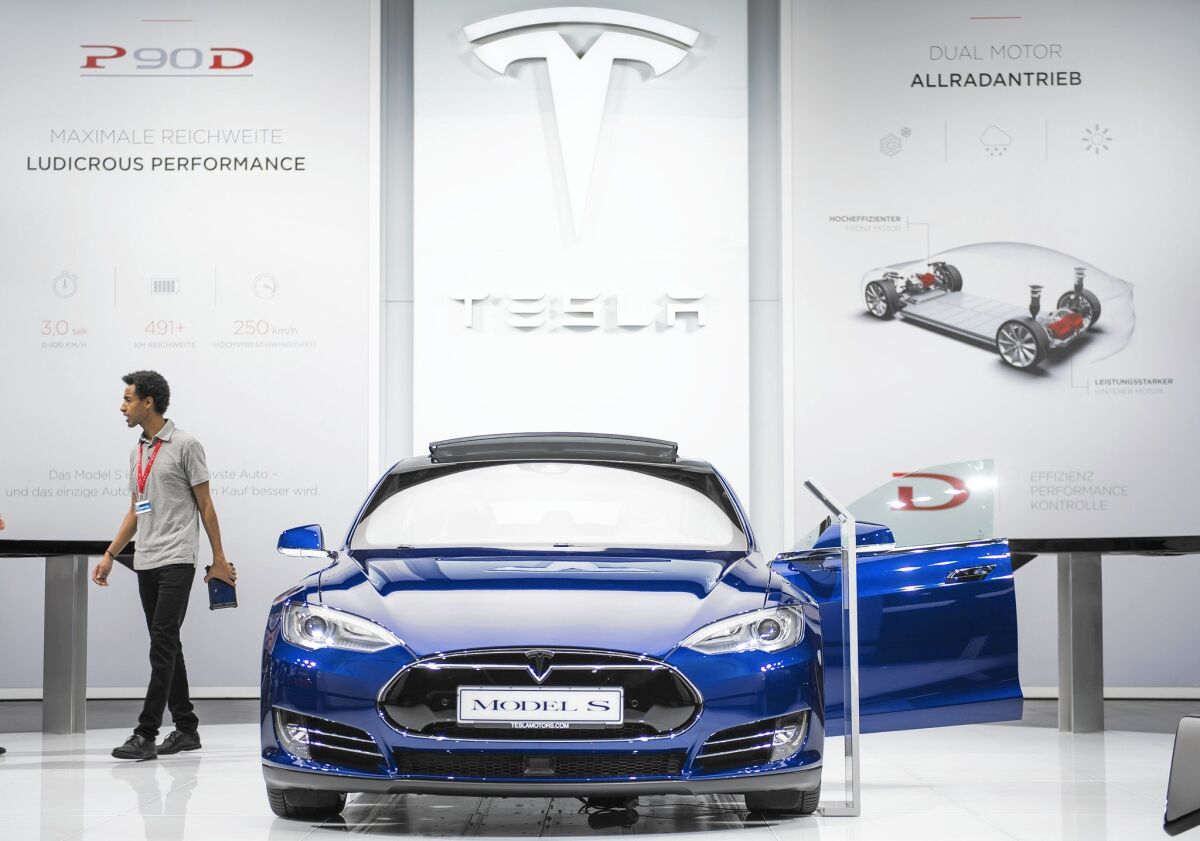 reporting from BERLIN —
It wasn't long ago when the German car industry was still laughing out loud about Elon Musk and his Tesla Motors electric car company.
The proud makers of the world's top-selling luxury brands such as Mercedes, BMW, Audi and Porsche could not fathom how a small-time, loss-making upstart from California could ever compete with the giants of the industry that had a century and a half of experience and expertise. In November, a former Daimler chairman, Edzard Reuter, even called Tesla "a joke that can't be taken seriously compared to the great car companies of Germany" and dismissed Musk as a "pretender."
But the patronizing laughter came to a screeching halt after more than 325,000 buyers from around the world lined up to put down $1,000 reservations to order Tesla's Model 3 in the first week — even though the company's electric car for the masses, priced from $35,000, won't go into production for another 18 months.
Some in Germany are now, rather belatedly, seeing Tesla as a long-term threat to the pride and joy of the country's economy: the car industry that employs 750,000 workers and indirectly accounts for 1 in 8 jobs.
"The German carmakers are taking Tesla more seriously every day now," said Ferdinand Dudenhoeffer, a German car industry analyst at the Center for Automotive Research at the University of Duisburg-Essen.
"Germans have an enormous amount of pride in their engineering skills and believe they know everything that needs to be known about cars," he said. "They used to think there was no way that anyone could possibly build cars as well as they do. And then along comes this young punk in California. They thought he didn't have a clue about cars and treated him like a joke. And now they're seeing that he's leading the revolution."
Although many German automakers make all-electric models — Volkswagen has one, and so does BMW, while others are in the pipeline — their efforts have largely been focused on plug-in hybrids with two engines: electric and combustion. The logic was they didn't think many people would buy all-electric vehicles with a limited range of under 100 miles per charge.
The success in Germany and elsewhere of Tesla's purely electric Model S, which has a range of about 250 miles, proved the hybrid theory wrong.
And German all-electric models with inferior ranges have had disappointing sales, paling in comparison with the much higher-priced Tesla. The all-electric BMW i3 has a range of just 81 miles, Mercedes' electric B Class has a range of 87 miles, VW's all-electric Golf can go 83 miles per charge, and the third-generation Smart EV has a range of 68 miles.
Dieter Zetsche, the chairman of Daimler AG, conceded this month that "Tesla has promised a lot but has also delivered most of it" and said there was now a lot of excitement in the industry about the "overall appearance and approach Tesla is taking."
Zetsche said his company was now looking to deliver an all-electric car with a range of up to 310 miles.
"There is no doubt that getting new momentum from a new player is good," Zetsche said at a meeting with journalists in France.
Tesla sold more electric cars in Germany last year than any other brand and proved to be a formidable competitor even before the launch of the Model 3, selling 1,582 Model S cars in Germany in 2015. That compares with sales of 1,051 BMW i3s, 1,161 all-electric Mercedes, 676 electric Smarts and 796 electric VW Golfs.
That prompted automakers such as Porsche and Audi to accelerate plans to bring their own all-electric cars to the market by the end of this decade after long expressing doubts there would be a sizable market for the cars.
The improbable popularity of the Tesla has touched a deep nerve in Germany, already reeling from last year's Volkwagen diesel-emissions scandal.
"German carmakers totally underestimated the potential of the all-electric vehicle and thought it was just a fad that would pass," said Juergen Resch, the head of the nonprofit Deutsche Umwelthilfe environment and consumer protection association. "And at the same time they've been pushing diesel engines with defeat devices."
Driving is serious business in Germany, a country without speed limits on many of the motorways. Smugly confident that no one builds better cars than they do, Germans fancy themselves as the home of the motor car invented in the 1870s by Karl Benz and Nikolaus Otto.
Germany is among the world's top four carmaking nations, a global market where some 78 million cars were produced last year. Volkswagen, Daimler, BMW, Audi and Porsche can still take comfort in the overall numbers: They produced 5.7 million cars in 2015 and another 9.4 million cars at their manufacturing plants abroad. Tesla, by comparison, delivered only 50,580 in 2015. It hopes to be making 500,000 cars a year by 2020.
SIGN UP for the free California Inc. business newsletter >>
Yet Tesla has become the bestselling luxury car in Western Europe, according to a report by Automotive Industry Data. It said that its data showed Tesla's Model S sales in Western European countries in 2015 hit 15,787 and for the first time surpassed Mercedes' S-Class, which sold 14,990 cars.
Even though German automakers have been offering some all-electric models, there are far more hybrids on the road in Germany. There were 33,630 hybrids sold in the country in 2015, an increase of 22% compared with 2014, while 12,363 all-electric cars were sold, an increase of 45%.
"German carmakers have been in denial that electric vehicles can create an emotional appeal to customers," said Arndt Ellinghorst, head of global automotive research at Evercore ISI. "Many still believe that Tesla is a sideshow catering to a niche product to some tree-hugging Californians and eccentric U.S. hedge fund managers. I'm sure German boardrooms are having some interesting discussions now."
The executives at Daimler got an earful from shareholders at the company's annual general meeting this month in Berlin. Several of the 5,500 present stood up to critically ask managers why they had been asleep as Tesla aggressively pushed forward into the all-electric market, and some wondered aloud if this was the beginning of the end of the German car industry.
"We don't have anything that can really compete with it," complained Hans-Martin Buhlmann, representing the Vereinigung Institutioneller Privateanleger association of small shareholders at the AGM in Berlin.
Daimler Chairman Zetsche insisted his company and its German rivals had not missed the boat. He pointed out that Tesla has not earned any money and that its loss-making business was not something Daimler shareholders would accept.
Deutsche Bank Research car sector analyst Eric Heymann dismissed any doomsday scenario for German luxury carmakers but agreed Tesla was pushing them forward on the all-electric car. He said he believed they would quickly catch up.
"I don't think the first one into this market will necessarily dominate it," he said. "German carmakers weren't always the fastest with new technologies but often ended up doing it better."
But Claudia Kemfert, head of energy, transport and environment at the German Institute for Economic Research in Berlin, said German carmakers have been arrogantly negligent to Tesla's challenge. German companies had been similarly careless in discarding German inventions such as the fax machine and the MP3 player, which helped make others rich outside Germany with a better understanding of consumers.
"German carmakers have completely misjudged the gigantic economic opportunities of sustainable mobility," she said. "The German car industry is in the process of squandering the chances for the future just like the big utilities blew their chances with renewable energy. Tesla is at the same time both a danger for German manufacturers, but it's also a wake-up call."
ALSO
Why sporting goods retailers are fumbling
China's LeEco unveils its first electric vehicle
Drivers awaiting Takata air bag repairs can get free rental cars, but it's often not easy