Motorcycle companies cash in on the adventure riding boom
Blame it on Ewan McGregor.
Interest in "adventure" motorcyling, riding that involves touring hidden backroads with the prospect of exploring unpaved trails, has been warming up since the Scottish actor starred with his childhood pal Charley Boorman in the 2004 documentary "The Long Way Round."
Now, ADV riding has warmed to the boiling point. The niche segment, which in 2011 accounted for only 5% of motorcycle sales, has grown to 10%, according to the industry publication Power Sports Business. Those sales have high value: Adventure bikers spend more on their bikes, and more on after-market accessories for their bikes, than any other kind of rider.
As a result, virtually every major manufacturer has fielded a machine in the segment, and scores of apparel and equipment makers, along with riding schools and motorcycle travel companies, are cashing in on the enthusiasm.
But they may have to hurry. The adventure niche attracts an older cohort, and they're aging out of the sport fast. New riders may not be catching the adventure bug as quickly as their elders.
According to Power Sports Business, the age group buying the most adventure bikes was 50-54, followed closely by 45-49 and 55-59. Those in their early 50s bought almost twice as many bikes as the 20-to-24 group.
Phil Freeman, who started his company, MotoQuest, in 1998, thinks the high buy-in is the principal factor limiting younger riders from joining the adventure; his core customer ranges in age from 50 to 80. The motorcycles can cost $20,000 or more if bought new, and the clothing and gear can easily add another $3,000 to that.
"It's expensive," he said. "Maybe younger riders just can't afford it."
"Adventure riding evokes all the dreams that people have about riding a motorcycle," said Cycle World Editor-in-Chief Mark Hoyer. "But you've got to be funded. You have to be able to make the nut."
Jeremy LeBreton thought he saw something new happening in motorcycling in 2008. A year later, he started a company called AltRider, catering to a growing kind of riding that involved taking street bikes off-road. AltRider began with six after-market parts for the Suzuki V-Strom.
Today, AltRider offers 380 parts, designed to make all manner of motorcycle more adventure-worthy: beefier footpegs, crash bars to protect exposed engine parts, or special navigation systems or tool kits.
LeBreton credits "The Long Way Round," which first aired as a TV show and later was shown in movie form, for helping convince regular riders that they could experience adventure riding.
"They showed two [guys], one of whom could barely ride, riding around the world," LeBreton said. "If it wasn't for that show, none of this would have happened."
LeBreton has gone to considerable lengths to encourage riders to find their own adventures. In addition to outfitting them with everything to make their motorcycles off-road-ready, AltRider hosts three major riding events annually that introduce newcomers to the skills they'll need to master Moab or the Mojave Desert.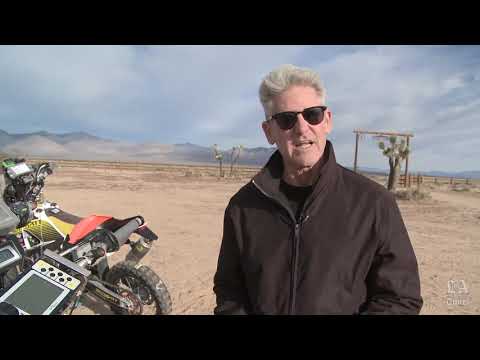 The Los Angeles Times' Charles Fleming takes a ride on a specialized — and very expensive — Dakar Rally motorcycle.
At this year's "Taste of Dakar" event, LeBreton and a half-dozen trainers instructed more than 100 riders who had paid about $325 each for three days of food, drink, lodging and off-road training.
"A lot of people want to do this kind of riding," LeBreton said. "But most of them say they don't know where to go and they don't know anyone to go with. We try to address both those things."
Andy Goldfine came to adventure riding earlier than LeBreton, and in a more personal way. He was commuting to work on a motorcycle in the 1980s, and didn't like having to change clothes every time he got on and off the bike. So he developed a special set of riding overalls. The Roadcrafter one-piece textile riding suit became a staple of motorcycle touring.
Today, Aerostich's lavish catalog offers more than 2,000 individual items — many of them designed to assist the adventure rider. Goldfine credits technological advances in four areas with pushing the adventure boom.
"One is GPS, because you're never lost. Two is a cellphone, so you're never alone. Three is the textile clothing, like ours. And four is motorcycles that don't break down," he said.
Freeman started small, too. In 1998, MotoQuest guided two paying guests on a motorcycling tour of Alaska. This year, his company will do 30 tours in 20 countries, taking about 200 riders, who pay $500 to $750 a day for guided visits, through places as far-flung as India and Japan. In addition, MotoQuest will do about 1,000 bike rentals for riders who want their own unguided tours.
He credits "The Long Way Round" with touching a nerve, and said his business benefited: "I started getting calls from people who saw that show, and who wanted to quit their jobs and do something."
Jim Hyde, whose Rawhyde Adventures is the most highly regarded big-bike motorcycle training school in the United States, said his company has grown 15% to 20% annually for the last five years, after much slower growth in the preceding five.
His first year, he led an eight-day adventure ride from Los Angeles to Las Vegas. Since then, he and his staff have taken 4,000 riders through training programs at camps in California, Nevada and Colorado.
Hyde believes the sense of "authenticity" drives much of the adventure-riding appeal.
"Adventure riding involves risk, and risk avoidance, and that makes it a genuinely authentic thing to do," he said.
Goldfine and LeBreton both voiced concern that the adventure riding cohort is rapidly approaching an age at which adventure riding may no longer be possible.
"I was 30 when I started, and the average American rider was 27," Goldfine said. "Now, I'm 63 and the average rider is in his late 50s."
"Adventure riding is on fire right now, but it has real limitations," LeBreton said. "The rider is aging out of the sport."
Hyde — who said his demographic is 45 years old and up, earning $150,000 a year or more, 90% white and mostly male — is less worried.
The millennials who today are riding vintage street bikes built in the '70s and '80s, he said, are tomorrow's customers for BMW, KTM, Ducati, Honda and others.
"I don't buy the idea that the adventure rider is dying off," he said. "A million people a year turn 50 in the United States. Their kids have gone to college, and the house is almost paid for, and suddenly you have a million people with a little extra money in their pockets. Even if this adventure thing is a bubble that will burst, there will still be people who want this experience."
MotoQuest's Freeman agreed. There is something in human nature, and something in the American character, that will continue to call to those who ride and those who dream of riding to faraway places.
"I don't see why this wouldn't continue," Freeman said. "There is an appeal that will never go away to just … go."
Twitter: @misterfleming