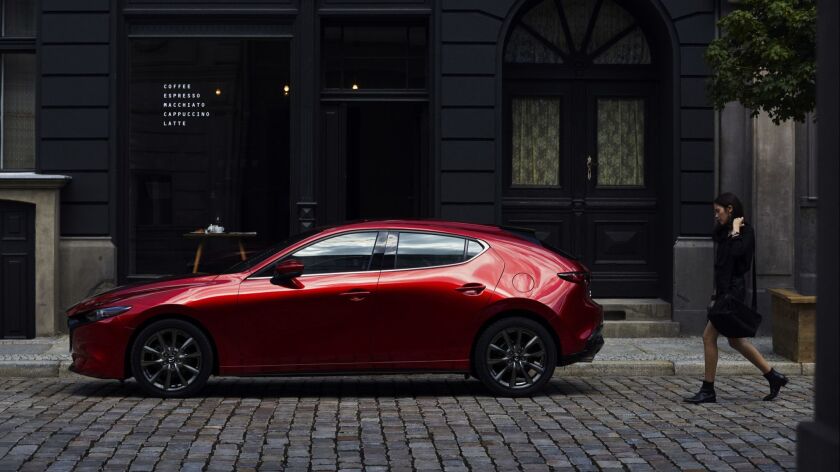 The venerable Mazda3 compact's lineage dates back to model year 2004, when the zoom-zoom automaker introduced a modern entry-level vehicle that looked good, didn't cost too much, and was great fun to drive.
Since then Mazda has put intensive effort into keeping Mazda3 fresh, both the sedan version and the hatchback. The 2019 models, which make their debut in Los Angeles today, mark the start of the Mazda3's fourth generation.
The evolution is quickly apparent in the sleek body designs. Mazda took an already stylish look and improved it.
The company says it aimed for "the impression of a single flowing brushstroke." Overly arty, maybe, but flow is a good word to describe the effect of lowering the sedan's hood and backside a bit and elongating it by three inches or so. The handsome-looking hatchback's smooth looks are distinctive enough to set it apart from the more prosaic competition.
There is nothing overtly revolutionary about the new Mazda3s. But large numbers of small refinements add up, from windshield wipers that adjust their angles in fine increments to engine tweaks that add more power and torque. The extra torque might address what Car & Driver called lack of "low-end grunt" in an otherwise enthusiastic review of the 2018 Mazda3.
Engines come in three sizes and six-speed transmission is available in automatic or stick.
One new addition that's bound to find its way into other Mazda models: a mild hybrid system that combines a small battery and motor to improve fuel economy and reduce emissions.
Twitter: @russ1mitchell
---