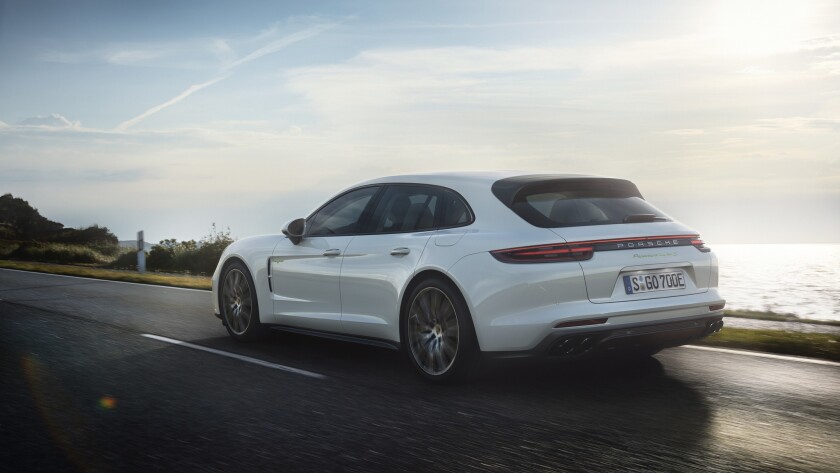 Porsche, unarguably, is one of the world's foremost providers of gorgeously thrilling ground transportation. But selling sports cars alone won't cover the R&D costs to keep the thrills coming. Porsche also supplies sport utility vehicles and other more "practical" vehicles for those who need more room than a sports car can provide.
What is it?
A station wagon. Not like any you've ever known.
Why it matters
For anyone looking to blast a spouse, several kids and a dog at 680 horsepower from zero to 60 in 3.2 seconds and reach a top speed of 192 mph at the track, all under the semi-green halo of an electric plug-in hybrid engine, with $188,400 budgeted for a new car, it might matter very much.
One could argue that the car's powertrain serves as a major evolutionary step toward the all-electric future envisioned by the upcoming Porsche Mission E, set for introduction in late 2019, likely followed in coming years by an all-electric super station wagon – or, shooting-brake estate, as they say in Europe and some corners of Connecticut.
One could also argue that after being shunned by Americans for years, the station wagon style is mounting a comeback, and now potential buyers will have something sexier than a Subaru Outback to aspire to.
What's new?
The Panamera as a full-size luxury sedan has been around since model year 2010 under various powertrain configurations.
The line was recently refreshed and a Panarama 4E-Hybrid sedan went on sale last year, to rave reviews. The plug-in hybrid powertrain can share duties between engine and motor like a traditional hybrid but can also run on a battery only for a few dozen miles.
That configuration is bound to take off in popularity for many kinds of cars when gasoline and diesel engines are banned from congested sections of major cities – more likely to affect Europe before the United States.
The competition
It depends. A competing station wagon? Maybe the Mercedes AMG 63 S, which delivers nearly the same horsepower but runs purely on gasoline. An SUV? Perhaps Porsche's own Cayenne. A very expensive electrified luxury car? The Tesla Model S, the BMW 740e and the upcoming BMW 8 series.
The details
A 136 hp electric motor with a 550 hp twin-turbo V8 for a combined system performance of 680 hp and 626 pound-feetof torque. Zero to 60 in 3.2 seconds, quarter mile in 11.6 seconds, top speed 192 mph. Ceramic brakes. Fifteen cubic feet of storage. On sale in the U.S. next spring. Price $188,400, not including delivery and handling.
---
---