Meet the million-dollar highlights of Gooding's Pebble Beach auction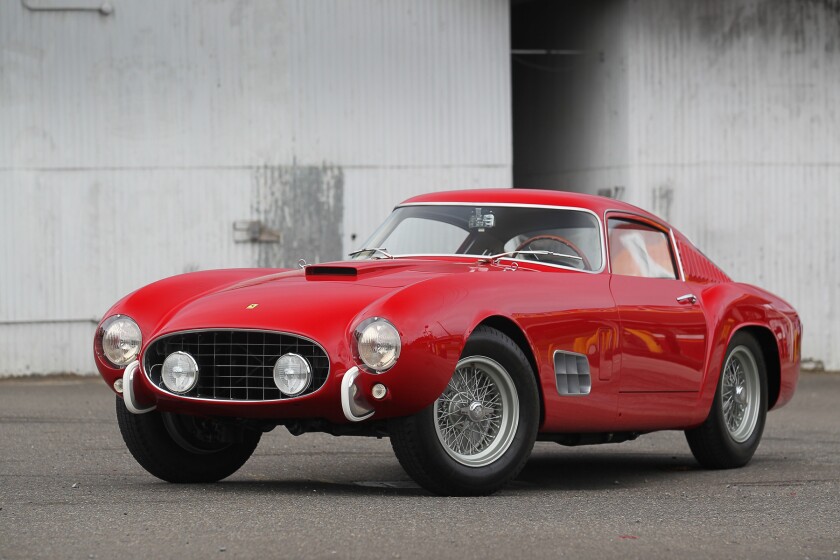 Ladies and gentlemen, start your checkbooks. Santa Monica-based auction house Gooding & Co. has announced nearly its entire lineup for its annual Pebble Beach auction.
In keeping with the high-dollar ethos of the annual Pebble Beach classic car events, 37 of the 160 classic cars Gooding will offer have pre-sale estimates of more than $1 million -- several could top $10 million.
Highlights include an ultra-rare 1937 Bugatti Type 57SC Atalante, a barn-find 1948 Alfa Romeo 6C 2500 Competizione, and an award-winning 1957 Ferrari 250 GT 14-Louver Berlinetta.
PHOTOS: Million-dollar highlights from Gooding's upcoming auction
"We have one of the biggest, best catalogs we've ever produced, in terms of the variety and quality of cars, as well as the history and originality of them," said Gooding founder and president David Gooding.
Gooding & Co.'s Pebble Beach auctions will take place the weekend of Aug. 17-18. The auctions are just one component of several days of classic car-related events during that week, the culmination of which is the Pebble Beach Concours d'Elegance car show on Sunday.
While the Gooding auctions are officially part of the Pebble Beach events, classic car powerhouse RM Auctions also hosts a two-night sale. Among RM's 258 lots, the company will offer several show-stopping cars, including a rare 1967 Ferrari 275 GTB/4 NART Spider, estimated to sell for between $14 million and $17 million. Highway 1 will take a closer look at this car and others offered by RM next week.
This year's auction at Pebble is also a milestone for Gooding, as it's the 10th anniversary of the company's inaugural auction in 2004. In that time, David Gooding -- who formerly served as president of RM Auction -- has built his company into a strong rival to his former employer.
"It certainly has exceeded all of my expectations in every way," Gooding said of his company's success. "It's just been a wonderful, wild ride."
This year's selection for Gooding's auction represents a cross-section of the classic car market -- and values. Of the 160 cars available, 22 Ferraris will cross the auction stage, 12 Porsches, and a trio of Bugattis spanning from 1929 to 2010.
The aforementioned 1937 Bugatti Type 57SC Atalante could be one of Gooding's highest sellers, with a presale estimate in the neighborhood of between $9 million and $11 million.
"There are Bugattis and then there are Bugattis. This one is really spectacular," said McKeel Hagerty, president and founder of Hagerty Insurance, which insures classic cars. "I would think that this could be his top seller" for the weekend, Hagerty said.
Just 17 such Bugattis were built with this bodywork, and only 11 remain in private hands today. This particular car won a pair of awards at the 2009 Pebble Beach Concours, as well as other prestigious trophies at events like the Amelia Island Concours d'Elegance in 2010.
It's powered by an alloy, inline supercharged eight-cylinder engine that makes 200 horsepower. The motor is paired with a four-speed manual transmission.
If this Bugatti doesn't command top dollar for Gooding, a gorgeous (and red) Ferrari might. The car is a 1957 250 GT 14-Louver Berlinetta. This purpose-built racing coupe is one of only eight remaining examples and has a rich and successful competition history -- a fact that always drives up the prices of classic cars.
This 250 has a 3.0-liter V-12 engine that makes 240 horsepower. Power flows to the rear wheels via a four-speed manual transmission. The car was restored to its original factory specifications in 2010, and grants the buyer access to exclusive road rallies around the world that feature only cars of similar caliber.
This car's presale estimate is also between $9 million and $11 million. Such a huge sum demonstrates that the Ferrari market -- which was strong before and during the recent recession -- has yet to reach its peak.
Expected to command less of an eye-popping sale price than others at Gooding's auction is a 1948 Alfa Romeo 6C 2500 Competizione. Yet its backstory is an interesting one.
After a robust racing life from 1948 to 1951, the car passed through a few hands before landing with a Swiss car collector and wine aficionado, according to Gooding & Co.
That buyer then kept the car stored away unprotected in a French chateau for nearly 30 years, along with a host of other notable French, Italian and British sports cars. The vehicles were discovered in various states of disrepair in the 1980s, and the Alfa was briefly restored and entered into a vintage car rally in 1984, before being returned to its owner.
In 1995 it finally changed hands for the first time in decades, and its current owner bought it in 2005. It was he who put the car through an exhaustive restoration to bring it to its current state, according to Gooding.
The car has been retrofitted with a later five-speed manual transmission and bigger seats, though both of the original components come with the car. Otherwise, the drivetrain, interior, and exterior were brought back to original condition. This 6C has a 2.4-liter inline six-cylinder engine that's estimated to make around 160 horsepower.
Gooding presale estimate of the car is between $2.8 million and $3.5 million.
Check back with Highway 1 for more details on the gorgeous classic cars that will be shown, raced, and auctioned at Pebble Beach, as well as on-the-ground reports from various elements of the event.
ALSO:
BMW officially debuts all-new i3 electric vehicle
Early list of 2013 L.A. Auto Show debuts announced
Behind the wheel of an iconic Mercedes 300SL headed to auction
---
Your guide to our new economic reality.
Get our free business newsletter for insights and tips for getting by.
You may occasionally receive promotional content from the Los Angeles Times.