China wants to enter the U.S. car market, but a rough road lies ahead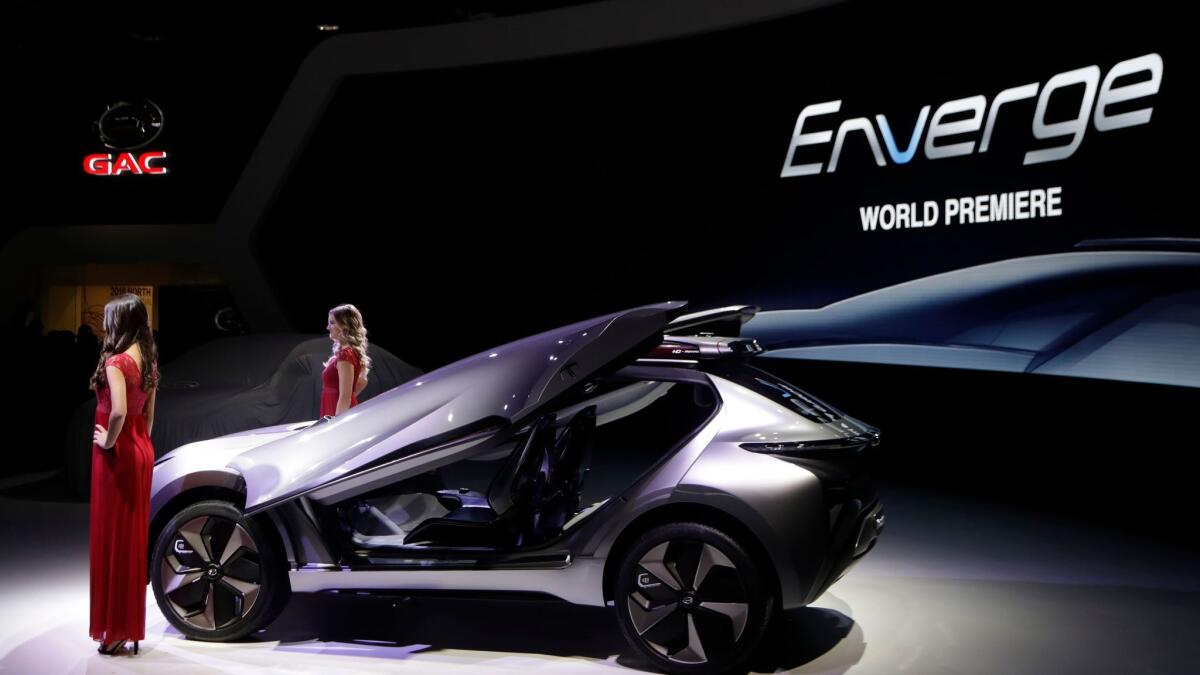 Reporting from San Francisco —
Germany was first. It shipped the Volkswagen Beetle to the United States in 1949. It got off to a slow start only to be embraced by an enthusiastic American public.
Japan came next, winning U.S. customers in the 1970s with its own mass-market cars. After that, South Korea, offered its Hyundais and Kias.
Now, it's China's turn.
Or is it?
Big, state-controlled Chinese automaker GAC Motor plans to start selling a gas-powered seven-passenger SUV priced around $40,000 in the U.S. next year. The company said more models will follow that vehicle, called the GS8 — including all-electric cars.
But a rough road lies ahead. Chinese automakers have tried to enter the U.S. market before and failed, crippled by sub-par quality, failure to meet tough U.S. safety standards, lack of consumer awareness and ill-conceived import partnerships.
"Plans were hopelessly optimistic," said Bill Hampton, editor of AutoBeat Daily.
But GAC says this time is different.
"A few years ago, we were not ready enough to enter the U.S. market with our level of technology, quality and competitiveness," GAC Motor President Yu Jun told The Times via email. But, he said, things have changed: "We are well prepared to face the challenges in the U.S. market."
That's a plausible assertion, said David Sargent, global quality research head for J.D. Power.
"Over the last 10 years, the quality of Chinese vehicles in China, as measured by Chinese consumers, has gotten dramatically better," he said. And GAC quality "has been the best of the Chinese brands" based on surveys of new-car owners on vehicle condition and performance.
GAC stands for Guangzhou Automobile Group. Statistics vary by source, but the company tends to rank ninth or 10th on lists of China's biggest automakers. Located near the concentration of Japanese auto suppliers in Southern China, GAC was an early adopter of Japanese quality standards, analysts say.
Whether the quality proves good enough for the U.S. market is yet to be determined. Yu Zhang, managing director of Automotive Foresight in Shanghai, calls GAC a "dark horse" in the U.S. market with great potential.
GAC made a splash at the recent Detroit Auto Show, with a spot covering 2,400 square feet on the main floor of the exhibition hall, a first for a Chinese car company. It was more than a token display: six vehicles were shown.
Sexy models remain a fixture at auto shows in China, and they appeared onstage in Detroit at GAC's appointed showtime. Two tall, slim young women in svelte red dresses stripped covers off several GAC cars, including the Enverge electric concept car, which GAC intends to introduce to the U.S. market following its SUV debut.
First, though, the company must establish a U.S. dealer network. In March, GAC executives will fly to Las Vegas, where they'll glad hand potential distributors at the National Automobile Dealers Assn. annual convention.
Dealers have been teased by Chinese automakers before, most notably in 2005, when a colorful publicity hound named Malcolm Bricklin (best known for the Yugo) announced plans to import five vehicles from Wuhu, China-based Chery Automobile. But quality wasn't up to snuff, too few dealers signed up, investors dropped out and the deal died.
"Entering the U.S. market is like swimming in water that is too deep. We are scared of drowning," Chery President Yin Tongyue told a Reuters reporter at the time. "We need more time to prepare. U.S. technology and U.S. consumer habits are too different."
American car buyers tend to be brand loyal, and it has historically been difficult for newcomers — particularly from overseas. Last year, Ford, GM and Ram pickup trucks topped the bestseller list, followed by the Toyota Camry, the Nissan Rogue and the Honda CR-V.
The Japanese and Koreans both struggled to gain a foothold in the U.S., but now the Asian brands, with 46.3% market share, are neck and neck with U.S. automakers, at 44.4%. European companies account for the remaining 9.3%, according to Motor Intelligence.
But China's rise in production volume and quality has been breathtaking. A minor player as recently as the late 1990s, when it sold about 2 million vehicles, almost all of them in China, the country is now the world's largest automobile producer. In 2017, 25.4 million passenger vehicles — the vast majority made by Chinese automakers — were sold in China, according to LMC Automotive. (In the U.S., 17.2 million vehicles were sold last year from U.S., Asian and European manufacturers.)
As state-owned car companies entered into joint ventures with U.S., European, Japanese and Korean companies, production surged and quality improved. Meanwhile, leaner, meaner private Chinese companies such as Geely are turning up competitive pressure.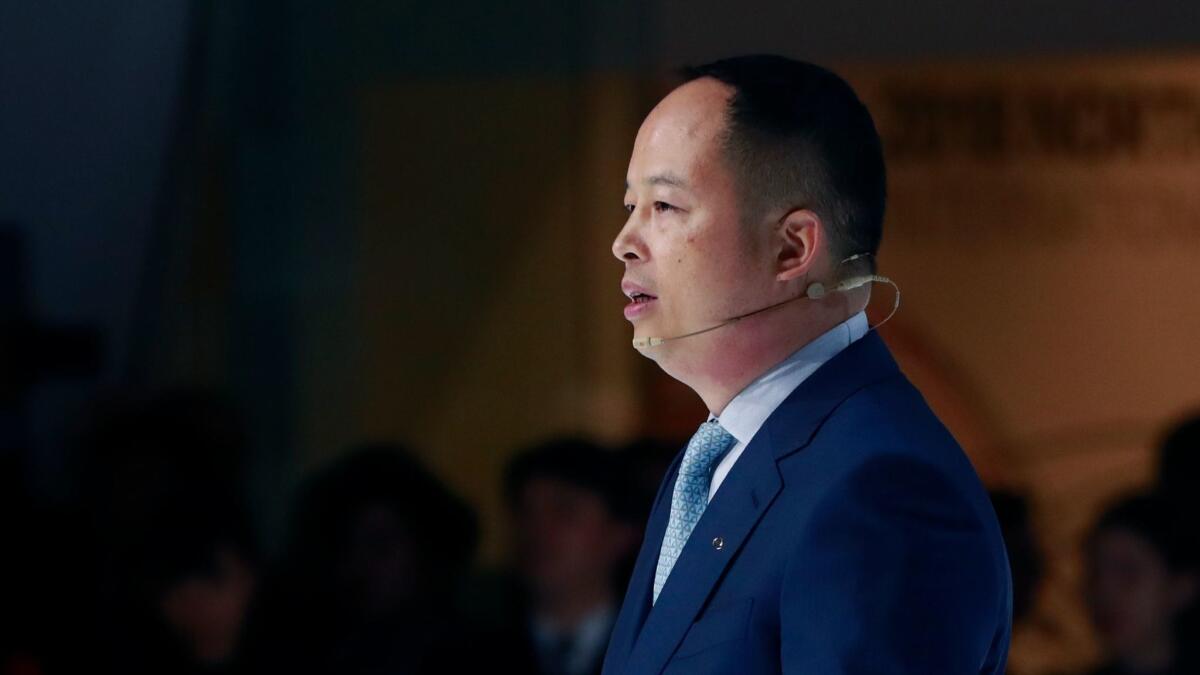 GAC's U.S. foray will test Chinese government ambitions to become a world-class, high-quality exporter of essential goods and services. The government's Made In China 2025 plan, released in 2015, identifies 10 key industries, motor vehicles among them, with an emphasis on electric cars and trucks.
Incentives and mandates issued from Beijing and local governments, including polluted mega-cities such as Shanghai, have boosted electric vehicle growth.
Electrified vehicle sales expanded 53% in 2017, to 777,000 vehicles, said the China Assn. of Automobile Manufacturers — 652,000 all-electric vehicles and 125,000 plug-in hybrids.
In the U.S., almost 200,000 EVs and plug-in hybrids were sold last year, according to Inside EVs, up about 25%. While mass consumer demand for EVs remains tepid, automakers have launched ambitious electrification plans. A bill to require zero tailpipe emissions for all new vehicles sold in California by 2040 is in the legislative hopper.
Although EVs are rising fast in China, overall passenger vehicle sales are flattening out — up only 2.8% in 2017, compared with a 15.5% increase the year before.
That puts pressure on Chinese automakers to expand to new markets. Success in the U.S. will translate into more sales back in China, said Mark Wakefield of the consulting firm AlixPartners. The idea: If U.S. customers embrace a China-made car, it must mean the quality is high.
"Competition in China is tough and getting tougher," he said. "There's a premium for a brand that comes with a [U.S.] stamp of approval."
If GAC succeeds with a 2019 U.S. launch, it won't have the China-made market to itself.
Volvo Cars and Volvo's Chinese owner, Geely, have joined forces to create a new line of automobiles, named Lynk & Co., designed in Sweden and manufactured in China. Lynk aims to export a compact SUV to Europe in 2019, while plans to distribute its cars through U.S. manufacturing plants outside China are under consideration.
Polestar, another Geely-Volvo endeavor, plans global distribution of high-end electric cars and could bypass the need for auto dealerships through online sales.
SF Motors, an arm of China's Chongqing Sokon Industry Group and headquartered in Santa Clara, is planning its own technology-loaded luxury car line for the global market. SF Motors' chief innovation officer is Tesla's original founder, Martin Eberhard.
Dozens of other small Chinese or China-funded companies want in, including Byton, headed by former BMW executives, which introduced an electric compact SUV concept car at CES in Las Vegas last month.
Threatening all these plans is a political buzz saw on trade policy. President Trump has made clear his distaste for imported cars.
But Democrats might see political gain in knocking China too. Soon after GAC Motors' Detroit event, Senate Majority Leader Charles E. Schumer (D-N.Y.) referenced GAC's U.S. entry plan in a speech on the Senate floor, calling China's 25% tariffs on imported cars "manifestly unfair, and a typically unfortunate example of China's rapacious trading policies." U.S. Auto import tariffs are set at 2.5%
"We're beginning to see a lot of bad press on China" in the U.S., said Taiwan-based Greg Anderson of Pacific Rim Advisors. "Right now, an anti-China position is going to play well politically."
Asked about that, GAC's Yu said, "No comment."
He's more focused on a dealer network. "That's an expensive, time-consuming and complicated thing to do," said AutoBeat Daily's Hampton.
GAC has joint ventures with Honda, Toyota, Mitsubishi and Fiat-Chrysler.
Fiat-Chrysler dealers may be the company's best bet because it is dropping many of its sedans and coupes to focus on SUVs and trucks. The company is behind most other major car groups in electric car development. GAC could fill those gaps.
Meanwhile, GAC Motors plans to replace the Trumpchi brand name outside China. The phonic similarity to the U.S. president's name "is a sheer coincidence," Yu said. "Trumpchi is similar to 'GAC Motor' in Chinese pronunciation. In Chinese, it means to deliver happiness and auspiciousness."
Twitter: @russ1mitchell