Hint to electric car dealers: Charge up before the test drive if you want the sale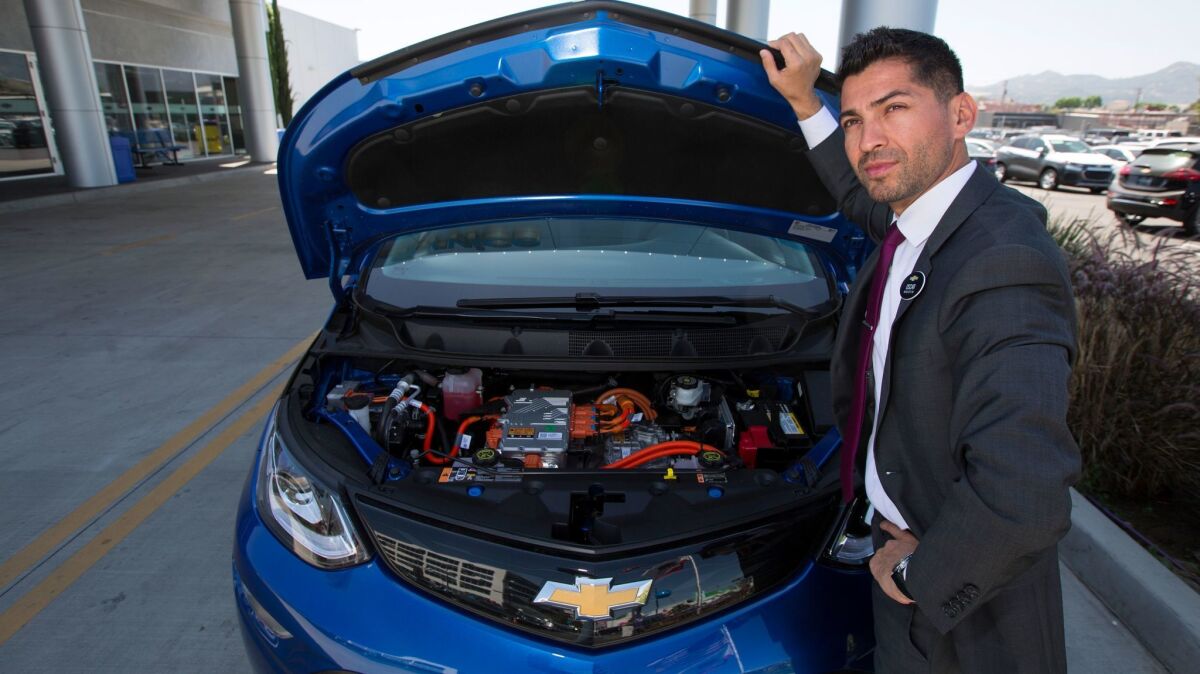 Reporting from San Francisco —
To Oscar Gutierrez, electric cars are a "no-brainer."
"Like, seriously," he said, his arms outstretched, an incredulous look on his face. "You can drive and not use gas. The state gives you money to buy it. What else could you want?"
No surprise, Gutierrez sells electric cars. A sales manager at Community Chevrolet in Burbank, he pushes plenty of gas-powered cars too. Community asserts it moves more Corvettes than anyone in the Southland.
Of 250 vehicles Community sells each month on average, about a fifth are electric Volts and Bolts.
But those numbers are an industry rarity. Pure electric vehicles don't reach even 1% of U.S. sales. Add plug-in hybrids, and the number doesn't crack 5%. Range anxiety, limited models to choose from, and the proliferation of gas stations compared with the paucity of electric charging stations are all giving customers pause.
Advocates of electric vehicles say dealers have been slow to showcase and promote the advantages of electric cars and in some cases aren't even armed with the talking points — government incentives, the ability to charge at home, savings on gas, environmentally friendly.
"When manufacturers say buyers aren't interested in buying electric vehicles, it's a self-fulfilling prophecy," said Gina Coplon-Newfield, the director of electric vehicles initiative at the Sierra Club.
When manufacturers say buyers aren't interested in buying electric vehicles, it's a self-fulfilling prophecy.
— Gina Coplon-Newfield, the Sierra Club
The Sierra Club last year sent shoppers to 308 dealers across the U.S. and found that significant numbers of salespeople didn't know much about electric cars or didn't let on if they did. A third failed to mention $7,500 federal tax credits or state rebates available to buyers of electric cars. Half had no information about public charging networks. At 14% of locations, shoppers were told they couldn't test-drive the cars because they weren't charged.
Coplon-Newfield herself took part. A Ford salesman near Boston was friendly and serious about selling her an electric car, she said.
But he knew nothing about federal and state incentives that could cut the price of an electric car by $10,000 in Massachusetts, and "he was very misinformed about charging infrastructure." Wires were being installed under the highways, he said, so within a year, charging would be no problem. She was surprised to hear this, given that it's untrue.
Still, she said, "some of them are figuring this out," especially in California.
With more models from more manufacturers coming online over the next several years with ranges over 200 miles a charge, and zero-emission mandates tightening in California and nine other states, the situation is improving, said Joel Levin, executive director of Plug-In America, an electric vehicle advocacy group based in Los Angeles.
Dealers "have not been masterful but they're improving a lot," he said. "The dealer challenge is that it's a really different sales model than selling a gas car. When you're selling a gas car, you don't have to explain the technology. You don't have to ask questions about a buyer's lifestyle. With EVs you do. Some dealers are real good at it."
Ben Weyerhaueuser, 33, said he spent a few weeks this year researching electric vehicles before a Google search led him to a Keyes Toyota dealership in Studio City.
He went in knowing he wanted to buy a Chevrolet Volt, and said staff at the dealership seemed knowledgeable and were supportive of the purchase.
"They were definitely aware of it all," Weyerhaueser said, noting that they told him about the state and federal rebates. "Maybe not to the exact fine print, but they gave me everything I needed to know."
When he asked to see the Volt, he said it was charged and there were no problems taking it for a test-drive.
At Community Chevrolet, General Manager Chad Kelman said that building a sales team that understands electric vehicles is now a priority.
Most of its electric vehicle sales originate from its Internet department, he said.
Many car dealers have set up separate sales groups that handle sales inquiries that come in on their website or via email. The customers who contact the dealership this way are more likely to have done deep research on a car, whether they're buying an electric, a hybrid, or an internal combustion vehicle.
"The customer comes in with a pretty good understanding of the vehicle upfront," Kelman said. Buyers often report that they feel intimidated by car salesmen. In a twist, salespeople often are now intimidated by electric car buyers, who tend to be well versed in the product and the technology.
Kelman is even bringing in salespeople with untraditional backgrounds. Two recent recruits came from Fry's Electronics.
"The single biggest thing that separates dealers who actively engage in selling EVs from those who don't is having a dedicated person, an EV specialist," on the sales team, said Brian Maragno, director of EV sales and marketing at Nissan, which sells the all-electric Nissan Leaf.
The dealers that sell the most Leafs employ at least one specialist, he said. The specialists sell regular cars too, but their knowledge is invaluable.
"These people are advocates, passionate about the product," he said. They keep up with online EV forums and stay in touch with EV enthusiast groups. "They know the technology and can engage with the customer on a deep level. In some dealerships in California they have multiple people like that."
Bani Paulus agrees. He runs Fremont Chevrolet, at the edge of Silicon Valley and down the street from the Tesla assembly plant.
He contends his dealership sells more Volts than any Chevy dealer in the world.
"Word of mouth is a big deal," he said. One of his salespeople came across Apple co-founder Steve Wozniak in an online user forum. Wozniak bought a Bolt EV, and now appears in radio commercials for Fremont Chevrolet. (He declined to be interviewed for this story.)
Paulus said he understands why some dealers don't want to invest time and energy in a product that's a small part of the market.
"They need to look at the big picture," he said. "If someone is buying a Volt, the other people in the family need different vehicles. Maybe their husband wants to buy a pickup truck."
Plus, he said, "you help the environment. You've got to step softly on this planet."
Times staff writer Tracey Lien contributed to this report.
Twitter: @russ1mitchell
ALSO
Driverless cars are the future, and the ugly battle to dominate the field is on
Tesla's loss grows as Elon Musk claims customers are confused by Model 3 name
Walt Disney World plans to deploy driverless shuttles in Florida
---