Elon Musk trash-talks SEC in a tweet, days after agreeing to settle fraud charges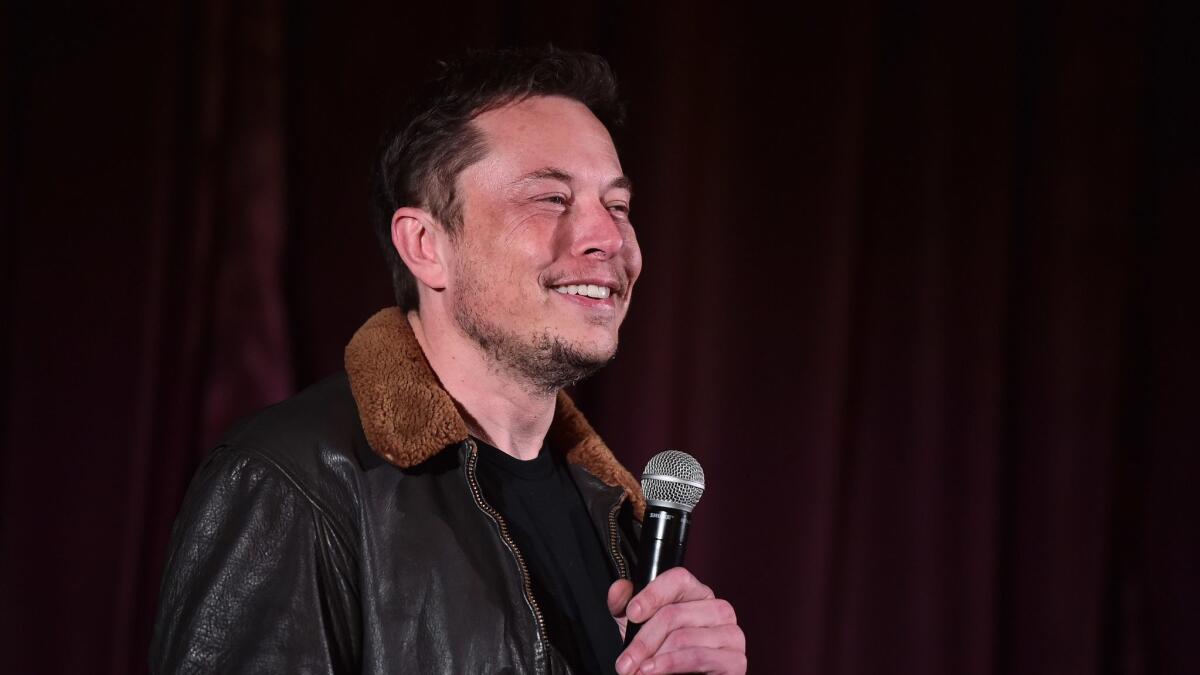 As Tesla Inc.'s stock price slides, Chief Executive Elon Musk is continuing to play the bad boy, publicly insulting the Securities and Exchange Commission days after agreeing to settle fraud charges with the agency.
On Thursday, Musk tweeted that he just wanted to say "the Shortseller Enrichment Commission is doing incredible work. And the name change is so on point!"
Over the weekend, Musk and the commission agreed to settle fraud charges that stemmed from the executive's loose use of Twitter. Musk agreed to personally pay a $20-million fine, give up his chairman's seat at Tesla and bring two new independent directors onto the electric-car maker's board. In addition, Musk agreed to have his public comments about Tesla monitored by the company before putting them out on Twitter or elsewhere.
The SEC charged Musk with fraud last week over a slew of Aug. 7 tweets, including one in which Musk claimed he had "funding secured" for a deal to take Tesla private at $420 a share.
One reason for Musk's take-private plan was his intense dislike of short sellers, or investors who profit when a stock drops in price and who therefore thrive on negative news for that company. Ultimately, though, he announced that he would not take the company private, and there was no public evidence that he'd had a committed financial backer for the plan.
Early on Monday, Musk revived his rakish persona on Twitter, posting the words "Naughty by Nature" with a smiley face and link to a YouTube video of the hip-hop group Naughty by Nature's song "O.P.P."
Tesla's stock price closed at $310.98 that day, lifted by investors' relief about the proposed settlement of the SEC suit. The shares have fallen since then. They closed Thursday at $281.83, down 4.4% for the day.
Also on Thursday, a federal judge ordered the SEC and Tesla to write a joint statement justifying their settlement before she decides whether to approve it.
Twitter: @russ1mitchell
---
UPDATES:
3:55 p.m.: This article was updated with background information about Elon Musk's plan to take Tesla private, another of Musk's recent tweets, and Tesla's stock movement.
This article was originally published at 2:10 p.m.