Review: In Fiat 500X's lineup, stick with the all-wheel-drive option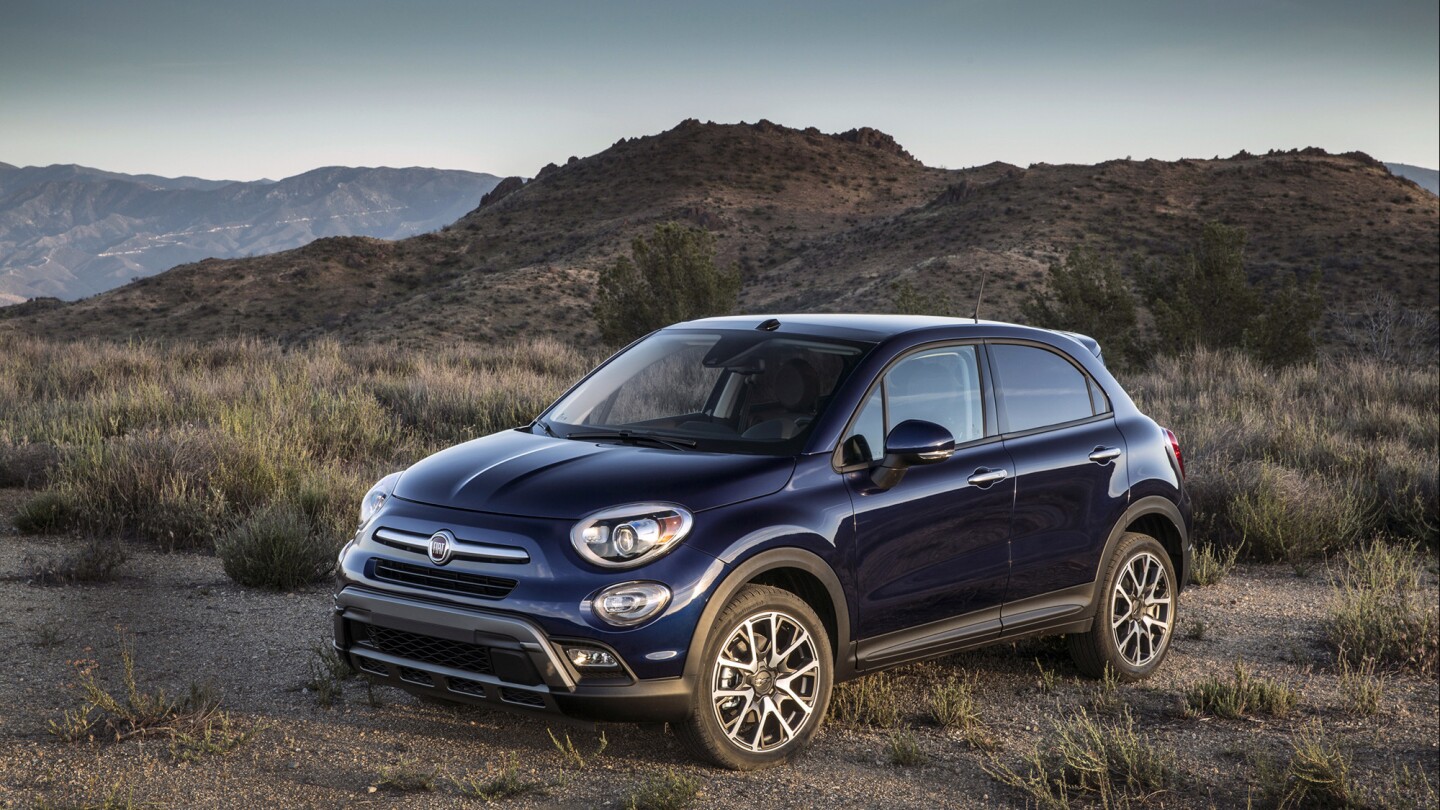 2016 Fiat 500X Trekking Plus.
(A.J. Mueller / Fiat)
2016 Fiat 500X Trekking Plus.
(A.J. Mueller / Fiat)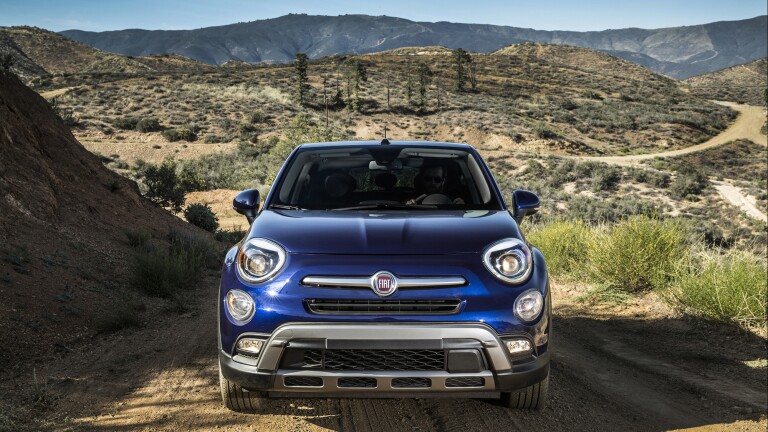 2016 Fiat 500X Trekking Plus.
(A.J. Mueller / Fiat)
2016 Fiat 500X Trekking Plus.
(A.J. Mueller / Fiat)
2016 Fiat 500X Trekking Plus.
(A.J. Mueller / Fiat)
2016 Fiat 500X Trekking Plus.
(A.J. Mueller / Fiat)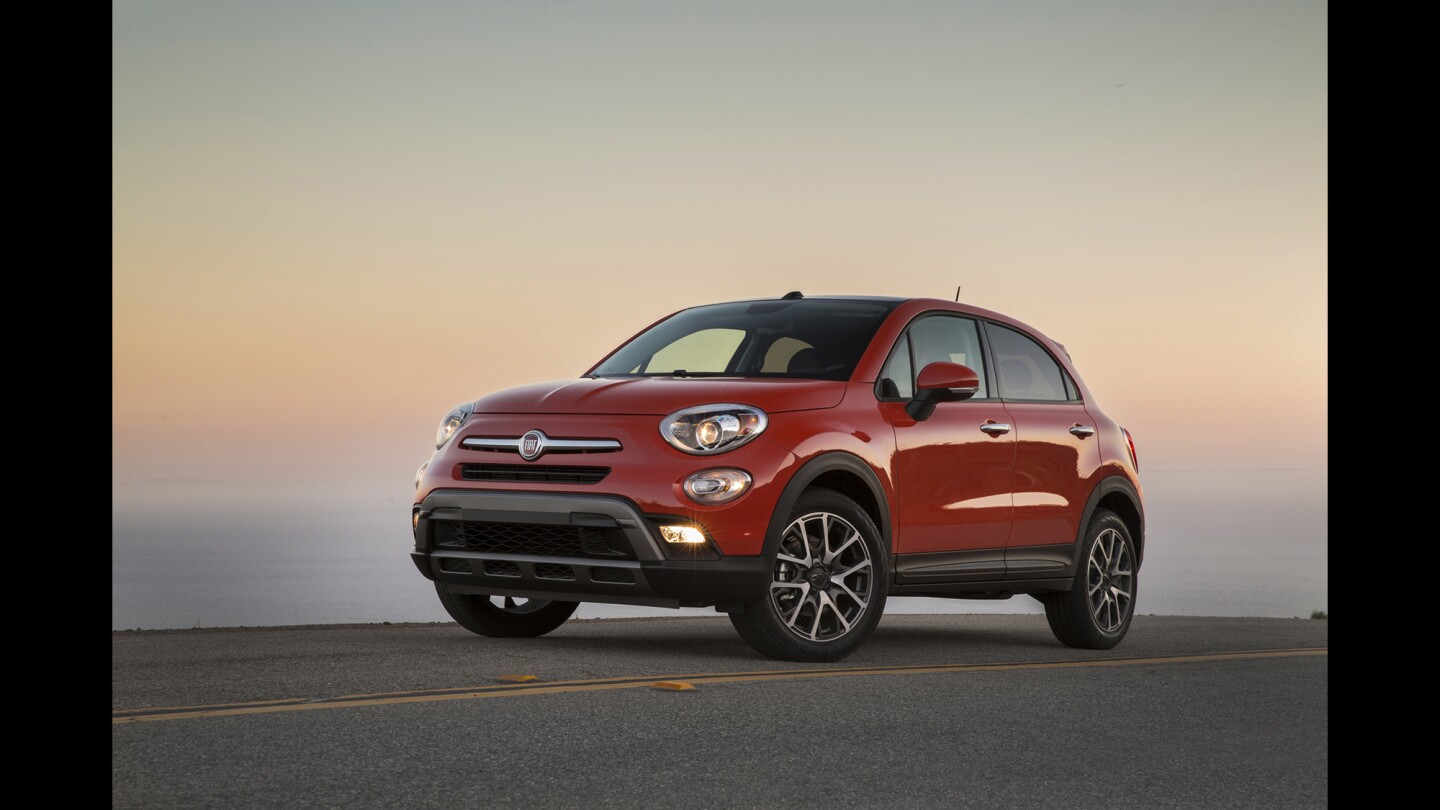 2016 Fiat 500X Trekking Plus.
(A.J. Mueller / Fiat)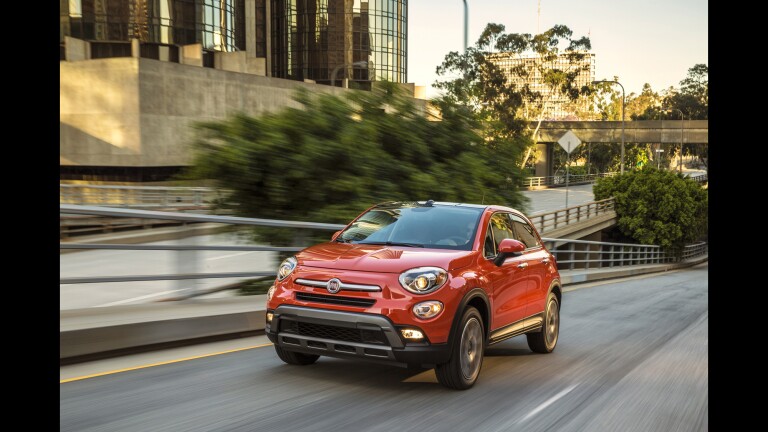 2016 Fiat 500X Trekking Plus.
(A.J. Mueller / Fiat)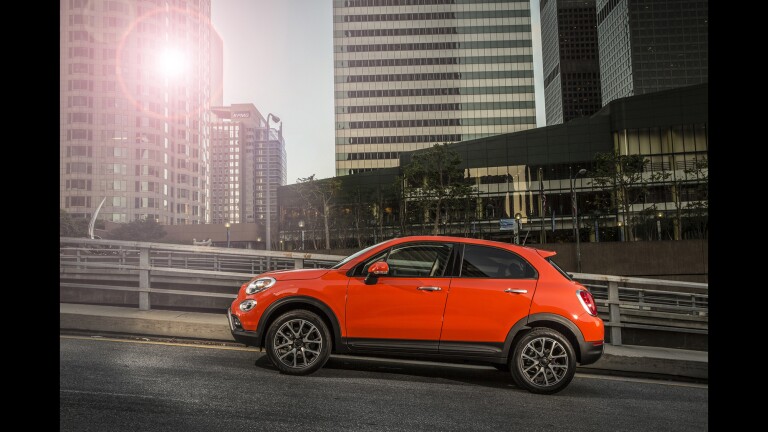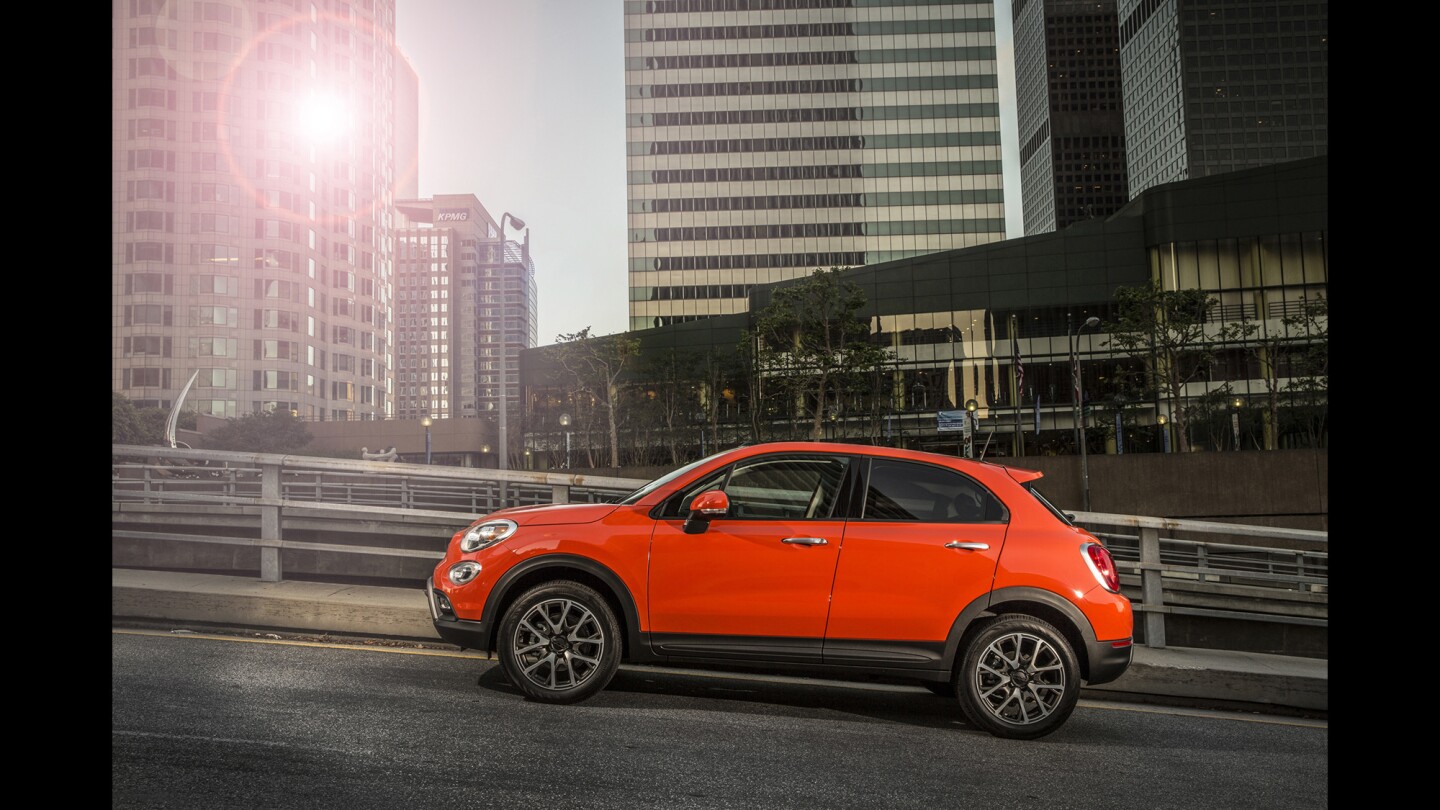 2016 Fiat 500X Trekking Plus.
(A.J. Mueller / Fiat)
2016 Fiat 500X Trekking Plus.
(A.J. Mueller / Fiat)
2016 Fiat 500X Trekking Plus.
(A.J. Mueller / Fiat)
I used to own a Fiat convertible. It was cute but broke down so often that I quickly understood why people said "Fiat" stood for "Fix It Again, Tony."
I also once watched a man load the front seat of a 1960s Fiat 500 with boulders and push it off a cliff in the Santa Monica Mountains, because he couldn't make it run right.
So it was with guarded optimism that I test-drove the new 500X this week.
Fiat's high hopes for the X were apparent at a press event held in a dramatic bow-and-truss warehouse in Culver City. Executives paraded a full palette of the new small crossovers, which, being Italian, come in colors called Verde Toscana (green, actually), Nero Cinema (basic black), Rosso Amore (it's just a nice red), Bianco Gelato (uh, white) and more.
Fiat expects this model to sell well globally and become the bestselling vehicle in its entire U.S. lineup, which currently consists only of variants of the 500, which the company introduced in Italy in 1957.
Fiat also hopes the X will help it break out of the limited quirky-cute niche — and escape its lingering reputation for unreliability.
"This is the halo," said Jason Stoicevich, vice president of the Fiat brand. "This will appeal to the masses."
This latest 500 is the biggest departure from the bubbly two-door that now comes in many flavors: basic, turbo, convertible, electric and Abarth (the fast one). They're all affordable and amusing little runabouts, though the bloated four-door 500L version has received — and deserved — low marks.
The 500X is the second attempt at a four-door variant, and at available all-wheel-drive, offered on most of the X variants.
A compact crossover SUV that retains the gimlet-eyed face with what Fiat calls its traditional "whiskers" and "low, smiling grill," it has a more muscular profile and promises more performance.
The X will compete with the Mini Countryman, the Nissan Juke and the Chevy Trax, as well as Honda's HR-V and Mazda's CX-3, both to hit dealers soon.
The globally designed 500X will be sold in 100 countries. The company calls it "a 500 that has been pumping iron." Frivolous advertisements for the vehicle suggest the X was born when a Viagra-like pill fell by accident into the gas tank of a humble 500.
In real terms, the X is a little wider and a little shorter than the 500L. It also has more ground clearance and packs more punch.
The vehicle will be sold with a 2.4-liter Tigershark Multi Air engine, mated with a new 9-speed automatic transmission. It puts out 180 horsepower and 175 pound-feet of torque.
A smaller, turbo-charged engine that makes 160 horsepower and 184 pound-feet of torque is available with a 6-speed automatic on the entry-level 500X Pop.
The X is also Fiat's first all-wheel-drive vehicle. "Dynamic driving modes" designed to take advantage of the AWD system include choices of standard, sport and traction.
Spinning through the Westside and into the hills above Malibu in a front-wheel-drive X, I found the performance underwhelming. The engine strained under acceleration, even in sport mode, and took a long time to get up to freeway speed.
The steering and suspension felt crisp and responsive under normal use. But at higher speeds, especially on the tighter sections of Topanga Canyon or Mulholland Highway, the car dipped and dived where it should have gripped the road.
I was more impressed in a second X with the all-wheel-drive version. The four-wheel footing made the car seem quicker and considerably more nimble on the pavement.
Matt Davis, head of Fiat brand marketing, said the 500X's all-wheel-drive and rugged looks don't mean it's a backwoods bushwacker.
"This is about on-road confidence," Davis said. "We're not trying to go off-road."
Buyers interested in that rugged experience have the option of the Jeep Renegade. From the same Fiat Chrysler family, it's built on the same platform, and in the same Italian factory, as the 500X. It's got all the off-road stuff that it's citified brother is missing.
The two vehicles share a chassis and power train, but have slightly different suspension systems and are tuned differently.
The 500X has handsome interior appointments and a snug, friendly feel — a rounded dashboard, oval gauges and a collection of cubby holes that includes side pouches, cup holders and upper and lower glove compartments.
The Lounge edition offers amenities like dual-zone temperature control, eight-way power seat with four-way lumbar controls, heated seats and steering wheel, and "ambient lighting." Many versions come with navigation and sound systems.
The higher-end 500Xs are available with advanced safety features that incline the company to advertise the vehicle as "the most technologically sophisticated Fiat" ever sold. Options include lane-keeping assistance, forward collision assistance, blind spot detection systems and more.
The 500X boasts less head room and storage space than the larger 500L, but Fiat claims the 500X has more cargo space, at 12.3 cubic feet, than anything else in its class.
Fiat executives said that while their 500 series has been successful in "sunshine states" such as California and Florida, the 500X is intended to appeal to buyers in the Northeast and upper Midwest — where snow and ice make AWD more important.
The first Fiat 500Xs will be in showrooms in mid-May, Fiat says, and will be priced from $20,000 for the entry-level, manual-transmission Pop to $27,100 for the top of the line Trekking+. (Other models are the Easy, Trekking and Lounge.)
That puts the vehicle in roughly the same price range as the Trax, Juke and Countryman, all of which begin near $20,000, and the coming Mazda CX-3 and Honda HR-V, which are expected to be priced similarly.
The 500X wouldn't have to sell in massive numbers to become the bestselling Fiat in North America. It would only have to beat the 500.
Despite a slow start at its mid- 2011 introduction, according to automotive data company True Car, U.S. sales of the 500 ran to 46,000 vehicles last year.
After the two drives, I concluded that this latest 500 X is not the car you fill with boulders and push off a cliff. It's a car you fill with sunscreen and Pellegrino, and take to the beach.
---