Luxury car maker Fisker to build cars in Southern California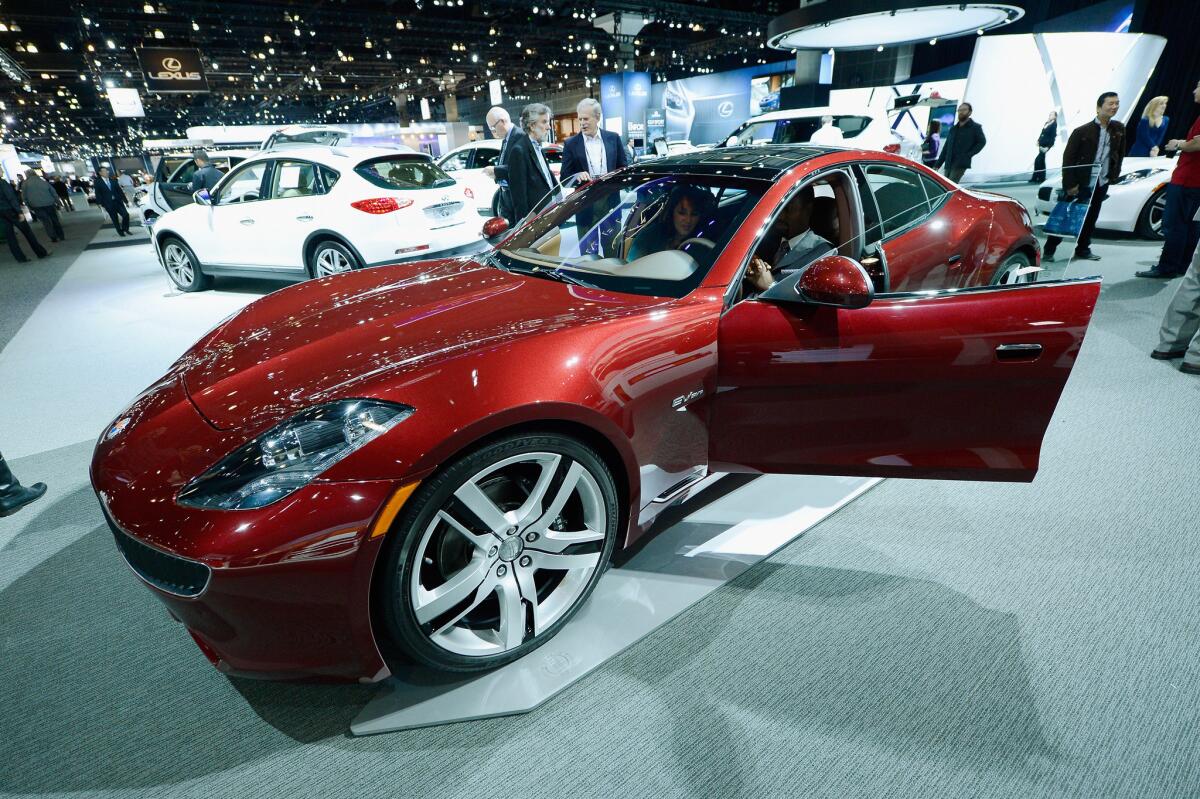 Fisker Automotive is back in business.
The luxury car company will establish Southern California's first new car manufacturing plant in more than two decades in the city of Moreno Valley, where it will begin building its plug-in electric hybrid automobiles.
The admired but embattled Fisker, which filed for bankruptcy protection in 2013 and was purchased by Chinese auto parts giant Wanxiang Group a year later, has signed a long-term, $30-million lease for a 555,670 square-foot facility in the Riverside County city.
See the most-read stories this hour >>
Wanxiang Group also owns A123, the company that builds the lithium ion batteries that power the Fisker. The company is reportedly seeking to begin sales as soon as next year.
The assembly plant will be Southern California's first since General Motors closed a Van Nuys facility in 1992, and the state's second electric car manufacturing factory – joining entrepreneur Elon Musk's Tesla Motors plant in the Bay Area city of Fremont.
It also marks a second Chinese foothold in the Southern California alternative-vehicle market. Chinese automaker BYD employs 160 workers at a plant in Lancaster that builds electric buses, some for the Los Angeles County Metropolitan Transportation Authority.
The electric-car company was co-founded by Henrik Fisker, a graduate of Pasadena's Art Center College of Design who won admirers for his elegant Aston Martin and BMW designs. Its Karma plug-in electric hybrids captured the imagination of the automotive press, and despite their $100,000 price tag were brisk sellers - until battery glitches resulted in a product recall that bankrupted the battery manufacturer, damaged the brand's reputation and brought production to a halt.
Fewer than 2,500 of the cars were sold before production ceased in 2012, and before the company could begin selling a promised mass-market, affordable electric vehicle. Fisker himself resigned from his executive chairman position at the company amid its financial struggles in 2013.
NEWSLETTER: Sign up for our free weekly business news briefing>>
It was not immediately clear what involvement Fisker would have, if any, at the new facility.
The company has agreed to rent a new 556,000-square-foot industrial building at 17100 Perris Blvd., according to real estate broker Ian DeVries of Colliers International, who represented landlord First Industrial Realty Trust in the deal. The structure is attractive for operating an assembly line, he said, because it is slim and 1,600 feet long.
Terms of the lease were not disclosed, but real estate experts familiar with the Inland Empire valued the transaction at nearly $30 million over the next decade or so.
The neighborhood is home to fulfillment centers for large retailers including Amazon, Procter & Gamble and Walgreens, DeVries said, but not many products are actually being built there.
"This is one of the first manufacturing deals there of any significance," said DeVries, who noted the company is trying to open the factory as soon as possible.
Jobs at the plant will bring a welcome addition to the Inland Empire, where the 46% of residents are not educated beyond high school, economist John Husing said.
"You need jobs that can allow people to migrate up to the middle class," Husing said.
Wanxiang, said to be China's largest auto parts company, paid a reported $149 million to take over the bankrupt Fisker and $257 million for A123, which also made batteries for BMW's hybrid 3- and 5-Series cars and the Chevrolet Spark.
Formerly seen as a possible rival to Northern California's Tesla, Fisker Automotive re-enters a matured electric vehicle market. The once-struggling Tesla now produces 50,000 of its Model S electric luxury cars annually, and continues to promise delivery of a mass-market electric sedan within two years.
Still, while many other car companies have fielded many variations of battery-electric and electric-hybrid automobiles, the alternative-fuel vehicle market has struggled to gain momentum.
"The alternative fuel segment is the only part of the auto market that isn't growing," said Kelley Blue Book senior analyst Karl Brauer. "But Tesla is still growing. The market for high-end, stylish electric vehicles still shows signs of life."
In making the announcement, the city of Moreno Valley said it expected Fisker to create 150 new jobs to work in the new facility, which in addition to manufacturing automobiles would also feature a showroom and guided tours.
"This is a landmark for our city," Moreno Valley Mayor Jesse Molina said in a statement that lauded the company's promise to hire locally from the area's "highly qualified workforce."
Fisker representatives did not respond to requests for comment.
FROM THE ARCHIVES:
DiCaprio, Bieber caught up in Fisker Karma hybrid recall
Management fight pushes Henrik Fisker from car company he founded
Plug-in hybrid maker Fisker Automotive gets $529 million from Obama administration