Ford moves into crowd-sourced shuttle service and bicycle sharing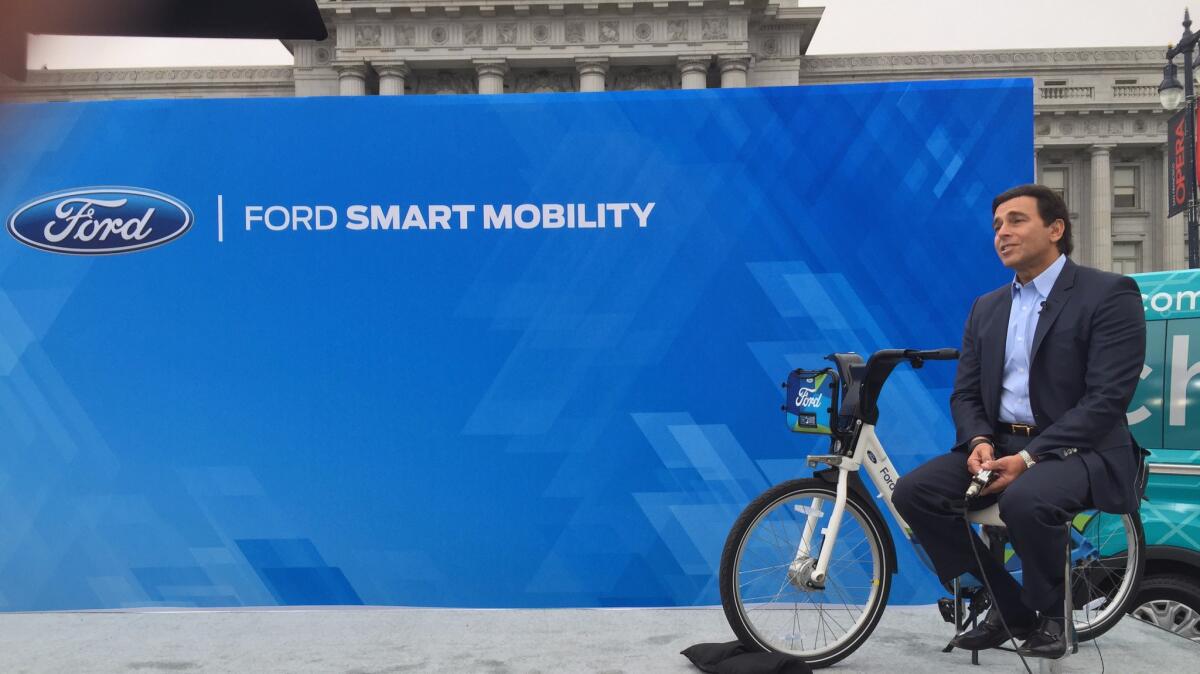 Reporting from San Francisco —
Pushing forward with its plan to be "both a car company and a mobility company," Ford on Friday said it's getting into the crowd-sourced shuttle business and moving into bicycle sharing.
The automaker also said it would collaborate more closely with cities around the world to help solve transportation problems.
"It's pretty clear the transportation systems we developed in the last century are at a breaking point," Ford Motor Co. Chief Executive Mark Fields said.
In a fenced-off area in front of San Francisco City Hall, Fields said the company will acquire Chariot, a young San Francisco company. The start-up operates about 100 Ford Transit vans to shuttle passengers around the Bay Area, with the 28 routes chosen based on rider demand.
Fields did not disclose the purchase price for Chariot, which plans to roll out to five more cities over the next 18 months.
Ford will also collaborate with Motivate, a Brooklyn, N.Y.-based bicycle-sharing service. The two plan to provide 7,000 bikes in the Bay Area by the end of 2018 under the brand Ford GoBike, accessible through the FordPass app platform.
Joined on stage by the mayors of San Francisco, San Jose and Berkeley, Fields, 55, said the moves signal a much larger presence by Ford in alternative transportation.
"We're going to see bikes reproducing like bunnies all around the Bay Area," said San Jose Mayor Sam Liccardo.
Globally, Fields said, "We want to work with communities to offer even more transportation choices and solutions for people — for decades to come."
Ford began its push into the mobility business years ago, but redoubled its efforts after Fields became CEO in July 2014.
Last March, the company created a subsidiary, Ford Smart Mobility, to work with the company's existing research and development group to bring transportation innovations to market.
Its operations are split between Ford's headquarters in Dearborn, Mich., just outside Detroit, and Palo Alto, in the heart of Silicon Valley.
Beyond its own R&D, the group intends to form relationships with technology companies large and small to quicken the pace from conception to salable products and services.
The group is led by Jim Hackett, who quit Ford's board of directors to take the job. Hackett was the longtime chief executive at Steelcase, the Michigan-based office furniture giant. He's been credited with identifying early the trend from office cubicles to open office areas.
Twitter: @russ1mitchell
ALSO:
Volkswagen engineer from Southern California pleads guilty in U.S. in emissions scandal
Nissan recalls more than 120,000 vehicles after fluid leaks cause fires
General Motors recalls 4 million vehicles after software linked to 1 death
---
UPDATES:
11:40 a.m. This article was updated with additional details and quotes from the news conference.
This article was originally published at 10 a.m.