Honda's Grom mini-motorcycle is flying off dealer lots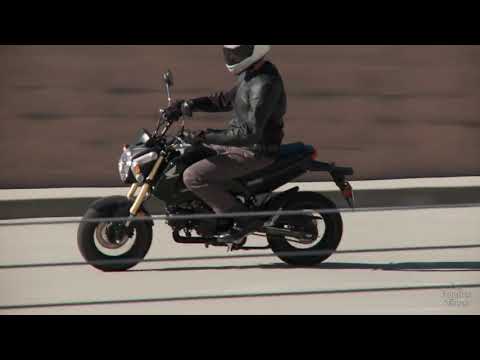 Honda's Grom is a 125cc motorcycle delivering fun and nearly 100 mpg.
In 1964, the Beach Boys had a hit record that started with the lyrics, "It's not a big motorcycle, just a groovy little motorbike."
A half-century later, Honda has reinvented the groovy little motorbike for a new generation of young riders. And it can't make them fast enough to satisfy a swarm of buyers.
Dealers are sold out of the tiny Grom — a name derived from "grommet," for newbie surfer — and report waiting lists of up to 40 buyers. Many are offering more than the asking price for the street-legal mini-motorcycle, which starts at $2,999, less than many scooters.
For Honda, the Grom represents a play to bring new customers to the company and to motorcycling in general. As with the launch earlier this year of its CB500 series, Honda is aggressively courting new riders, young riders, female riders and minority riders — anyone outside the cohort of white male baby boomers who have been the core buyers of motorcycles for decades.
"We need this market to grow," said Bill Savino, manager of American Honda MC Press. "The boomers are going out. We need new riders coming in."
At Huntington Beach Honda, the strategy seems to be working. But owner Greg Guthrie sees even broader appeal.
"Every day we have three or four people asking about it," he said. "I've been in the business 25 years, and I can't remember a unit that has had a wider cross-section of buyers. There is no demographic for this bike. It's everyone. That's the demographic."
---
For the record
Grom motorbike: An article in the Oct. 26 Business section about Honda's Grom mini-motorcycle identified Greg Guthrie as owner of Huntington Beach Honda. He is a sales manager.
---
The Grom sits and rides like a pit bike or a minibike — like the Honda CT90, Trail 90 or MiniTrail, models that Honda sold by the tens of thousands in the 1970s.
But it has the look of a shrunken street bike and comes equipped with disc brakes and a four-speed manual transmission. Power comes from a 125cc motor. For a street-legal machine, it's a spare nubbin of a thing that, fully fueled, weighs only 225 pounds.
At that weight, there's enough power to zip through city traffic but not enough to keep up with "big" motorcycles, like the ones the Beach Boys were singing about in "Little Honda."
The Grom is easy to ride, easy to park and, at a projected 100 miles per gallon, cheap to operate. The base price is about half what the company gets for its bigger 300cc Forza scooter, and just $400 more than the cost of the company's stripped-down 50cc Ruckus.
While celebrating the success of their little motorcycle, Honda executives admit they did not anticipate the Grom's popularity.
"We thought it would do well, but we've been taken aback by the response," said Jon Seidel, assistant manager of American Honda MC Press. "We have dealers with waiting lists of 30 and 40 people."
At Honda of North Hollywood, sales manager Larry Ingraham said he has 10 people on a waiting list, 30 units on order, and not a single Grom in his showroom.
"Honda may have missed the mark on quantity," Ingraham said. "I don't think they knew what kind of reception they were going to get."
Ingraham has heard of customers paying as much as $5,500 to get their hands on a Grom. Several used Groms were for sale on Craigslist and EBay this week for prices of $4,200 or more.
Many who might have put down a deposit for a Grom delivery change their mind, Guthrie said, when they're told the new units won't be in showrooms until perhaps December or even January.
To advertise its Super Cub — the lightweight 1960s step-through machine that inspired that Beach Boys song — Honda used the slogan: "You meet the nicest people on a Honda."
For the Grom, the company is taking particular aim at the younger rider. One piece of Grom promotional material reads, "With your own wheels, you can bag the bus and forget about having to beg for rides from your friends or — shudder — your Mom." An accompanying photo shows a kid holding a skateboard.
In foreign markets, where the Grom was introduced more than a year ago, the model is known as the MSX125. It would have been called that here too, a Honda representative said, except that name was already patented by a lawn mower.
One dealer observed that, at such a low MSRP, the Grom isn't likely to be a massive revenue generator. Instead, it is designed to buy the company a bigger share of the U.S. market, where it has often been the dominant Japanese motorcycle maker.
Robert Pandya, an avid motorcyclist and owner of SpokesPeople PR, seems to have foreseen the Grom's success. He put down a deposit at Central Texas Powersports in Georgetown, Texas, before the dealer had even seen a Grom.
Convinced they were going to be popular, Pandya bought two — one for himself and one for his brother.
"One is fun," he said. "But two is a race!"