Jaguar I-Pace EV base price in the U.S.: $69,500 — undercutting Tesla's Model X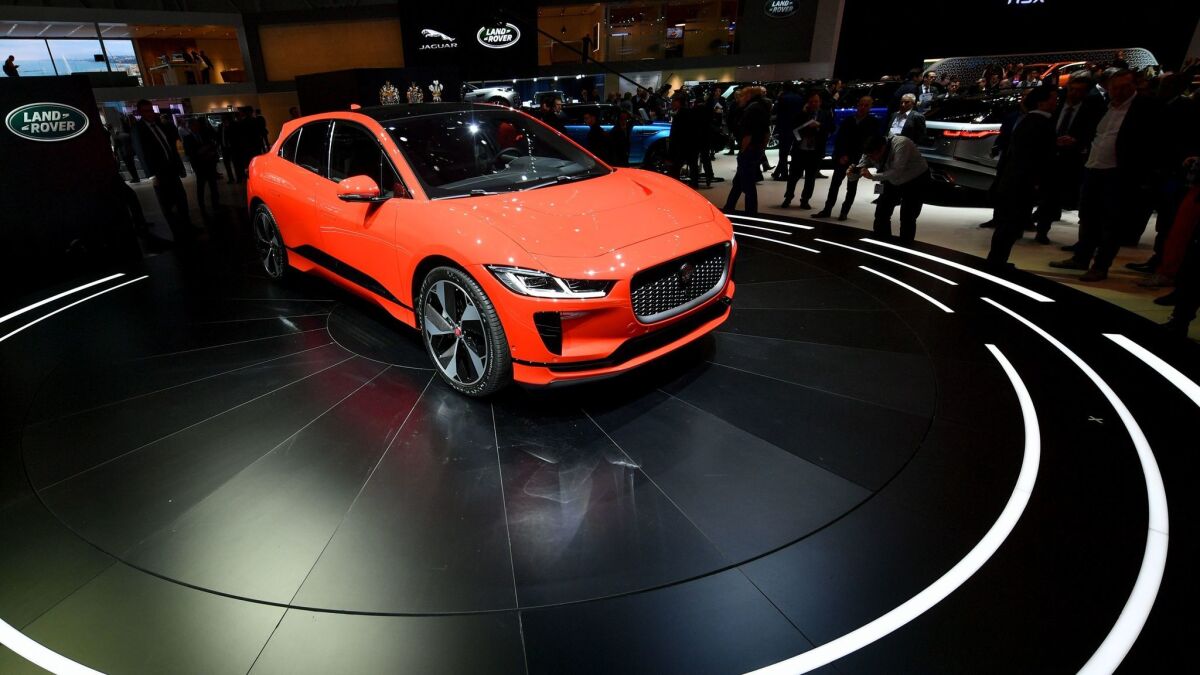 Reporting from San Francisco —
Jaguar introduced its new all-electric crossover, the I-Pace, in Europe last week. But the automaker's marketing department figured it could prompt a new round of media coverage by withholding the U.S. price and letting that number slip a few days later.
It worked. The I-Pace is the first luxury all-electric car to go up against Tesla, the pioneering California automaker engaged in a dramatic struggle for success.
The I-Pace base price, announced Tuesday, comes in at $69,500 before incentives — a full 10 grand below the Tesla Model X. The Model X is a bigger sport utility vehicle and, with an extra-seat option, can hold up to seven passengers, two more than the I-Pace. But auto analysts think plenty of Model X shoppers will give the I-Pace a look.
Jessica Caldwell at Edmunds called the Jaguar vehicle "the first real legitimate Tesla fighter," and not just because it's expensive and all-electric, with a 240-mile range. Like the Model X, it's a performance car; it boasts 400 horsepower and a zero-to-60-mph time of 4.5 seconds.
Jaguar set the Europe price at about $87,000, but price comparisons are inexact because European value-added taxes are included with that price.
The $69,500 U.S. base price does not include taxes and does not include state and federal buyer incentives that could total $10,000 in California.
Because California's clean air requirements force automakers to offer alternative powertrains to their gasoline-powered cars, and because luxury cars sell well in California, Jaguar is paying extra attention to the California market.
The automaker said the I-Pace will be available in the U.S. in the second half of 2018.
Twitter: @russ1mitchell
---