Review: 2018 Karma Revero is an 'ultra-luxury' hybrid
The Karma Revero is a luxury hybrid electric super car with a $130,000 price tag.
Rising from the ashes of designer Henrik Fisker's failed car company, the first units of the 2018 Karma Revero hybrid electric luxury super cars rolled off the Moreno Valley factory floor and onto Southern California roadways this week.
Ten went to dealer showrooms around the U.S. and Canada, where company officers hope they will inspire buyers.
Another 10 went to Laguna Beach, where on Monday they made their test-drive debuts before an avidly curious motoring press.
The Karma Revero is the new company's first vehicle. Built largely from the platform Fisker envisioned before his company crashed and burned after producing a 2012 model year Fisker Karma, the new car is sleek, speedy and almost silent.
Sitting low, its wheels crouched beneath sinuous, strong shoulder and hip lines, the Revero's silhouette may call to mind an Aston Martin Rapide, Jaguar F-Type, or Ferrari California T.
Propelled by a twin-motor hybrid powertrain, the hybrid machine gets a promised 50 miles of all-electric range and a total of 300 miles of combined gas and electric range.
And it gets there in real elegance, each car a bespoke-seeming, handmade, custom creation.
The paint, presented in names like Pacific Fog, Balboa Blue and Borrego Black, is deep and rich. The leather interior, in red Palisades Sport, chocolate Canyon or tan Crystal Cove, is supple and luxurious. The massive brake calipers can be had in bright red, orange, blue or yellow, against Dune Twist or Diamond Facet wheels. The gleaming hood and trunk badges are, literally, hand-painted.
What comes around, goes around ...
Karma's designers based the new car on Fisker's beloved but beleaguered Fisker Karma, using the same body design but overlaid on an improved powertrain and suspension system, and around a more luxurious interior.
They did that with Chinese money. All assets of the Fisker company were purchased in 2014 by Wanxiang Group, a Chinese auto parts giant that also owns A123, the battery company that produced power packs for the Fisker cars.
The purchase included enough spare parts to finish a few Karma Fisker vehicles, plus the Fisker design for what became the Revero.
About 1,200 of the original Karma cars are still known to exist, with an equal number of owners still operating the cars. That gave the Revero engineers an opportunity to study mistakes and correct them.
Looming large among the changes: silence. The Revero's twin motors, in all-electric Stealth mode, propel the car in almost complete silence, but for a softly audible jet-engine whine.
When the gas motor kicks in to power the generator, in Sustain mode, a light rumble emerges from under the hood. When both battery and gas motor generator are working together, in Sport mode, the car makes only slightly more noise.
Handling is swift and sure, thanks in part to a self-leveling rear suspension set-up modeled on the system found in McLaren super cars.
Swinging through canyon turns east of Laguna, the car felt magnificently nimble, capable of exceeding the speed limit on even the most technical roads by a factor of two or three — though not with an amateur at the wheel.
It's just a Volt in a tuxedo, isn't it?

— Car collector and garage guru Jay Leno
The power, in all three modes, comes on gently but firmly.
Super car buffs will be disappointed to know the Revero's zero to 60 mph rate, though a second faster than the previous Karma, is 5.4 seconds. (Top speed is electronically limited to 125 mph.) That compares to a reported 2.4 seconds for Teslas equipped with the P100D motors, or 3.7 seconds for a Porsche 911 Carrera S.
And anyone looking for a bargain may be sad to see the price of the new car is $130,000, up from the $103,000 base price for the Fisker Karma.
But what the car lacks in acceleration it gains in elegance.
"This is a GT," said Joost de Vries, Karma's vice president of sales and service. "It's not a McLaren. It's not trying to be. It's a touring car."
Karma executives suggested that the customer likely to buy a Revero may already have a McLaren, in fact — or a Ferrari, or a Porsche — capable of breaking land speed records. The Karma will be luxurious and highly unique additions to existing super car stables, they say.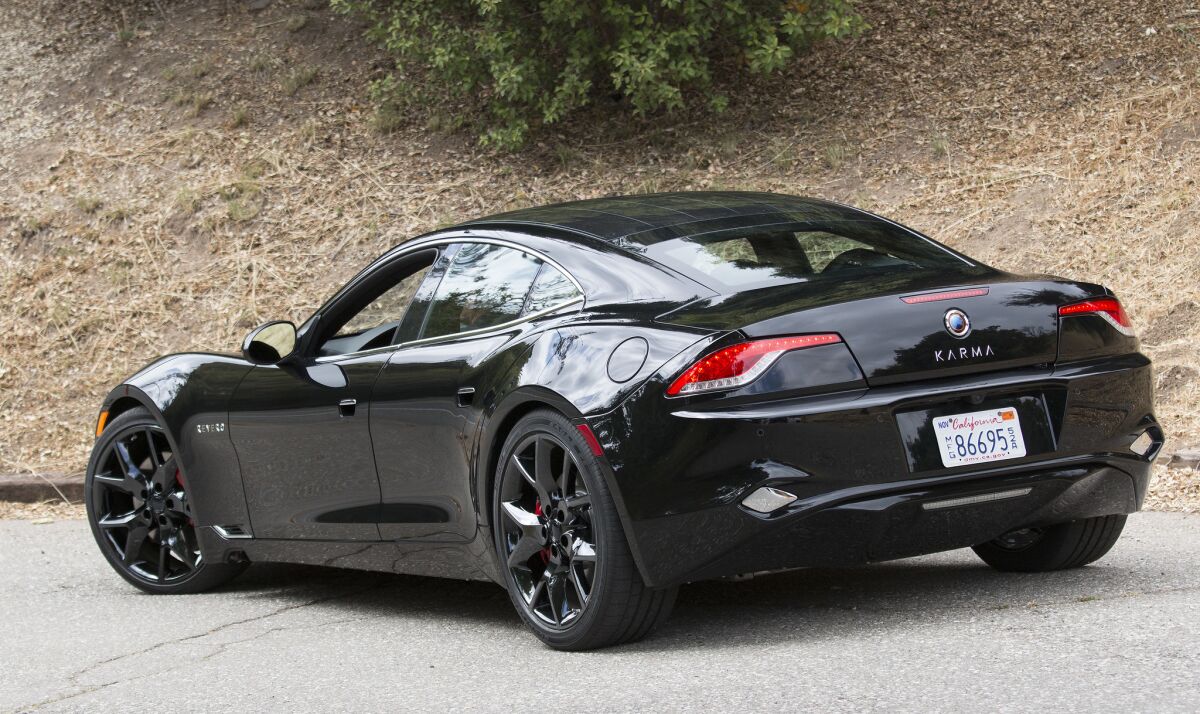 The Revero has many attributes, some not readily apparent to the eye.
Though the frame is all aluminum, the total weight of the car, fueled, is 5,400 pounds.
The plug-in hybrid system will recharge to 80% full in 24 minutes at a DC Fast Charging station, or 3 hours at a Level II station, or 10 hours on a home 120 volt system.
The rear-wheel drive energy comes from a mid-mounted lithium ion battery, part of which is actually visible through the car's center console.
Stopping power, through the six-piston Brembo calipers in the front and four-piston calipers in the rear, is assisted by an electric regenerative braking system, which can be tuned to three settings.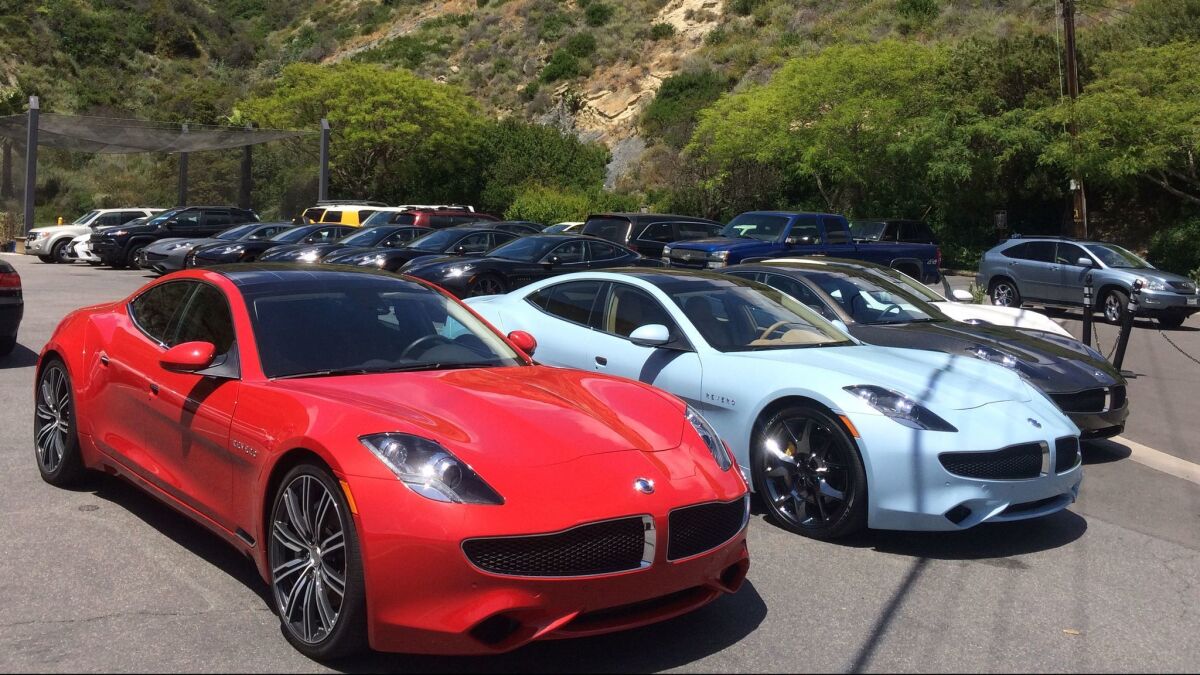 Sales and marketing challenges
What is the Revero trying to be, then? Publicity materials declare that Karma is "not Tesla," and identifies the company as "an ultra-luxury brand."
"We have no interest in moving down into lower priced, higher-volume segments," the materials say. "We will always be an ultra-luxury brand."
The automotive world may be dubious. Car collector and guru Jay Leno, who saw the Revero, Karma executives say, at a recent Beverly Hills event, dismissed it last week while being interviewed at his Burbank garage.
"It's just a Volt in a tuxedo, isn't it?" Leno joked.
At the $130,000 price point, the likely customer is male and 55 to 60 years old, said Karma's chief revenue and marketing officer, James Taylor. That customer already owns several other vehicles and is likely to meet his first Karma at a dealership where the Revero shares showroom space with a Bentley, Rolls-Royce, Lamborghini, Maserati or Aston Martin.
A certain number of early Revero buyers will be current Fisker Karma owners, Taylor said.
Some will remember the Karma legacy, and perhaps will have forgotten the company's ignominious end.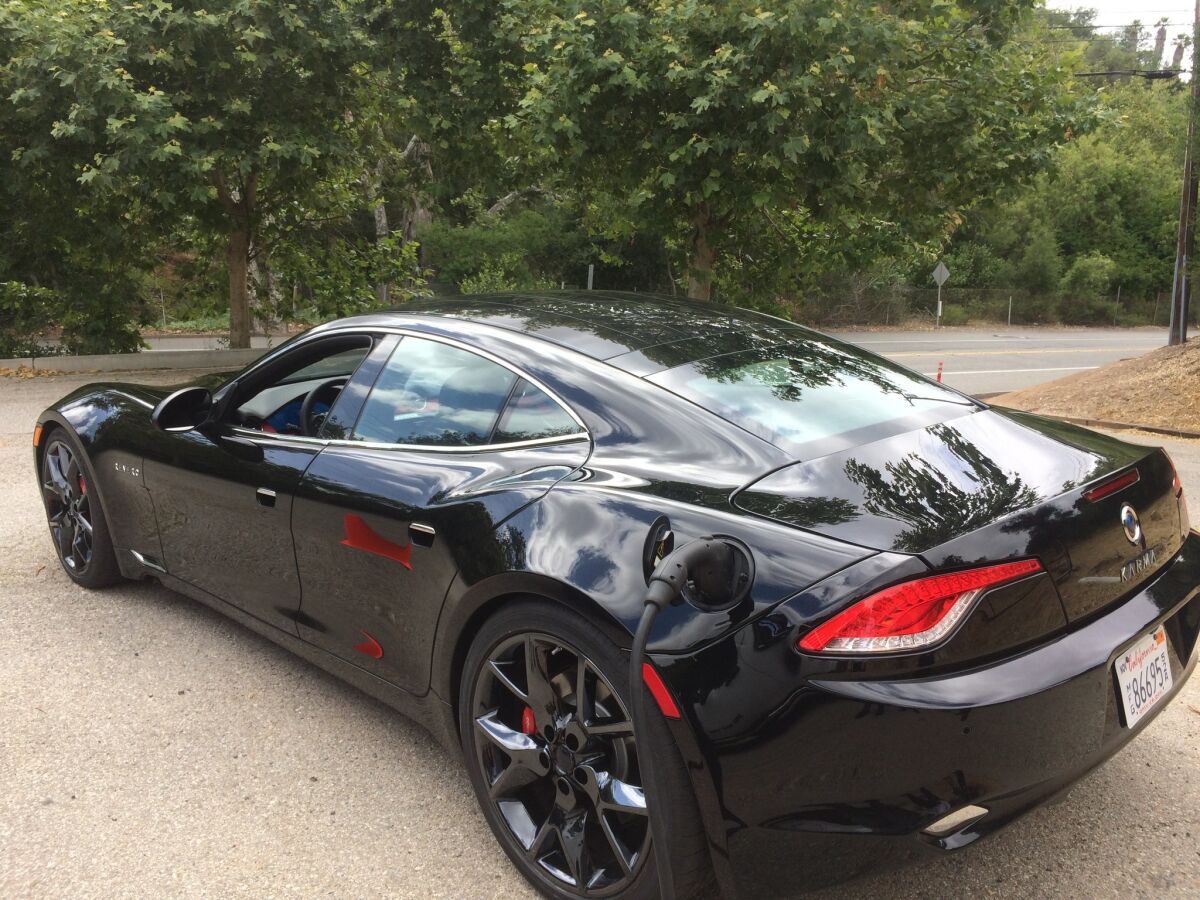 Despite the troubled past, the Fisker legacy may give the Revero an edge in a competitive luxury market. The car will be compared not only to luxury vehicles from historic English and European brands, but as a California-made hybrid, it will be spoken of in the same breath as Tesla and other forward-looking car companies.
"Everyone we compete with is 100 years old," de Vries said. "So how do you compete with that? Unlike Faraday, or Lucent, or Nio, we actually have a customer base."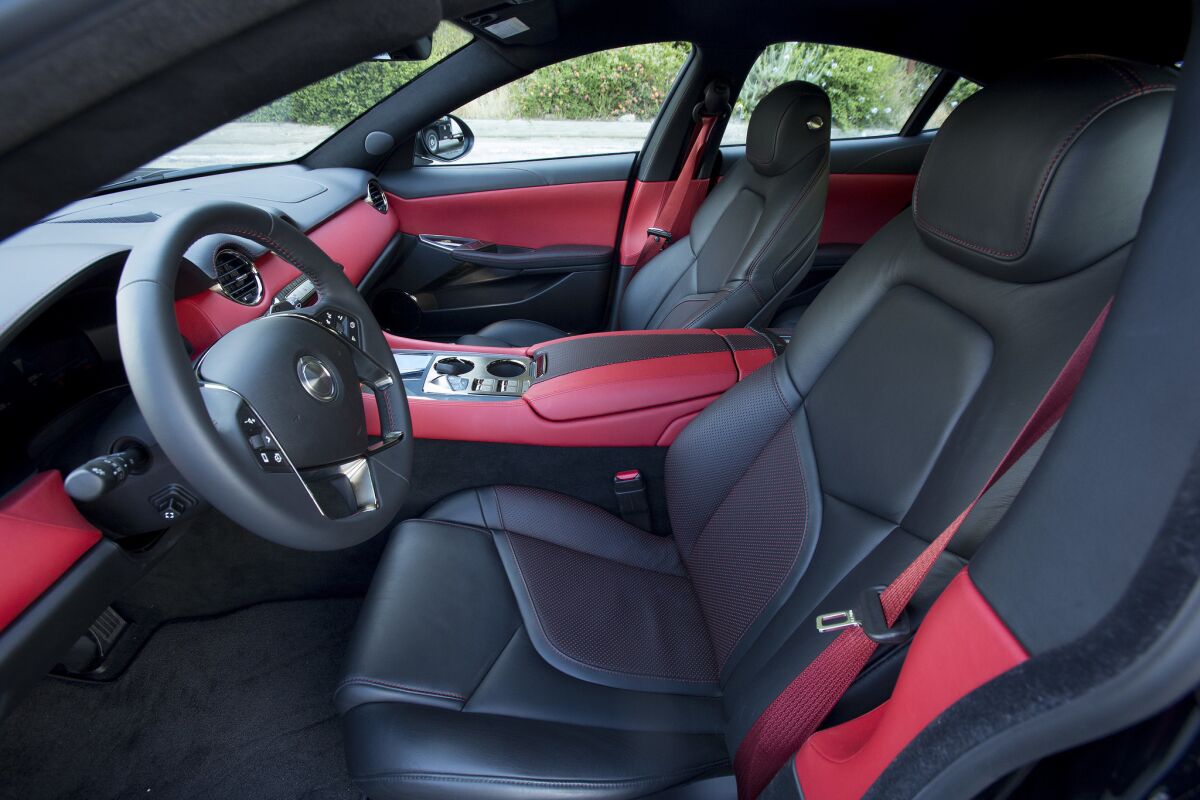 Reveros are currently coming off the Karma production line at a rate of one a day. About 30 pre-orders are being filled, starting sometime in the next two weeks, Taylor said.
Though the modern Moreno Valley factory and its 175-person workforce are capable of churning out many times more than that — up to as many as 5,000 cars a year without requiring any new construction — Taylor and other Karma executives stressed they are more concerned with quality than quantity, for now.
"We truly are still a start-up," Taylor said. "Our cars are now great, and they're now available. But we have to do this the right way."
To ensure quality control, the first vehicles will be electronically monitored by a 24-hour-a-day "war room," executives said, where engineers will be looking for any fail codes and trying to detect any trends. Some of these will be fixable through software updates made over the air, without requiring cars to return to dealerships for service.
That will mean more investment from Wanxiang Group. So far, Karma executives said, the Chinese firm has been patient with outgoing cash flow.
"A lot of people think the investment ends with the launch of the vehicle," said Karma President and Chief Operations Officer Dennis Dougherty. "In fact, that's when it can get really expensive. So far, the only thing we've been told is, 'Don't embarrass me.' "
2018 Karma Revero
Times' take: Fisker's elegant sports car is back
Highs: Ultra luxury for hybrid fans
Lows: Not quick enough for performance geeks
Vehicle type: Four-door, four-passenger sedan
Base price: $131,400
Price as tested: $131,400
Powertrain: Twin electric motors paired with a gasoline generator
Transmission: Rear-wheel drive, single gear
Electric range: 50 miles
Total range: 300 miles
Horsepower: 403
Torque: 981 pound feet
EPA fuel economy rating: 51 miles per gallon equivalent in hybrid modes, combined highway/city; 19 miles per gallon, gasoline mode only, combined highway/city
---
UPDATES:
May 18, 3:05 p.m.: This article was updated with additional details, including zero-to-60 mph times for certain Teslas and Porsches.
This article was originally published at noon May 16.