In Monterey, a battle for historic Laguna Seca raceway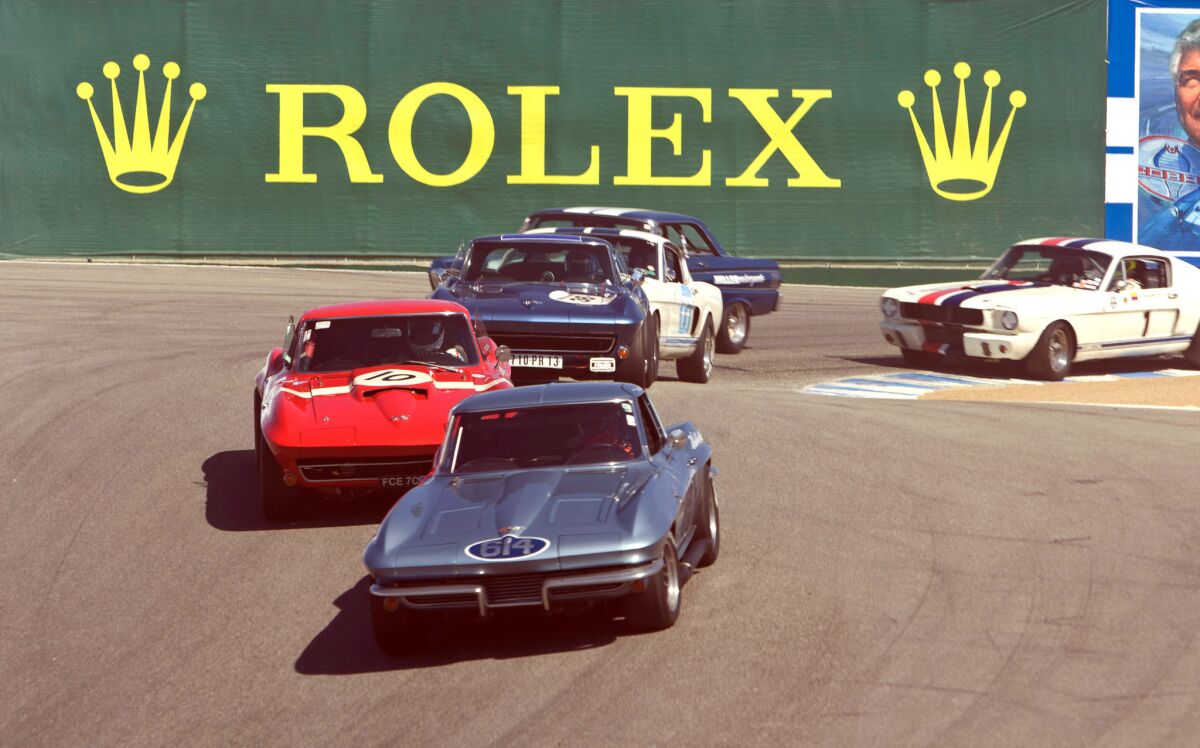 A bitter fight to take control of one of the world's most iconic racetracks will come to a head next week when three competing teams of auto sports enthusiasts make their cases to a ruling panel.
At stake is the management of the Laguna Seca racing venue, host for almost 60 years to some of the power sports industry's most important automobile and motorcycle competitions.
On Monday, according to sources close to the battle, the teams will appear before the Monterey County Board of Supervisors in a hotel in the quaint seaside city. They hope to persuade officials to give them control of the historic raceway, built on former military property inland from the popular tourist towns of Monterey, Carmel and Pebble Beach, and run as a county-owned facility since 1957.
The interested parties are representatives from current Laguna Seca managers Sports Car Racing Assn. of the Monterey Peninsula, or SCRAMP, which has teamed with Florida-based International Speedway Corp.; a Monterey coalition calling itself Friends of Laguna Seca; and a partnership between Long Beach Grand Prix founder Chris Pook and Monterey-based fast-food restaurateur Landon Hofman.
It's still early in the process. At this stage, the three groups have simply submitted a Request for Qualifications, said Monterey County communications officer Maia Carroll. After the hearing on Monday, the committee overseeing the matter will present an update in late August, at which time the county could ask one or more of the groups to present a more detailed management plan — or decide to reject all three and continue looking for a new steward.
The 2.2-mile Laguna Seca racetrack, considered one of the world's most technically challenging, hosts five racing events annually. In 2015, its managers reported 234,000 tickets sold to visitors who pumped an estimated $62.1 million into local businesses, including $5.2 million in state and local taxes.
The facility, which includes an adjacent campground and shooting range, has been managed by SCRAMP, composed largely of volunteer workers, since its earliest days.
But charges of mismanagement and a scathing Monterey County Grand Jury report on SCRAMP's Laguna Seca activities cost the group its annual contract to manage the facility. SCRAMP has been on a month-to-month agreement since March 2014.
The grand jury report stated that SCRAMP had underreported income, juggled creditors and delayed payments to balance its books, and inappropriately used funds for capital improvements to meet operating costs.
"SCRAMP has not been a financially fit concessionaire," the report found.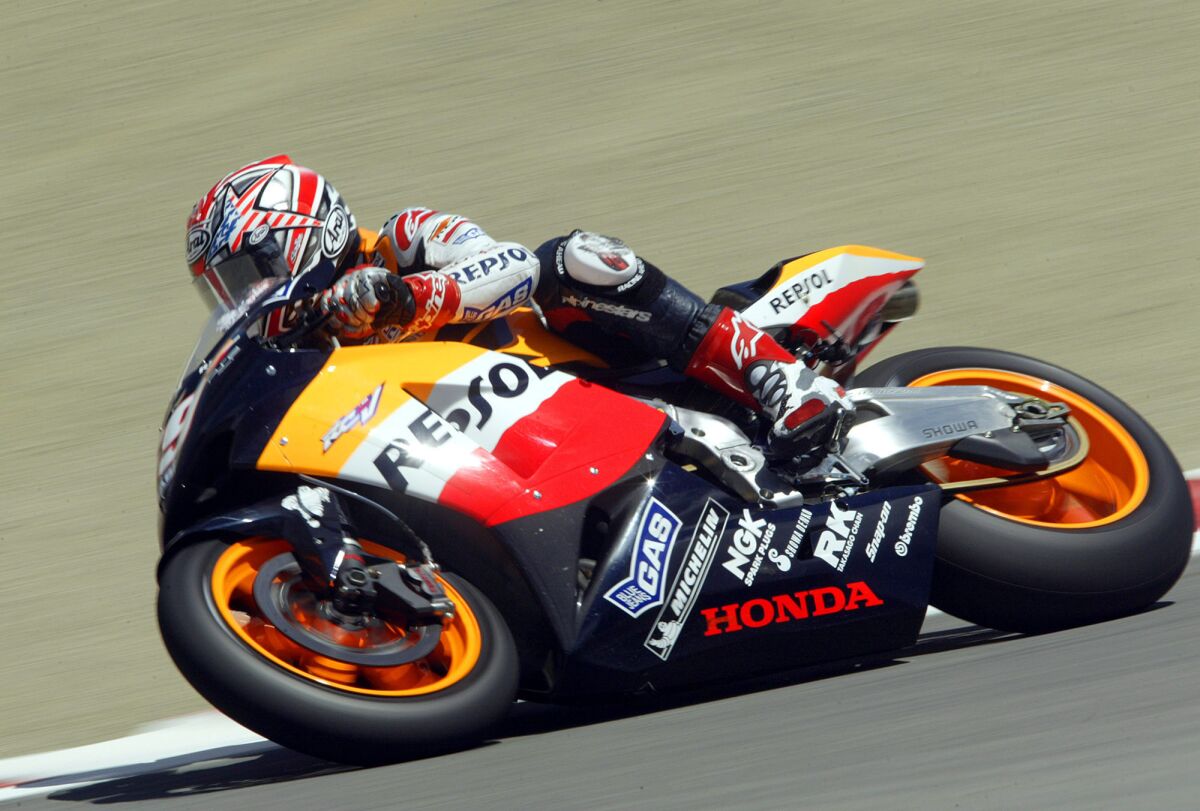 County officials began seeking a replacement for SCRAMP some time in the last two years. First to the table, apparently, were representatives from the International Speedway Corp., a veteran race management company based in Daytona Beach, Fla., that operates multiple race venues nationally — including Daytona International Speedway, Talladega Superspeedway and Auto Club Speedway in Fontana. The company was formed by Bill France, who also founded the NASCAR racing organization.
Officials from the corporation did not return phone calls seeking comment, but SCRAMP officials confirmed their partnership with the publicly traded Florida corporation.
On Friday, Michael Smith, president of SCRAMP's board of governors, said the combination of the two groups provides "a powerful and dynamic organization for the long-term betterment of the facility as a whole."
The partnership, he continued, "is consistent with what the Monterey County Board of Supervisors initially intended when it began exploring management options."
Laguna Seca is sacred ground. It's vitally important that we keep it open.
— Richard Varner, chief financial officer of the motorcycle racing group MotoAmerica
The partnership faces challenges from two recent arrivals.
Sources close to the campaign for the racetrack, who spoke on condition of anonymity, said Long Beach Grand Prix founder Pook had teamed with fast-food franchise owner Hofman.
Efforts to reach Pook were unsuccessful. Hofman did not return phone calls.
Also in the hunt is the just-formed Friends of Laguna Seca, a nonprofit group based in Monterey and composed of long-term peninsula residents with deep racing roots.
Its board consists of locals Bruce Canepa, Jonathan Fieber, Warren Spieker Jr., Ross Merrill, Thomas Minnich and Gordon McCall, as well as race veteran Lauri Eberhart.
Their mission statement, he said, was the same as the one adopted when the racetrack was born: "We are a group of civic-minded local business people that want to see racing stay on the Monterey Peninsula," said McCall, who began attending Laguna Seca races in the mid-1960s. "That's what they said in 1957, and that's our position today."
The county estimated in its grand jury report that the raceway will need an estimated $10 million in capital improvements over the next five years, and up to $2 million for short-term operating costs. The report said that SCRAMP was experiencing at least a $250,000 operating shortfall annually, off total annual revenue of $10 million to $15 million a year "for each of the last several years."
The campaigning has already made for unlikely bedfellows. SCRAMP and the International Speedway Corp.oration were until recently fighting each other for control of Laguna Seca, and only recently pooled their interests. Last summer, SCRAMP board President Gregg Curry attacked the corporation as an out-of-town, for-profit interloper trying to wrest the track from his local, nonprofit group of volunteers.
"We built this track and we've been managing this track since 1957," Curry told The Times. "We put this track on the map, internationally, through volunteerism."
No matter who ends up with the Laguna Seca keys, interested third parties are hoping the track's future is secure.
"Laguna Seca is sacred ground," said Richard Varner, chief financial officer of the motorcycle racing group MotoAmerica. "It's vitally important that we keep it open."
"We are waiting to see what the final outcome is, since that facility is important to all of us in motor sports as one of the premier racetracks on the West Coast," said Grand Prix of Long Beach President and Chief Executive Jim Michaelian.
---
UPDATES:
3:37 p.m. This article was updated with a comment from the president of the SCRAMP board of governors.