Now Lyft drivers need not own a car: Lyft and GM start short-term rental program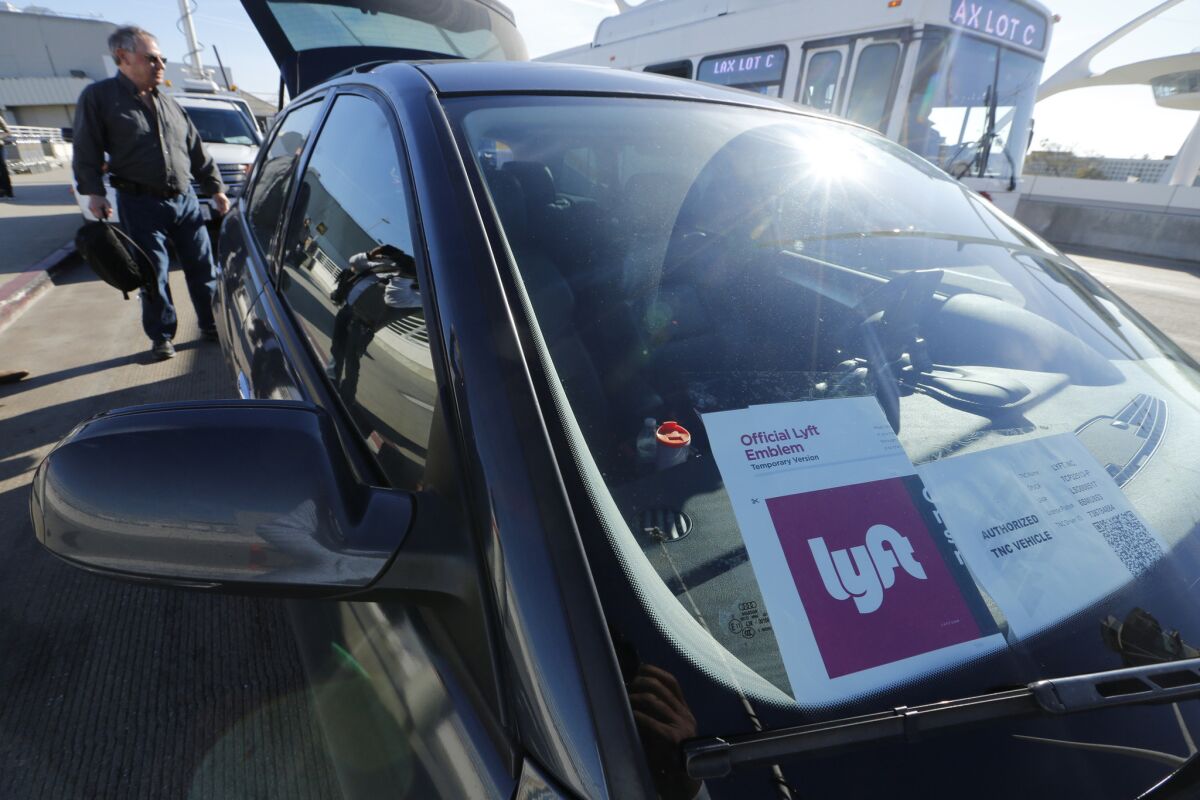 General Motors Co. and ride-hailing service Lyft are launching a short-term car rental program that is expected to eventually evolve into an autonomous vehicle network.
The companies said Tuesday that the Express Drive program, aimed at prospective Lyft drivers who don't have qualifying cars, will start in Chicago this month.
The program will roll out to Boston, Baltimore and Washington later this year.
Join the conversation on Facebook >>
Under the program, car renters will be charged based on how much they drive. The starting fee is $99 per week, which includes insurance and maintenance. If drivers in the Chicago area provide 65 or more Lyft rides in a week, that week's rental is free.
The companies said 60,000 people in Chicago applied to be Lyft drivers but did not have a vehicle that qualified.
Lyft, based in San Francisco, requires its drivers to use cars that have four doors and at least five seat belts and are relatively new (age varies by region, but no car can be from before the 2004 model year). Windshields cannot have large cracks, the horn must function and the car body must be free of dents and damage.
So far, more than 400 people have said they wanted to be part of the Express Drive program, said GM spokeswoman Annalisa Bluhm. She said the program will start with 120 Chevrolet Equinox crossovers available for rental.
"By setting up the service agreements, we are now in a place where we have everything lined up to then develop autonomous fleets nationally," Bluhm said. "We're preparing for the future."
The infrastructure of Express Drive for Lyft drivers is similar to how the companies envision customers could reserve and access self-driving cars.
By providing car storage and maintenance options, the companies are preparing for a time when customers can have a choice between a human driver and an autonomous vehicle, Bluhm said.
The development of this self-driving network was furthered last week when GM acquired Cruise Automation, a San Francisco software company that has been working on autonomous vehicle technology.
Two months ago, GM invested $500 million in Lyft and said the companies plan to collaborate on a service that will enable users to reserve a self-driving car.
That same month, GM started Maven, a car-sharing service that enables customers to reserve and unlock vehicles with their smartphone. Express Drive's rental service will be handled through the Maven program, Bluhm said.
Analysts said the program could be an effective way to tie a large automaker to the growing trend of ride-hailing, which is also called ride-sharing.
SIGN UP for the free California Inc. business newsletter >>
"GM is creating an ecosystem around ride-sharing," Kelley Blue Book analyst Akshay Anand said in a statement. "While ride-sharing is likely to be a supplement and not a replacement to car ownership, it's clear auto manufacturers are aware that this is becoming an avenue for not only additional revenue, but a big part of the future of mobility."
Rival ride-hailing company Uber launched a pilot car-leasing program in July. Prospective Uber drivers go through the company's subsidiary, Xchange Leasing, to connect with a car dealership and choose from new and used vehicles. Those are longer-term leases than the Express Drive program offers.
A survey released this month by the American Public Transportation Assn., an advocacy group, found that using ride-hailing services such as Lyft and Uber could lead to less reliance on a personal car. Ride-hailing services and, increasingly, automakers have been preparing for a future in which car ownership among individuals is less common.
The study surveyed more than 4,500 ride-sourcing consumers in seven cities: Los Angeles; San Francisco; Seattle; Austin, Texas; Boston; Chicago; and Washington.
For more business news, follow @smasunaga.
ALSO
Lower gas prices drag down retail sales in February
CalPERS and other big investors sue VW for $3.57 billion
Should a man taken to the ER in an ambulance against his will have to pay the bill?
---