May car sales are flat. The sedan heads toward irrelevance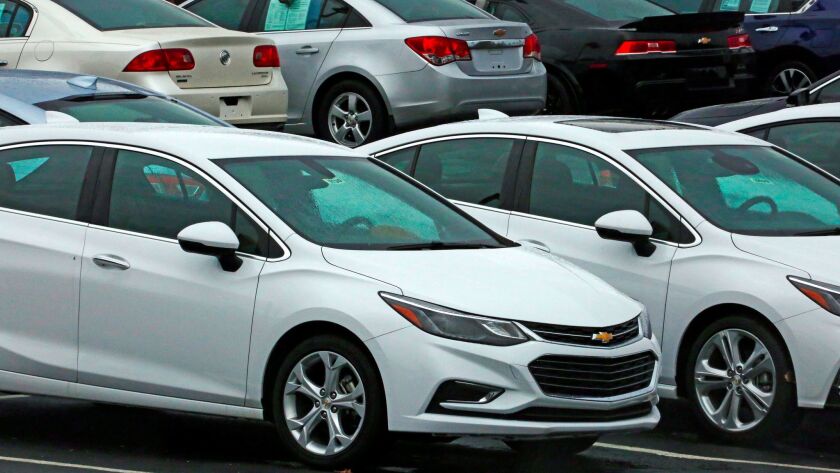 Reporting from San Francisco —
Rich incentives, sweet lease deals, flexible financing options: they're not enough. American car buyers continue to turn their backs on anything with four doors and a trunk.
Automakers released sales figures for May on Thursday, numbers that comport with major industry trends — sedan sales down, pickup sales up, sport utility vehicle sales up. On average, the market is flattening out after seven years of record sales.
Overall sales were flat for May, said Kelley Blue Book. If current conditions continue, analysts expect that 17 million cars and light trucks will be sold in 2017, down from 17.55 in 2016.
Sedan sales were down about 20% in May. The shift from sedans to SUVs, small and large, is likely to continue.
Millennials are driving the change, said Michelle Krebs, senior analyst at Autotrader. Young buyers propelled the compact utility market and now are moving toward medium and large SUVs as they begin to have children, she said.
The three top reasons for choosing a utility vehicle over a sedan, she said, are cargo space, high-up seating position, and ease of entry and exit.
"I don't think that bodes well for traditional cars," Krebs said.
Like many other analysts, she predicts that automakers will continue to trim back sedan production, which could well affect overall auto industry employment.
The Chevrolet Bolt, the much-anticipated electric sedan that General Motors began selling in December, is off to a slow start. Since the first of the year, 5,822 Bolts have been sold, mostly on the West Coast. That's fewer than the older Chevy Volt, a plug-in hybrid.
The $37,495 Bolt — whose price drops to an estimated $29,000 after state and federal incentives — has much more range than earlier affordable EVs. It gets 238 miles on a charge.
There wasn't much big news about individual automakers in the May statistics. Ford sold a total of 241,126 vehicles in May, overtaking GM in total sales by about 4,000 vehicles, but Krebs said that's because some major fleet deals were registered that month. "Next month it could be General Motors," she said.
The media focus on a monthly sales rivalry between Ford and GM is "silly," Krebs said; it's profits that count.
Ford replaced Chief Executive Mark Fields in May under shareholder pressure as the company's stock price lagged behind its competitors.
But Ford F-150 pickup truck sales remain strong, and sales are up for its Escape compact utility vehicle. "Their struggle is similar to the rest of the industry," said Alec Gutierrez, senior analyst at Kelley Blue Book.
Among foreign automakers, sales increased 12.1% for Subaru, 4.3% for Volkswagen, 3% for Nissan and 0.9% for Honda, but fell 0.5% for Toyota. Automakers, overall, sold about 1.53 million new cars and trucks in the U.S. during the month, or about 0.3% more than the same month last year, according to the average of three industry estimates.
The average sales price for vehicles in May was up, to about $33,500. That's mostly because utility vehicles and trucks cost more than sedans. They also provide fatter profit margins to manufacturers.
Road hazards may lie ahead for automakers, especially if the Federal Reserve Board raises interest rates. That would put a crimp in loans and leasing. Easy terms for both have helped fuel the industry boom.
For sales, though, the rest of the year is expected to be profitably undramatic.
Twitter: @russ1mitchell
The Associated Press contributed to this report.
---
UPDATES:
1:25 p.m.: This article was updated to include Chevy Bolt sales information.
The original article was published at 11:10 a.m.
---